Shaking up the page-building community, Brainstorm Force has been reinventing how people design websites. Producing a line of successful Elementor products, they have been rapidly expanding on Elementor functionalities.
Brainstorm Force, the team behind Ultimate Addons, has been at the forefront of this innovation. Creating their first schema plugin in 2013, they became a hit instantly — and they haven't looked back.
Establishing Ultimate Addons for Elementor in 2018, Brainstorm Force have gone on to reach over three million users worldwide and counting.
Today, we're pleased to hear from Sujay Pawar, the CEO of Brainstorm Force, on what inspired him to create Ultimate Addons, what it's like working with Elementor, and what his plans are for the future.
Tell Us About Ultimate Addons' Background
We at Brainstorm Force were active in the page builder community and have been interested in their addons for many years. We made the Ultimate Addons for various popular page builders and we pride ourselves on being the pioneers in this area. 
Making page builder addons has been a huge success for us and we received lots of love from hundreds of thousands of users. 
When I first came across Elementor a few years ago in the Advanced WordPress Facebook group, I was so impressed with this awesome drag-n-drop plugin. I and the team immediately started exploring it and loved how easy and intuitive it was. I knew that we had to create an add-on for it. 
Being fans of Elementor, we closely watched the plugin's updates and started our planning for Ultimate Addons. At that time other Elementor addons started to come into the market, but we wanted to build the most powerful Elementor extension. An addon that's well coded, flexible, and well supported.
So we pooled all of our experience and expertise and built Ultimate Addons for Elementor (UAE) in 2018. UAE entered the market with a lightweight, flexible and innovative range of Elementor widgets.
UAE had eight creative modules and features back then when it was first launched.
Today, we offer a collection of 40+ unique widgets and extensions, 100+ highly customizable website templates, 200+ section blocks, 50+ widget designs in presets, and several other powerful features through Ultimate Addons and our Starter Templates plugin. 
What Impact Has COVID-19 Had on Your Business and Workflows?
This pandemic has been the most challenging time for humanity, not just for us. It's been about lockdowns, social distancing, and remote working. Terms that we all had to get used to.
Fortunately, our work culture has been hybrid even before Covid-19. While part of our team was working from the office, others were working from remote places.
But yes, due to Covid, all our team members were forced to work from a distance, from home.
Initially, we did face some challenges with productivity as a few of the team members didn't have any experience in remote work environments.
With time, the team made adjustments and embraced this 'new norm' of staying safe and working from home.
Well, it wasn't just home, it was just about anywhere! 😉
Please Tell Us More About Your Translation Project
Ultimate Addons is translation-ready and comes with po and mo files. So anyone can translate the plugin into their own language. Furthermore, we have a community-driven translation project where people can collaborate and translate the plugin. 
Currently, on the community portal, the plugin is translated into Persian, Portuguese (Brazil), Russian and Ukrainian languages and we are in the process of translating several more.
How Has 2021 Been for You So Far?
The world is recovering from Covid, and things are slowly getting back to normal if we look around. We have adapted to this 'new norm,' and the team is at its full potential to deliver its best with the Ultimate Addons.
We have focused on the following points for UAE, and are building widgets around these – 
SEO – Adding schema support through various widgets to improve search rankings. We recently added schema support for the video widget, the rest are in progress. 
Design – We introduced Presets – pre-designed widget templates. They save hours of effort styling widgets from scratch.
Social – We launched the Social Share widget that allows users to share their website details on their social media platforms.
Ecommerce – We did have some great WooCommerce widgets already on our list. We've just extended this list and added the WooCommerce Mini Cart widget and WooCommerce Checkout widget. 
Using these, you can completely customize the WooCommerce cart and build a custom checkout page.
Performance – We take speed seriously. With every update, we make sure to use optimized code for better speed and keep evaluating performance. 
So, if I've got to sum up 2021, it's been exciting and challenging at the same time!
We Know You Recently Launched Some New Widgets, Please Can You Tell Us More About Them?
We brought in some exciting updates recently — Display Conditions and Presets.
Display Conditions is an advanced feature that lets users control content visibility based on various factors. Users can display/hide content based on different custom controls and personalize the user experience.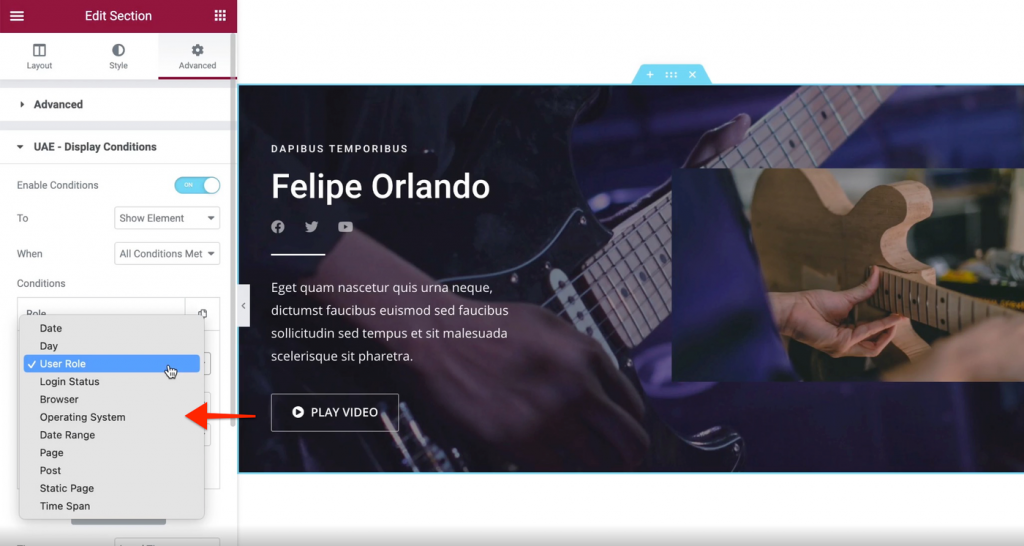 Presets are widget templates that provide beautiful ready-made designs for Ultimate Addons for Elementor widgets.
Presets allow users to apply sleek and stunning designs to widgets with just a click and get a classic look for the web page. It saves hours of effort styling widgets from scratch.
Currently 50+ presets are available for different widgets and we plan to add more soon.
What New Exciting Features Do You Guys Have in the Pipeline?
As I said in one of the above answers we have focused on the following points for UAE, and we are building widgets around these: 
SEO – Adding various schema support to all possible widgets.
Design – More Presets and Advanced Tab widgets and improvements to the Advanced Accordion widget.
Social – We are working on an exciting Instagram widget. It'll help fetch posts from your Instagram account directly to your website. 
Ecommerce – More WooCommerce widgets to make your online store more stylish and flexible. 
Performance – Improving CWV score and further plugin optimization. 
Our objective is to make Elementor even more approachable for web creators and empower them with the best tools. Our upcoming updates will be developed around this goal.
How Do You Decide What Widgets You're Going To Develop Next?
We are fortunate to have a great community and we usually get requests for widgets and features from our users on the support portals, social media groups.
Just to give you behind the scene glimpses — we received this and a few other similar suggestions for the Display Conditions widget. We worked on it and launched Display Conditions in our widgets library. 
Each and every request/suggestion we receive from our various platforms is carefully noted and acted upon.
We also keep an eye on design trends in the industry and try to incorporate them with innovative widgets. For example, showing social media posts on websites, just like Instagram. And our team is already working on this. 
Our goal is to help users and we are always on the lookout for ways to improve their workflows. Some of our breakthrough ideas come from this study. A great example here is the Cross Site Copy Paste feature. It makes your workflow easier by copying your excellent designs from one site to another just like that. 
We are not only creating new widgets but are also improving our existing ones. Our goal is to make all our widgets better, lighter, and more flexible.
Which One of Your Widgets/Extensions Do You Feel Has Been a Game-Changer, and Why?
It's difficult to pick only one. All our widgets/extensions have been loved by the community. That being said, I'll still try to pick a few of them.
The video widget comes to mind immediately. It helps you to display a video on-page. There are similar widgets out there but the page load time is a big concern users have with any kind of video. 
We tackled that and our video widget's optimization technique loads video with almost negligible page load.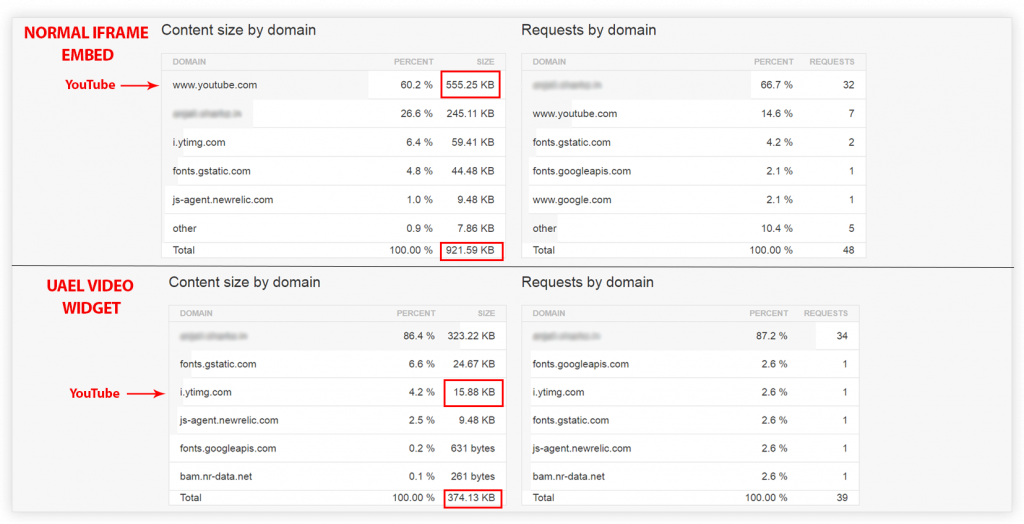 Display Conditions is another widget in this list. Elementor users could manage the visibility of content through the template and its display rules. But the UAE display condition gives you control over each widget right on your current page – no need to create a template. The best part is, it works with any Elementor widget, be it from Elementor, UAE, or any third-party plugin. 
When it comes to getting more users into your sales funnel, there's nothing better than genuine user reviews to build trust. Our Business Review widget does just that. This widget helps fetch Google and Yelp reviews directly from your business account to your website. You can easily customize it and display it just the way you want. Elementor Pro also has this awesome widget. We just made it more flexible by adding a technique to fetch Google reviews directly without any manual work. 
Cross-Site Copy Paste is unique, innovative, and personally, my favorite widget. It allows you to easily copy a piece of content designed with Elementor from one site and paste it in the required position on another website – in just four clicks!
Please Tell Us About Your Different Pricing Packages and Their Differences. Who Is Each Intended For?
Ultimate Addons – Here you will get Ultimate Addons for Elementor plugin along with premium support and product updates. Ultimate Addons is perfect for individuals and solopreneurs.
Essential Bundle – It comes with Ultimate Addons for Elementor plugin and a few Brainstorm Force products such as Astra Pro, WP Portfolio, Premium Starter Templates. Essential Bundle is perfect for freelancers and small businesses.
Growth Bundle – This includes Ultimate Addons for Elementor and all premium Brainstorm Force products. It's perfect for businesses and agency owners. Growth Bundle is a complete suite of tools to build and grow your business online.
Please Share Some Numbers With Us. How Many Active Installs Do You Have? How Many Widgets & Extensions Do You Currently Offer?
Our estimated user number is 646,396+. UAE currently has 41 widgets, 3 features/extensions and 50+ presets.
You can find 180+ ready free and premium Elementor templates with the Starter Templates plugin.
Do You Have an Ultimate Addons Community?
What Are the Biggest Trends You See Coming Out of 2021 and Why?
One thing businesses have learned during this pandemic is the importance of an online presence. We've seen businesses taking their online presence a lot more seriously now.
Businesses are trying to create new websites or revamp the old ones, integrate social media, and more, to make their store/service available online and reach a wider audience.
So that's one trend of increasing your business visibility online. Another trend is increased ecommerce and eLearning websites. 
Instead of traditional business methods, business owners are preferring online services. More than anything, the ecommerce and eLearning industries are booming, and this trend will last longer. Many people are preferring to share their knowledge/experience, generate revenue out of it, turning their hobby into a business. 
Ecommerce and e-learning have become essential. This trend is here to stay and we think it will grow more.
This upward trend only opens more opportunities for web creators.
What Are Your Plans for the End of 2021?
While we will be developing more useful widgets and features, we focus on making all our plugins more flexible and lightweight. 
We've always been fond of speed, be it our lightweight Astra theme or any of our plugins. And with the growing importance of speed, page loading, and so on, we will continue optimizing things on the UAE front.
Our support team has done and continues to do a great job by providing 24/7 support. While our current response time is excellent, we aim to be nothing less than the best. We aim to improve our response time further, down to 1 hour.
We continue to improve our documentation (knowledge base) and video tutorials. We are extending our design and development team to deliver faster updates too.
Overall, we've got a fascinating end to the finish line (2021)!
What Piece of Advice Do You Have for Web Creators?
Let's face it. We've all had a rough time with Covid. Businesses had to go back to the drawing board and restrategize.
That being said, every cloud has a silver lining. More and more individuals are choosing to take their business online.
More businesses going online means more websites. With more websites, you need more assistance and people to build and maintain them.
Whether you are an individual, an entrepreneur, a mom-and-pop store, or an established business, everyone wants an online presence today.
Frankly, the web industry is booming currently and if you are a web creator, this is your time! 
If you are still considering starting as a web creator, it's about time you did. And for those established web creators, it's time to go on overdrive and take it to the next level.
Brainstorm Force is an incredible example of a company that generates revenue by expanding on Elementor.
Thank you, Sujay, for giving us a fascinating insight into Ultimate Addons and the page-building scene as a whole. There's so much food for thought here regarding plugin development and what the future holds.
It seems there's more than enough room for Ultimate Addons to continue their journey as they carry on forming fresh, new ways of looking at website design and creation. We're excited to see what they have for us next and how they'll evolve in the years to come. 
Whatever happens, it's going to be interesting. 
If you have an Elementor Addon of your own, sign up here to stay up-to-date with our latest product news.
Looking for fresh content?
Get articles and insights from our weekly newsletter.