"If your business is not on the internet, then your business will be out of business." It is one of the most famous quotes from Bill Gates, and it ideally describes the modern reality of business. Today it's hard to find a company that does not have a website. But while almost every business has a website, not all sites are equally efficient.
Visitors attention is a precious resource. When people visit a website, it only takes a few seconds for them to form an initial impression. To gain visitor attention, you must clearly communicate your value proposition within 10 seconds. Thus, if your website has a bad visual hierarchy, the services aren't clearly laid out, or your contact information is hard to find, you'll probably lose a potential customer.
It's critical to focus on creating an excellent online presence for your business. And the great news is that you don't need to invest a lot of time and money — all you need to do is to use Elementor and find the right template for your business. Below are 12 excellent templates for different types of business — from law offices to cleaning services. 
Source: Template Monster
Ideal for: lawyer firms
Price: $14
If you prefer classic black & white design combinations, you will love this theme. Justicon creates a great impression right from the start. The hero section features a high-resolution photo paired with the slogan "Reputation. Respect. Result." and a clear call-to-action button.
As you scroll down, you will be delighted by clear visual hierarchy and great font selection. Justicon uses a combination of Montserrat and Playfair Display fonts — this font pairing creates a great sense of fine craftsmanship. The theme also features a lot of nice on-scroll animated effects such as animated counters, slide-in motion effects for content containers, and on-hover effects for interactive objects.
Last but not least, this template comes with Jet Family plugins, specially developed as Elementor addons.
Source: Theme Isle
Ideal for: construction companies, energy service companies
Price: Free
If you're looking for a simple, one-page template for your energy service business, take a look at Hestia. Hestia isn't looking to wow your visitors with fancy effects, but it delivers essential information in an easy-to-scan way. 
The layout is divided into a few key sections, such as the hero section, our services, find out more, metrics and contacts. The information looks equally well on a large desktop screen and a small phone screen.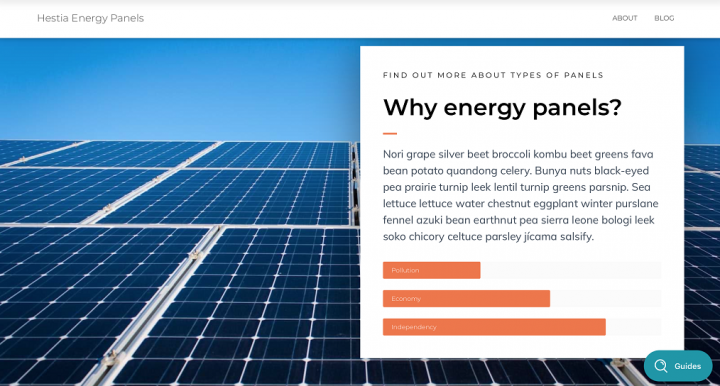 Source: Template Monster
Ideal for: Clinics, medical centers
Price: $7
Healthen is a simple one-page template that allows you to build a site for hospitals, clinics, and other health-related facilities. The light blue & white color combination is excellent for this kind of services because it makes people feel safe (blue evokes feelings of calmness).
When it comes to usability, it's evident that this template was created with a strong focus on visitors needs. All important information is available at a glance — opening hours, doctors timetable, and a phone number for emergency cases.
Template source: AnalogWP (You need to install and activate AnalogWP plugin for WordPress)
Ideal for: marketing agencies
Price: Free
Most people have connotations associated with the word "business." When we hear the word, we imagine people in sharp suits. But this idea of business does not apply to every company. Let's take marketing agencies as an example. Many agencies want to look hip, and they want their website to convey this mood to their visitors.
Boxed is a template that uses vibrant colors, asymmetrical layout, and dynamic elements to create a relaxed atmosphere. Boxed hero section features a video as a background, and as you scroll down, you see the colorful blocks stacked on top of one another. The bright colors and asymmetrical layout immediately captures the visitor's attention and makes them scroll for more information.
Source: Template Monster
Ideal for: Spa salons, cosmetologists, beauty services
Price: $14
What is the most critical part of a spa salon website that has a direct impact on conversion rate? As for me, I think the part that describes what it feels like to use spa services. That's why web designers should put a strong focus on using relevant imagery. High-res images should give visitors a clear idea of what it feels like to use the services of this salon.
Vallees is a ready-to-use template for beauty services. This template uses the power of crisp typography, full-screen image sliders, and white space.
The theme comes with a few pre-designed pages, such as Home, About, Services, Portfolio, Blog and Contacts, where you will display relevant content and provide visitors with needed information. It will be easy to customize your website according to your requests and taste using powerful Jet plugins for Elementor page builder. 
Source: Mojo Marketplace
Ideal for: Cleaning Services, maid service agency, janitorial and maintenance services companies
Price: $59
Clinima has everything you might need to present your cleaning services to your potential clients—online appointment booking, quote request form, full woo-commerce store compatibility and pre-made modules such as services, clients, and galleries. The quote form is located in the hero section. Using a quote request form visitors can get an accurately calculated cost for the specific type of work to be performed around their house.
Template source: AnalogWP (You need to install and activate AnalogWP plugin for WordPress)
Ideal for: freelance writers
Price: Free
Storytelling is a powerful technique in product design. Science proves that, as humans, we are programmed to be enraptured by stories. It's possible to create a truly memorable example by baking a story in web design.
Brute uses the concept of storytelling to provide information about services. This one-page template features essential information about the UX writer, and this information is presented creatively. As you scroll down, you read more and more information about the writer, and as you reach the bottom of the page, you will feel like you already know this person. 
Template source: AnalogWP (You need to install and activate AnalogWP plugin for WordPress)
Ideal for: Yoga instructors, fitness trainers
Price: Free
It's a well-known fact that Yoga is more than just a physical exercise; it's a philosophy. And Yoga instructors are people who share the idea of well-being with other people. 
Kali has a dedicated section for the philosophy of training. The visitors are invited to read the philosophy first and only then are provided with details about the training options — the information in this section is provided in an easy-to-scan zig-zag layout. A dedicated section for frequently asked questions is another great element of this theme. 
Template source: Elementor Resources
Ideal for: a business providing repair services
Price: Free
AC Technical uses minimal design with a limited color palette — a color scheme based mainly on three colors—blue, black and white. The hero section uses a split screen technique — the left half is dedicated to a photo while the right half has the text and a call to action button. User attention first goes to the photo, and shortly after that, to the message. 
The template has a section about the benefits of using a service ("Why choose us!") as well as ready-to-use containers for your blurbs and testimonials. If you're going to use this template, I strongly suggest replacing pre-defined information with real benefits of using the service — genuine information will increase the chances that your visitors will select your service.
Template source: Envato Elements (you need to install the Envato Plugin to access this template)
Ideal for: stylists, beauty centers
Price: Free
Style is a reflection of your attitude and personality. Everyone has their own style, but sometimes people want to change their style and try something new and unexpected.
Good stylists are both good designers and psychologists. When a stylist creates a style for a client, they have to find a style that will match the client's needs and wants and won't conflict with their personality. The website for a stylist should introduce a person and describe the services in details. 
The Stylist does precisely that — the home page features a large photo of a stylist along with necessary information about her. Next comes a few sections that describe the services, and finally, visitors see the contact form. It is a visually rich template — a lot of space dedicated to photos and they play a key role in user experience.
Stylist also offers a few versions of the pricing page. The one that I like the most pairs a photo with price option. As a result, it makes it clear what the final result will look like. 
Template source: Envato Elements (you need to install the Envato Plugin to access this template)
Ideal for: nutritionist
Price: Free
Many people want to know how to live a healthy lifestyle. Food, sport, and the average level of stress are major factors that influence our health and nutritionists are professionals who can help us form healthy eating habits.
The websites for a nutritionist should convey a sense of safety or success. That's why so many sites use shades of green either as a background color or as accents. Visitors see neutral green right from the start — in the hero section. Subtle gradients, buttons with round corners, and crisp typography used in Nutritionist create a modern look & feel.
This template features a few interesting sections such as a 20-day challenge and most popular questions. The first section can be used to motivate people to join a program, while the second provides answers to a few typical questions that people may have. 
Template source: Envato Elements (you need to install the Envato Plugin to access this template)
Ideal for: dog grooming salons
Price: Free
Humor is an excellent ingredient for web design. As Allen Klein once said, "Your attitude is like a box of crayons that color your world. Constantly color your picture gray, and your picture will always be bleak. Try adding some bright colors to the picture by including humor, and your picture begins to lighten up." The same goes for web design. By adding the right dose of humor, it's possible to turn an average experience into a fun & enjoyable journey.
Dog Grooming template is an excellent example of using humor in design. As soon as you land on the page, you will notice a dog's smiling face. After reading the copy "Who's the prettiest?", you may even chuckle.
The template is full of small details like a dog's paw on a call-to-action button. This creates an incredible mood and motivates you to give them a call. 
Running a business is time-consuming. There are so many things you have to do on a daily basis. Every business needs the proper tools which allow it to run most efficiently. When it comes to website design & content management, it's important to select tools that streamline the process of creation and modification.
Elementor simplifies the process of web design — it becomes not only fast and easy, but it also becomes more fun because you will have the creative freedom to express your ideas and brand. Select the right template for your business and start to experiment today.
Looking for fresh content?
Get articles and insights from our weekly newsletter.