Intro
SInce the last quarter, Elementor continued to grow and has surpassed the 14 million website mark. That means Elementor is used on 8.6% of all websites. The Elementor Community has also continued to grow and reached over 143.3K members, this is in large part thanks to your ongoing support in Elementor and its other users.
Over the past quarter, we also maintained the good momentum we set forth in 2023, released a ton of new features to the Plugin, leveled up our Hosting solution, and became the first plugin to integrate AI natively into its plugin, to empower you to elevate your websites and improve your workflow.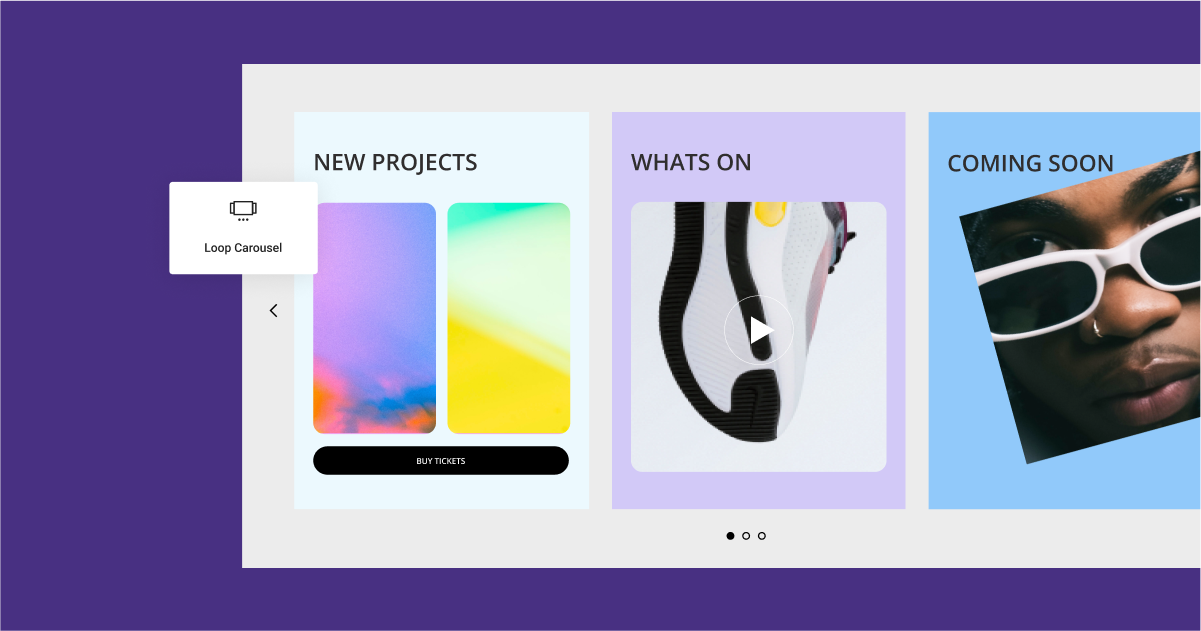 Introducing Elementor 3.14
Last month, Elementor introduced version 3.14, which include new features that provide you with more design freedom to build your websites, just like you want to. This version included the new Carousel widget, which effectively replaces all the other Carousel widgets previously added to the Editor including the Image, Media, Reviews, Testimonials, and Slides widgets. With the new Carousel widget, a Pro widget, you can add any widget and content you want to into any Carousel card. Then you can adjust the styling and layout of every single card individually to create the perfect Carousel that matches your brand to a T.
Elementor 3.14 also included the new Static Item Position in the Loop Alternate Template feature. With this update, you can inject static items within the Loop Grid, to interrupt the sourced query and promote specific content, such as an event, a special sale, and more.
This version also included a number of additional features including more styling capabilities in 6 existing widgets, a new Global Styles Preview, and the first phase of Elementor AI for image creation. You can read more about Elementor 3.14 here.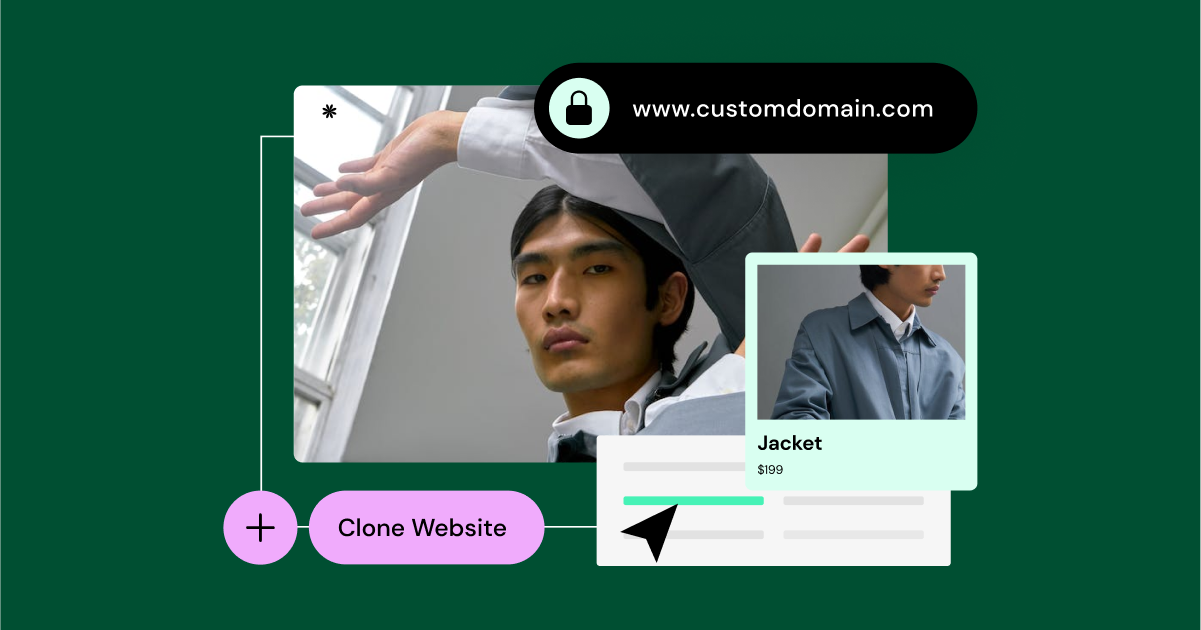 New Hosting Features
Over the past quarter, Elementor has leveled up its Hosting solution and it is now on par with other competitive Hosting providers. The features released recently provide you with more control and workflow efficiency with powerful tools including:
Cloning – duplicate your website in a single click to create a blueprint for future websites effortlessly. This is an exclusive feature available to the higher subscription plans – Scale and Grow.
SFTP – manage your website's files and folders using client programs such as FileZilla on your local computer to securely transfer files and folders between your computer and your website.
phpMyAdmin – access your database and manage elements such as posts, users, settings, products and more via phpMyAdmin.
Custom Domains – leverage Elementor's partnership with Hober to acquire a domain via Elementor and Hover, and have it automatically configured to your Elementor hosted website.
Professional Mailboxes – use one of Elementor's partners such as Zoho, Google, or Microsoft to get personalized email addresses that increase your credibility and build trust with your website visitors.
You can read more about the new Hosting features here.
Additionally, during the Roadmap event, we revealed a number of upcoming new features and enhancements expected in Elementor Hosting. These updates include a Migration Tool, to automatically migrate your website to Elementor effortlessly, as well as additional performance improvements. These updates will further Elementor Hosting as the best hosting solution for Elementor websites.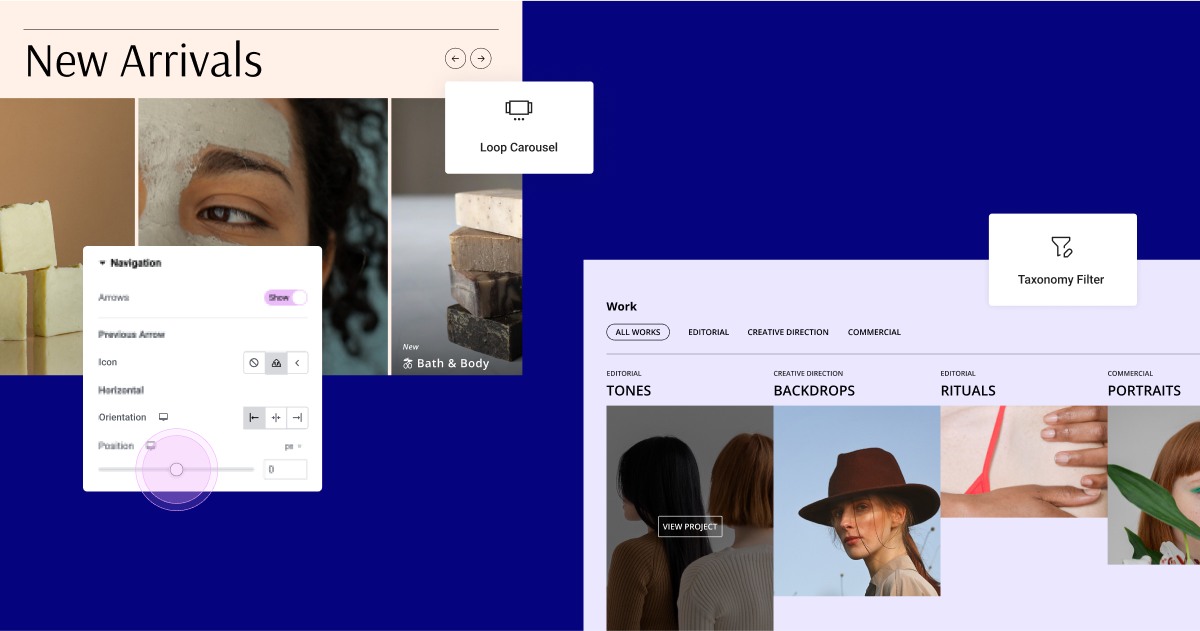 Q3 Plugin Product Roadmap
The upcoming quarter includes a number of exciting and highly anticipated features on the one hand, and also set as a goal to bring a lot of the features in the Features page to maturity.
Elementor 3.15, already available as a beta version and planned to be released in a few weeks includes the #2 and #6 most requested features on GitHub – the Nested Accordion and Loop Grid Taxonomy Filter respectively. This version also includes more styling capabilities for the Carousel and Loop Carousel features, giving you more flexibility over the appearance of your website. Additional features planned over the upcoming quarter include enhancements to the Loop Builder, the Mega Menu, and more.
On the other end, we will also be focusing on bringing many of the features that are not activated by default to maturity, and activating them on new websites. These include the Container, Nested Elements, and more.
Features may be deactivated by default for a number of reasons, they may be experimental and require additional testing, or they may require a significant learning curve and adjustment for you, and we want to empower you to decide when you're ready to activate them on your website.
Many of the features released in 2023 are dependent on the Container feature, which is deactivated by default, including the Menu, new Tabs, Carousel and upcoming Accordion widget among others. The reason it was deactivated was because this is a complex transition that we take seriously. While Containers are considered stable, and you can confidently use them on your website, we wanted to ensure we have all the resources available to make the transition as seamless as possible.
Activating these features by default on new websites will enable you to enjoy a lot of the new capabilities introduced this year, while also enabling us to bring more innovative capabilities going forward.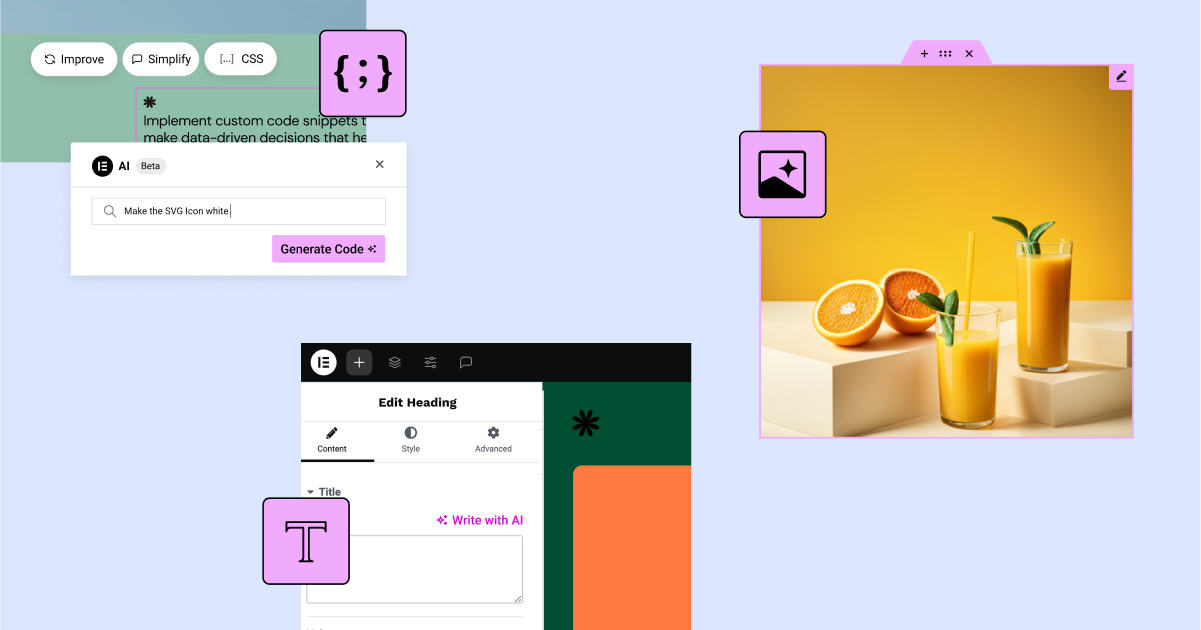 Empower your Web Creation with Elementor AI
Elementor was the first plugin to introduce AI natively as part of the workflow for building websites. Having identified a number of use cases during the creation process Elementor has begun incorporating the AI within a number of areas to improve your workflow.
Create original copy – every text field in the Editor has received the new AI icon, allowing you to create original copy, translate it into any language, change its tone, or make your text shorter or longer. That way, you can create more content for your website, while ensuring that it's on brand.
Write code – using Elementor AI, you can also create Custom CSS, Custom Code, HTML and JavaScript snippets by providing a description of the code you want to write, and letting Elementor AI do the heavy lifting.
Generate unique images, or enhance existing ones – Elementor AI recently added the ability to generate images by providing a textual description. As part of this capability, you can also expand images, improve their resolution, create variations, or apply generative AI. Starting in Elementor 3.15, you will also be able to remove or replace the background of an image on your website.
To get inspired and see some use cases you can use Elementor AI for on your website, visit the Prompts Library.
Elementor Q3-2023 Roadmap Summary
Throughout 2023, and during the past quarter, Elementor has maintained its strong momentum, delivering an array of innovative features to enhance its various products – Plugin, Hosting, and natively integrated AI. As Elementor continues to evolve and innovate, it remains committed to its mission of enabling you to create exceptional websites.
During the Roadmap Event we showcased video presentations and in-depth overviews of some of the recently introduced features, these videos are both informative and inspiring. You can watch the replay of the Roadmap Event to stay up to date with the latest developments.
We also encourage you to visit our Roadmap page (www.elementor.com/roadmap) to see what's coming next, make feature requests, or upvote existing feature requests (though our GitHub Feature Request area).
Lots of new and exciting features are coming up, let us know what you think in the comments below.
Looking for fresh content?
Get articles and insights from our weekly newsletter.