With more than half of 2021 behind us, you've been inundated with a stream of content related to the world of remote and hybrid workforces and, of course, a healthy peppering of the phrase, "unprecedented times." 
Let's zoom in on one type of team that has seen one of the biggest increases in their work as a result — web design.
In this blog, we'll provide a quick-start guide for managing a remote web design team and how to use project management tools to tackle some of their biggest challenges.
Web Design and Web Creation: Busier Than Ever
Even before the 2020's pandemic outbreak, websites have been in demand, whether for new businesses or, conversely, revamping the marketing strategy for existing businesses.
A significant number of companies made the move to online in 2020. GoDaddy, the leading web hosting platform, saw a 48% increase in new paying subscribers from February to April, with close to 17% of the market share. 
This marked the start of an ongoing trend that is making waves in the workforce. To keep up with the demand for website creation, design, and all the digital marketing needs, the need for web designers and supporting teams is growing, too. According to the U.S. Bureau of Labor Statistics, the job outlook for web developers and digital designers for the next ten years is 8%, much faster than average. 
In Web Creation, It Takes Way More Than Two To Tango
A web team or web design and creation team requires an impressive skill set and often many human resources to collaborate effectively and produce stunning, user-friendly results. 
Amongst the team members, there will be experts in everything from strategy and planning, project management, UI design, and graphic design, to web technology and site production.
With each of these roles come specific workstyles and workflows.
Meshing and managing all the key players while maintaining clear communication and not losing sight of the goal is not a feat easily accomplished. This especially holds true if each team member or sub-team relies on a completely unique method for planning, completing, measuring, and reporting their work. Throw in a few team members working in-house, from home, or freelancers—you've got quite the potential for hiccups ahead.
That's where project management tools come in. When you're working with remote teams, online project management software is the best vehicle to bring everyone and their workflows together in one place while minimizing or eliminating time lost on miscommunication and manual tasks.
Your Quick-Start Guide to Managing Remote Web Design Teams
Even from the abridged description of a remote web design team, it is easy to see the truth behind the old adage, "The devil is in the details." 
In this quick-start guide to managing remote web design teams, our goal is to give you some stable ground to help you assess and understand the unique considerations for your team(s). And, of course, we will also suggest some top-notch tools and features that can help you kickstart and maintain your success.
Let's get started. 
1. Know Your Goals and Challenges
Whether you are a seasoned project manager, team member, or perhaps a Talent Acquisition specialist building out a remote web design team, it's important to have a clear vision and understanding of who and what you are working with. Start by asking yourself these questions that can help you map out your strategy:
How much experience does each team member bring to the table? Are you working with mostly juniors, mid-level, or senior professionals? 


How many points of contact do you plan to have with other teams in the organization? Will copywriters be in direct contact with web designers? What paths to communication and approval are in place before adding them to a web page?
Which tools are essential to your web design team's success? This kind of question can help you decide or narrow your existing tech stack.
What are each team member's responsibilities, schedule, and work capacity? These three areas can be highly affected by remote work, and it's crucial that this information can be understood by all team members and even accessible at a glance.
There are surely more questions you can ask and assess. Still, these can create a framework for developing effective workflows and determining the best project management tool for your web design team, which we will cover in more detail in the next section. 
2. Make Remote Meetings Meaningful
One of design's most important functions is solving problems for users in creative ways—this can be extra challenging in the case of remote design teams. Meetings and syncs present an opportunity to stretch teammates' imagination and develop essential systems for success.
How can this be achieved without meeting rooms, whiteboards, and the comfort of meeting face to face? Here are a few things to keep in mind:
Include the right people, not all the people. If your team or organization has gone into a remote or hybrid work environment, the number of hours committed to meetings has surely increased for everyone. Be strategic and mindful about who needs to be in an actual meeting vs. who you can share in-context updates with on your dedicated workflow platform. 
Always have a clear agenda, even for brainstorming sessions. Time is even more of the essence with the harsh reality of "Zoom fatigue." As a meeting organizer, make sure you include a brief agenda with your meeting invite and stick to it during the meeting. It will help you quickly "put a pin" in ideas that come up in the meeting but should be addressed at another time.
Save video calls for the most important stuff. Before you schedule another status update meeting, consider if you could best communicate it on another platform, like a chat or updates thread where everyone can see it. Use meetings for more complex things, like explaining a new process or solving problems.
Consider the length and frequency of your standup meetings. While having daily standup meetings might be the norm or traditional, think about what's best for your team. For example, Caitlin Wagner, a Senior Design Manager at InVision, said her team decided to shake things up, "…Instead the team established a cadence of 30-minute standups on Monday/Wednesday, one-hour design critiques on Tuesday/Thursday, and a "happy half-hour" on Fridays to talk about decidedly non-work related topics."
3. Keep Culture a Priority
Remote work can spotlight workplace issues or serve as an opportunity to strengthen or build upon an existing company culture. As a remote design manager, you have the opportunity to be an extension of that as you manage your team. A few ways to promote a positive remote work culture are:
Host workshops and hackathons. It's important to schedule time for sessions outside of routine work to help your team brush up on new skills, troubleshoot, or even just dedicate time to a project or initiative that's been on the backburner for a while. To make them more engaging, you could invite a guest lecturer or have one of the team members plan the sessions. These activities will also reflect your organization's interest in the professional and personal development of its employees.
Make top-notch virtual onboarding. Joining a new team remotely can sometimes leave new hires feeling uncomfortable, out of the loop, or overwhelmed. Here are six best practices for excellent virtual onboarding:

Start the onboarding experience before Day 1. It's essential to make your new hires feel welcome before they "log in" for the first time. Consider sending a welcome packet with materials like company handbooks, a first look at their onboarding plan, and company swag.
Have a prepared onboarding schedule and resource guide. Make new hires' first week or two as smooth as possible with a plan that lays it all out for them, who they will meet, important information, and resources they should start becoming familiar with. At monday.com, each new hire has a special onboarding board with these kinds of materials.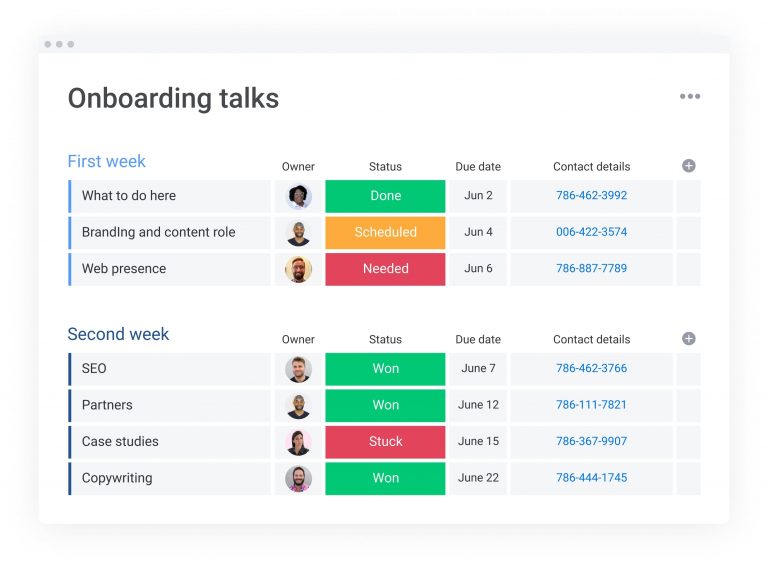 Assign a "buddy." Assigning a helpful colleague who is not a direct manager accomplishes two things at once—the new hire gets help with in-and-outs related to work and otherwise and establishes a connection on their team right away. monday.com also has designated buddies for all new hires. 
Incorporate them right away with a simple task. One of the main stressors new hires can have is the feeling that they don't know what to work on in addition to their reading materials and introductory meetings. In addition to their HR paperwork or IT setup tasks, give them a simple task that contributes to a team goal so they feel involved and build confidence.
Host virtual training sessions. While written and visual guides like decks and manuals have their place, make sure to include a few live and recorded training sessions for your new hires — especially when it comes to using specific tools and software. 
Working remotely can pose a challenge for leadership when it comes to navigating working relationships that aren't face-to-face anymore. Communication breakdowns and work scheduling discrepancies can cause real headaches. Here are a few recommendations:
Keep communication open. Make it known to your teammates or reports that you are available for concerns and guidance while also setting expectations about what you can offer and when the appropriate times and methods are for that. For example, concerns about professional development during remote work shouldn't be a Slack chat.
Increase employee recognition. With less or zero office time and concerns for email overload, recognizing employees might be something that gets pushed aside for some remote teams. We encourage you to find creative ways to approach this, whether it's dedicating a Slack channel to celebrations and recognitions or creating a newsletter. Letting employees know they are valued goes a long way. 
Be a champion for work-life balance. Be sure to make it known that your team's work-life balance is understood and a priority. You can lead by example when it comes to making your own schedule and being flexible to those of others.
Avoid micromanaging. Managing well remotely requires thoughtful planning and trust. To have a clearer picture of what your team is working on at a glance while being able to leave comments and questions, you can use a template like this one from monday.com. 
5. Explore Top Project Management Tools for Remote Web Design Teams
We could leave being a triple threat to the stars of Hollywood, but we think it's best done by smart remote web design and creation teams. To quickly start new projects, make the most out of your team's existing work, and ensure consistency and quality, we recommend using a Work OS.
It pretty much goes without saying that web designers and creators rarely work entirely alone, with all of the research and development that go into a project. A Work OS democratizes the power of software so organizations can easily build applications and work management tools that suit their needs instead of being constrained by the limits of traditional project management tools. Here are just a few features of monday.com Work OS that are perfect for remote web design teams:
Live status and timeline updates: The project plans of complicated design projects will often include other professional sources like developers or product managers. monday.com gives teams the ability to update the relevant stakeholders or clients with the status of each task and where the project stands to help bring the project goals to life.
Separate channels for each iteration or project: With your web design team members working on different pieces of a project from different locations or devices, it's crucial to separate a project into channels—either by topic, iteration dates or by which tasks have to be completed. By having this information and plan in one timeline or calendar that everyone can access, there's less room for error and less time wasted. That being said, you can manage shared assets with something like this Digital asset management template.

Real-time, in-context communication: Any web design process will be shaped by sharing ideas, thoughts, and musing with others. Whether it's a client or a member of your team, you need a more organized way to share references and ideas so that you can get feedback.
On the monday.com platform, you and anyone with access to your project board can add photos, videos, sound effects, GIFs, and any other source of inspiration that you can think of, directly on the task you're working on. monday.com also integrates with your existing tools to further keep it all together. The Creative planning with Adobe Creative Cloud template is a design team favorite because you can align your design tools and work process by syncing Adobe CC with your boards while outlining projects, tracking progress, and uploading your files or assets seamlessly so they're always accessible. 
Remote communications platforms: While sharing your work online has come pretty far, there are certainly some meetings and conversations that work best in person, or in the case of a remote team, on a video call. 
Popular choices include Zoom, Google Hangouts, and more, which monday.com offers integrations with. Whichever you choose, make it standard across team members, and be sure to sync it with your team calendars. 
Pillars for Your Remote Web Design Team's Success
Building and managing a successful web design team and projects is a process that involves forward-thinking, proactive action, and the right tools to bring everyone and everything together. 
By taking stock of your existing and future goals and priorities, you can then make the most informed decisions when choosing your most essential project management tools, namely a website builder platform and something like a Work OS. 
Looking for fresh content?
Get articles and insights from our weekly newsletter.