The Bajillion agency, in an attempt to gain a wider audience and greater recognition, completely changes its site's design to make it look more like Taylor Swift's number-one fan page in a very short time.
It's a hot summer day in Topeka, Kansas. Taylor Swift is about to release her new album — "Lover", and this has a certain design team nervously sitting by their laptops. No, they are not super fans waiting impatiently for the release (well, not all of them). The reason for their excitement is the fact that they've exceeded their expectations and managed, within a week, to completely redesign their website to look like the Taylor Swift brand — all pink and glittery. They even switched their domain name to www.taylorswift.agency.
Why would they do it? How did they manage it? What were the results?
These are the questions we will be answering in this case study. 
But first, let's introduce you to this amazing team.
The Bajillion Agency is a full-service marketing agency, headquartered in Topeka, Kansas and their aim is to help people take big ideas to the market, reach more people and change the world. 
Over the last few months, we've been continuously impressed by their work, as evident by the fact that they've appeared in four of our showcases, amongst which you can find KBS Constructors Inc., the Darting Basketball Academy, Torgeson Electric and Gray & Company. 
If you look at their work, and their own case studies, you'll see that they offer a very personal approach to each project, high professionalism, and bursting creativity, and this Taylor Swift stunt is no different. 
Challenge: A Big Project. A Week to Complete It
Themed transformations are a popular approach to generating traffic, views and brand awareness. They are common among many companies and can include anything that is holiday-related or something specific to popular culture like Towel Day (The Hitch Hiker's Guide to the Galaxy), May the 4th (Star Wars) or even something like the release of a new musical album.
The idea of copying the website and making it look like a Taylor Swift fan-site brought laughter and joy to the team. The idea was fairly straight forward. The execution, however, was a little more complicated. Once the laughter and merriment at the idea had settled there came the realization that they had a week to do it, in concurrence with other projects. Clearly, the work they were doing couldn't be neglected and they had to "make sure that no client- work was disrupted and client deadlines were met." They are professionals, after all. 
And so, they began working on the plan, allocated responsibilities and set deadlines. Everything had to be done swiftly (pun intended) in order to make their vision a reality. 
The plan included several steps. They needed their pictures done in the same manner, with similar makeup, hairstyle and white shirts as Taylor Swift, and so they scheduled team headshots. To make it more personalized they've decided to write many different titles of Taylor Swift's songs as titles under the photo of each of their team, and so, questionnaires were distributed to the team, asking them about their favorite songs. Lastly, the web team began rebuilding the site on the taylorswift.agency domain using Elementor. 
They made sure to note that they are not affiliated with Taylor Swift in any way, and kept the campaign to a short run, from Thursday to Monday. 
The Right Tool for the Job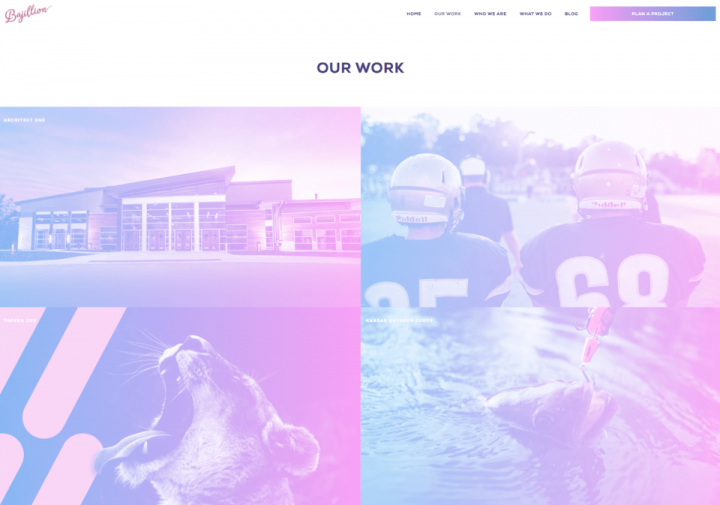 We, at Elementor, were extremely happy to learn that the process of executing this plan was, indeed, made simpler thanks to our page builder: "The original Bajillion Agency site was built using Elementor, which made copying and changing the site an easy process."
We asked what exactly made the process simpler, and we were told that the drag and drop editor, the responsive editing and the fact that you can simply copy and paste any element to different places on the page, or to different pages altogether was crucial to the speed and success of the plan.
However, there was an additional layer of Elementor that proved extremely necessary in the realization of this plan and its blitz-like execution. 
The Theme Builder was necessary to edit every part of the website and it made the whole process even easier since no coding is required. With it, the team was able to visually customize the website's headers, footers and other areas of the site easily, and make them consistent throughout the whole website. 
The Background Overlay was used to add another layer of color on top of the background. More specifically, the Filter Effects & Blend Modes helped create the nice, pink, teen-spirit design that we see. The Blend Modes allowed adding another color (pink) on top of the existing images, while the Filter Effects increased the brightness, contrast, and saturation. This is especially visible in the "Our Work" section of the website. 
In addition, Elementor's Custom Fonts feature helped find and add the most complimenting font to Bajillion's vision, clearly seen on all the pages. 
When Time Pressure and Bugs Are Not a Problem
The plan was executed in a well-choreographed manner. The whole creative team was hands-on. Everyone was working both on this project and their other work and soon, it became a challenge to juggle between the two: "Everyone worked frantically in between client projects and deadlines to make the Taylor Swift Agency transformation a reality." Despite the pressure to complete the project on time, the work inspired friendly competition, a game of sorts: "It became a challenge to see who could work the quickest." 
It also tested the capabilities of all the teams. The different teams had limited time to do their work. "The photo team was given a one hour window for headshots and 30 minutes for selection. The design team had one hour to edit the headshots and create all digital assets. The copy team was given 30 minutes to write all social posts and web copy. The web team had roughly two hours to switch the website." Their success with the pressure led to pride and satisfaction. 
Everything was ready by the day before the release of Taylor Swift's new album. On that day, all employees had changed their social media avatars and shared the new web address. At midnight, the domain was redirected and social programs were set to be released before 8 am. Everything was meticulously planned and executed in a style not unlike that of the military, including setting up a real-time command center to monitor social and website activity. 
The road was not without bumps, however.
First, it was logistically difficult to gather all the workers for the photo shooting. Some worked from home and the shooting had to be done in one day. The fact that they didn't have much time to plan it also caused some difficulties. But, the desire to finish this project was too strong, and they found a way to make everything work. 
Other problems were more technical. Apart from bugs here and there, they encountered a problem with SEMrush (a SaaS for online visibility and marketing analytics) subscriptions. It was programmed to post on Facebook and Instagram automatically, but as it happens, SEMrush is capable of scheduling, but not posting on Instagram. This would explain why none of the scheduled posts appeared on Instagram the following morning., Again, this failed to hold them back. Well-coordinated teamwork, made sure that the gang eventually managed to post everything themselves. 
Substantial Increase in Page Views, Post Reach and Post Engagement
The experiment was a success. It had positive results both within and without the company. 
The site generated numerous new page views from all over the world. It was an especially exciting moment since these were monitored on a big screen, via Google Analytics, live. For a company that is used to work with the US market exclusively, this news was extremely joyful. Additionally, there was a 45% increase in post reach and a 110% increase in post engagement. The experiment also generated one new client and numerous job applications as well as a dozen or so new newsletter subscriptions. 
Some people even contacted the agency, asking for their pictures to be photoshopped in the same manner as on the website and there was a lot of feedback from Facebook friends who commented on how Bajillion must be a fun place to work at. 
The most important outcome of this stunt, however, was the effect it had on those who participated in making it a reality. The team had a blast. "The halls of our office echoed with laughter that we hadn't heard in some time as team members compared headshots and discussed their favorite T Swift songs." 
Conclusion: Marketing Stunt and Website Makeover in Record Time
While the results were great, the stunt had other implications. 
For starters, it has united their team. The stunt had the elements of a team-building exercise, aimed at helping teams to cooperate and work better together. They had a common goal and they were having fun reaching it. Coworkers, who work in different departments and who don't usually interact with each other, interacted and got to know each other. In the future, this decidedly more united team will be able to tackle other projects quicker and better. 
Secondly, it increased their confidence. It tested the team, it put stress on them, and they successfully dealt with it. They've learned that taking a chance can be rewarding and they are proud of their success: "The stunt helped us gain some attention, but it also helped us realize what we could achieve in a short timeframe with the right minds and the right tools in place. We want to improve on this idea so be on the lookout for future agency Changeovers!" The right tools, in this case, clearly being Elementor's page builder, without which, the process would have taken much longer to realize, resulting in a missed deadline (the release of the album), and perhaps the cancellation of the whole project. 
In this case study, we've learned that when experiments, humor, and professionalism go hand in hand, they can yield unexpected, positive results. 
Humor in the workplace is important. It has the capacity to unite and motivate. It can create a friendly work environment and reduce stress. It is supported by research and the Bajillion Agency's example. Externally, humor, like a funny publicity stunt, can leave a long-lasting positive impression of a company.
Experimenting, especially when it turns out to be successful can increase confidence and open doors to future experiments. Oftentimes the true capabilities of an individual, a team and a company can be brought forward by challenging the routine. Even if the experiment is unsuccessful, it can still teach a lesson, and so, experimenting should be encouraged. 
But humor and experiments should be done responsibly. It shouldn't come at the price of existing work. The Bajillion Agency embodies this philosophy, as none of their existing projects were affected during this stunt.
We know that the next stunt will be even bigger and we are already looking forward to it.