Whether you just want a simple way to create some great-looking galleries for your visitors or you're looking for a heavy-duty plugin to help you work with clients and/or sell images, you'll find a great option on this list.
To help you make your choice, I went hands-on with seven of the best WordPress image and photo gallery plugins. For each plugin, I'll share more about its features and show you a real gallery example from my test site (using the exact same set of images to help you compare).
Let's dig in…
1. Elementor Image Gallery Widget
If you're using Elementor, you don't need a dedicated WordPress plugin to create some great-looking galleries. Instead, you can use the Elementor Image Gallery widget.
The Pro Gallery widget comes with a lightweight library we developed, masonry and justified layouts, hover and sequence animations and much more. All you need to do is simply drag and drop it to the right place (and don't forget we also have a free image gallery widget for WordPress).
2. NextGEN Gallery Plugin
NextGEN Gallery is a feature-packed WordPress image gallery plugin that's best suited for heavy-duty users, like photographers. However, if you're just looking to add a simple gallery to a page, the lengthy feature list is a little bit overkill.
But if you do need advanced features, like image management, creating shortcodes, and even the ability to sell your images, NextGEN Gallery is one of the best options for you, which explains why it's active on over 900,000 sites according to WordPress.org.
The free version at WordPress.org is good to give you a taste, but it's a little limited because you only get three gallery styles:
Slideshow
Thumbnail
Imagebrowser
Here's a real example of what a gallery looks like using just the free version:
However, if you go Pro, you'll get access to a lot more styles, like masonry, mosaic, filmstrip, and more.
Beyond just creating galleries, the Pro version can also help you with more advanced applications like:
Client proofing
Selling digital downloads or physical prints
Heavy-duty image management, including an option to upload via FTP instead of through the WordPress dashboard
The Pro version starts at $79.
3. Photo Gallery by 10Web
Photo Gallery by 10Web is another popular option that sits kind of in between NextGEN Gallery and the Elementor Image Gallerywidget. That is, it gives you more functionality than you'd get with Elementor, but it's not quite as heavy-duty as NextGEN Gallery.
Photo Gallery by 10Web comes in both a free version at WordPress.org, as well as a premium version.
Like NextGEN Gallery, the free version is fairly limited and only lets you use the following gallery layouts :
Thumbnails
Slideshow
Image Browser
Here's an example of what a gallery looks like with the default styling:

The free version also gives you some helpful backend performance options, like lazy loading, adding watermarks and image preloading for the lightbox images.
If you go Pro, you'll first-off get access to more stylish layouts, like masonry and mosaic.
Beyond new styles, the premium version offers other helpful features like:
Social media sharing buttons
More lightbox options
Video support for galleries
An Instagram integration that lets you automatically import Instagram images into a gallery
Beyond that, there's also a premium e-commerce add-on that helps you sell your images.

The premium version starts at just $30, but you'll need the $100 version for access to the Ecommerce functionality.
Modula Image Gallery is a simple WordPress gallery plugin that makes a great option if you just want an easy way to create beautiful galleries.
It won't give you the advanced image management features you'd get with something like NextGEN Gallery, but it will give you a beautiful mosaic gallery about 30 seconds after installing the plugin.
That's the biggest draw I think — ModulaImage Gallery's galleries look great by default, even in the free version. Here's what a gallery looks like in Modula with the default settings — you can see how it's a little more stylish than the other plugins' defaults: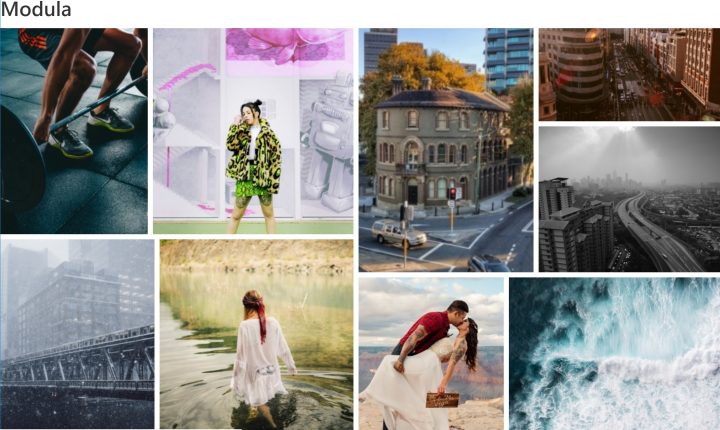 If you want to switch things up, there's also a settings area that lets you:
Change sizing, lightbox, and layout options
Add captions
Add loading and hover effects
That's all for free. Then, there's also a Pro version starting at $39 that adds:
Ajax filterable galleries
Built-in image CDN via StackPath (and optimization via ShortPixel)
More lightbox styles and hover/loading effects
Support for unlimited images in a gallery (the free version limits you to 20 images per gallery)
So if you don't need heavy-duty functionality like client proofing or eCommerce, ModulaImage Gallery is a great option for you.
Envira Gallery is a popular gallery plugin that blends the style and usability of ModulaImage Gallery with the advanced functionality of NextGEN Gallery. It has a limited free version at WordPress.org, along with a bunch of premium add-ons to stack on extra functionality.
The backend functionality is quite simple — you choose which images you want to use, either from your WordPress Media Library or an external source. Then, you can configure the various settings:
Here's an example of a gallery I built using the default settings in the free version:
Then, if you go Pro, you'll get extensions that add functionality like:
Social sharing
WooCommerce integration to sell photos
Client proofing, which is helpful if you work with clients
Watermarking
Album functionality
Video galleries
Image deeplinking
Lightroom integration (create and sync galleries straight from your Adobe Lightroom collections)
Instagram integration to import images straight from Instagram
Also, because Envira Gallery uses extensions, rather than a single premium version, it has a nice modular approach that keeps things lightweight.
The Pro version starts at $29 and ranges up to $299, depending on which extensions you want access to and how many sites you want to use Envira Gallery on.
6. FooGallery WordPress Image Gallery Plugin
FooGallery is a freemium WordPress gallery plugin that helps you create beautiful galleries, even in the free version at WordPress.org.
It doesn't have the heavy-duty eCommerce and client proofing features of some of the other plugins. But, like ModulaImage Gallery, it makes a great option if you just want a tool to help you create beautiful front-facing galleries.
It also has some nice advanced features, like infinite scroll, lazy loading, advanced pagination, and more.
The backend interface looks a lot like Envira Gallery and ModulaImage Gallery — you'll upload your images at the top and then configure the settings using a simple meta box. If you want lightbox functionality, however, you'll need to install the separate FooBox plugin, which is also available for free at WordPress.org.
One nice thing is that you're able to create masonry galleries even in the free version, where a lot of the other plugins make you pay for that.
Here's an example of a gallery I built with masonry defaults: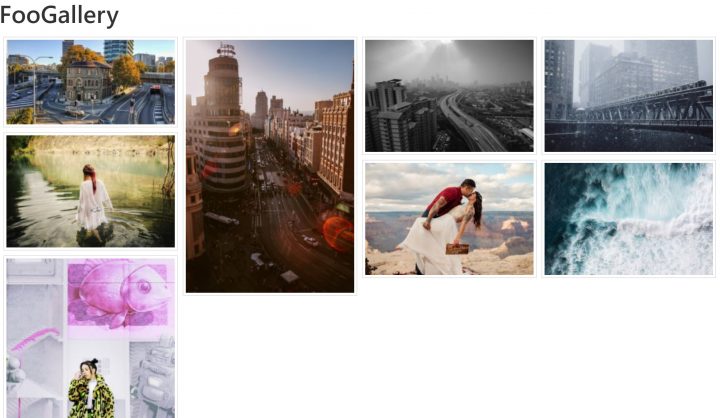 Then, there's a premium version that adds support for:
Frontend filtering for galleries using categories or tags
More gallery templates and styles, including Polaroid and more advanced grid/slider layouts
Infinite scroll
Lots of loading effects
Support for video galleries
11 hover effect presets
The Pro version starts at $49.
7. Photo Gallery by Supsystic
Finally, Photo Gallery by Supsystic is a well-rated option that, like many of the others, comes in both a free version at WordPress.org as well as a premium version with more advanced functionality.
Even in the free version, Photo Gallery by Supsystic gives you some nice pre-made gallery templates, including:
Standard grid gallery
Masonry gallery
Rounded gallery
Here's an example of what the free masonry gallery looks like:
Other nice features in the free version include:
Lightbox support
Social share button integration (with the separate/free Social Share Buttons by Supsystic plugin)
Lazy loading
A TinyPNG integration to help you optimize images
The backend settings area is a little overwhelming with how many options you get, but that's also a plus because it gives you a ton of control.
The free version lets you import gallery images from your own Media Library, while the premium version adds support for videos, as well as other internal and external image sources like:
Flickr
FTP server
Facebook
Tumblr
Google Drive
The Pro version also adds more gallery styles, as well as goodies like:
Frontend Ajax category filters
Pagination
Caption Builder
"Load More" button
Image deeplinking

The Pro version starts at $39.
What's the Best WordPress Image Gallery Plugin for Your Needs?
Now for the important question — what's the best image gallery plugin for your own sites?
Let's run through some scenarios…
If you just want to add a simple gallery to your Elementor designs, you don't need an external  plugin. Instead, just use Elementor's user-friendlywidget. . Or, if you want some more functionality, you can consider installing a third-party Elementor extension. Ultimate Addons for Elementor is one example, but there are plenty of other options.
If you want more functionality than the Elementor widgets can offer, it might be time to turn to a dedicated WordPress gallery plugin.
Here, I think a big part of your choice should come down to whether you're a:
Photographer/power user who works with clients, wants to sell images, and/or needs heavy-duty image management features and albums.
"Regular" user who just wants to create some beautiful galleries and doesn't care about that other stuff, like a blogger, for example.
If you're in the first camp — a power user — consider the premium versions of NextGEN Gallery, Envira Gallery, or Photo Gallery by 10web for your WordPress site
However, if you're in the second camp, you'd probably be better off starting your search with something like ModulaImage Gallery, FooGallery, or Photo Gallery by Supsystic. The premium versions of all three will also give you more flexibility.

Any questions about creating image galleries on a WordPress website? Ask away in the comments!
Looking for fresh content?
Get articles and insights from our weekly newsletter.