If you want to launch an e-commerce store with WordPress and WooCommerce, you'll need reliable hosting. Hosting is the engine that powers your store – it's what ensures that shoppers have a speedy shopping experience and never experience any downtime.
Put simply, your WooCommerce hosting will play an important role in the success of your store, so you'll want to get it right.
To help you do just that, we've collected the best WooCommerce hosting providers in one spot. We'll start by sharing the different types of WooCommerce hosting services and what to look for in a good provider. Then, we'll share the five best hosting options for WooCommerce stores.
Types of Hosting for WooCommerce Stores
As with regular WordPress hosting, there are different types of WooCommerce web hosting:
Shared hosting – the cheapest option. Your site "shares" its resources with other sites on the server. It can be a viable option for very small stores, but it's not the best choice for a busy store.
Cloud/VPS hosting – your site gets dedicated resources on either one machine (VPS) or an entire network of machines (cloud). You'll also see this called "cloud VPS hosting." In 2020, people are moving more towards the cloud approach than the traditional VPS model and it makes a great option for most WooCommerce stores.
Dedicated hosting – you get an entire machine to yourself, which also means that you can control every single detail about how the machine is configured. Some large stores might need/prefer dedicated hosting, but most WooCommerce stores will be fine with cloud hosting.
There's also a fourth type – managed WordPress hosting. Managed WordPress hosts are 100% dedicated to WordPress and offer an array of convenient "management" features such as:
WordPress-optimized environments
WordPress-specific firewalls and security rules
Automatic WordPress updates
Automatic backups
Staging sites to safely test changes to your store
Because they only work with WordPress, most managed WordPress hosts also have dedicated configurations in place for WooCommerce stores to help them perform well.
Managed WordPress hosting can technically use any environment (shared, VPS/cloud, or dedicated). However, in 2020, most premium WordPress hosts use cloud infrastructure from providers such as Google Cloud or Amazon Web Services (AWS).
If you're just getting started with your store, shared hosting is a good place to begin. For a small store, shared hosting can offer everything that you need and will keep your costs down.
However, as your store grows (or if you're already getting some decent traffic/order numbers), you'll probably want to upgrade to a cloud VPS, which you can easily access through the managed WordPress hosts that we'll share on this list.
What to Look for in the Best WooCommerce Hosting
Most of the important features to look for in WooCommerce hosting overlap with the features to look for in any WordPress host. However, there are a few important differences and notable features – let's go through them.
Performance and reliability are important for all websites, but especially for an online store where a slow site or downtime can have direct negative effects on your revenue.
You want a host that implements tactics to make sure your store loads fast (because there's data tying site speed to e-commerce conversion rates). Some of the tactics that you'll want to look for here are:
Server-level caching (that's properly configured for WooCommerce). Caching can be tricky for WooCommerce stores, so you won't be able to cache everything. But a properly-configured host will still help you cache what's possible
A content delivery network (CDN), especially if you have global customers
Multiple data centers so that you can choose the location closest to most of your customers
SSD storage
Beyond performance, you also want a host that has reliable infrastructure and uptime guarantees. Ideally, look for a host with a service level agreement (SLA) that guarantees specific uptime metrics.
Remember, when it comes to uptime, even a fraction of a percentage can make a big difference. The difference between 99.95% uptime and 99.85% uptime might not seem like a lot, but that adds up to an extra 45 minutes of downtime per month, which means 45 minutes of lost sales and frustrated customers.
SSL certificates are beneficial for all sites, but a must for WooCommerce stores.
Most hosts now offer free SSL certificates via Let's Encrypt, which is a DV certificate (Domain Validated). Basically, it means that you've proven ownership of the domain name. From a security/encryption perspective, these free SSL certificates are all you need to securely run a WooCommerce store.
However, many WooCommerce stores will prefer to go with an OV (Organization Validated) or EV (Extended Validation) SSL certificate instead because:
OV & EV certificates are more trustworthy because they require additional verification beyond just proving that you own the domain name (DV).
Third-party certificates offer warranties/guarantees, which can protect you if something goes wrong with your SSL certificate. This is unlikely to happen, but the stakes are high with e-commerce, which is why you might want the extra peace of mind.
Ideally, your host will also let you install your own third-party SSL certificate if you want to go that route.
Security & PCI Compliance
Beyond making it easy to use SSL certificates, you also want a host that implements other security tactics such as:
Firewalls
Malware scans
Hack fix guarantees
Again, these tactics are important for all WordPress sites, but the stakes are higher for WooCommerce stores.
Another security consideration is PCI compliance. The Payment Card Industry Data Security Standard (PCI or PCI-DSS for short) applies to any company that wants to accept credit card payments and process data on their servers(that's an important distinction). There are 12 core PCI DSS requirements, which you can read about here.
However, there are ways to avoid needing to implement PCI compliance yourself, so this shouldn't be a dealbreaker. For example, if you use an external payment gateway (like PayPal standard), PCI compliance won't apply to your store because shoppers are entering their credit card information on PayPal's servers. 
Additionally, some payment gateways include tools to help you achieve PCI compliance in your own checkout process. For example, Stripe has a feature called Stripe Elements that makes it easy to achieve PCI compliance by having Stripe host the credit card input fields that you include in your checkout.
Automatic Backups & Convenient Features
A good WooCommerce host will also give you convenient tools to manage your site and keep your data safe.
One key here is backups — you can't afford to lose data if something goes wrong with your site, so it's important to have recent backups.
While daily backups are fine for a regular WordPress site, you'll likely want more frequent backups for a WooCommerce store so that you can make sure every single order is backed up (this mainly applies to your database, as that's what stores order information).
If your host doesn't offer frequent backups, you can still add real-time incremental backups with tools such as Jetpack Backup, BlogVault, or WP Time Capsule.
Beyond backups, you'll also want other convenient features such as a staging environment, options to integrate Elasticsearch for improved product search performance, and more.
Excellent Customer Support
Finally, you want quality customer support so that you can quickly get help if anything goes wrong. Again — the stakes are much higher with an e-commerce store, so you want to get help right away if you need it. Consequently, a good WooCommerce host must have 24/7 support.
The Best WooCommerce Hosting Providers
Now, let's get into the best WooCommerce hosting providers
SiteGround is a popular shared WordPress host that recently moved all of its infrastructure to Google Cloud hosting, which gives you the reliability of Google's infrastructure behind your store.
SiteGround markets dedicated managed WooCommerce hosting plans (though these plans are basically the same as the managed WordPress plans).
With SiteGround, you'll get:
A WooCommerce auto-installer to help you quickly get started
Free DV SSL certificates from Let's Encrypt plus the option to install your own OV or EV certificate.
WooCommerce-optimized server-level caching to automatically exclude key pages and users with items in their carts from being cached
Automatic daily backups (there's no option for more frequent backups, but you can use a plugin)
Staging sites to test changes
A free CDN integration via Cloudflare
Option to use a dedicated IP address (for an extra fee)
While SiteGround's plans start at just $6.99 per month, you'll want to go with at least the $9.99 per month GrowBig plan for a WooCommerce store because it gets you access to optimized caching, staging sites, and more.
Just make sure to pay attention to the renewal prices — while you'll pay $9.99 per month for your first billing cycle (up to three years), the full renewal price for the GrowBig plan is $24.99 per month.
If you can swing it, the GoGeek plan is also a good option because it gives you premium support and more server resources.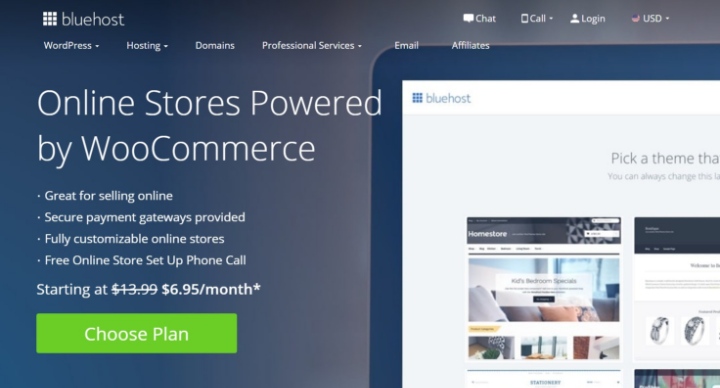 Bluehost is a popular web host with dedicated WooCommerce plans starting for under $10 per month. If you're on a tight budget, it offers an affordable place to launch your store, though you'll probably want to upgrade to a more premium host as your store grows.
All of Bluehost's WooCommerce hosting plans come with:
SSD storage
Pre-installed WooCommerce and official Storefront theme
Free DV SSL certificates
24/7 support
A free domain name
Higher-tier plans also come with automatic backups powered by CodeGuard.
Overall, you don't get quite as many WooCommerce-specific features as other hosts, but it's quite affordable as far as WooCommerce hosting goes.
Plans start at just $6.95 per month with promotional pricing or $13.99 with regular pricing. However, most store owners will want to go with at least the Plus plan at $8.95/month promo and $17.99/month regular because it gets you access to automatic backups.
All plans come with a 30-day money-back guarantee.
WP Engine is a premium managed WordPress host that also makes an excellent home for your WooCommerce store.
As a managed WordPress host, WP Engine gives you:
Performance-optimized hosting with server-level caching powered by Varnish and Memcached
Automatic updates
Automatic daily backups
Multiple staging environments
Integrated CDN
Free DV SSL certificates
24/7 live support on all plans and 24/7 phone support on higher-tier plans
For WooCommerce stores, WP Engine will automatically configure the server-level caching to:
Exclude key pages from caching, such as shopping carts and checkout pages
Exclude certain users from being cached, like users who have items in their carts (via the "woocommerce_items_in_cart" cookie
You can learn about these configuration changes in this help article.
WP Engine's cheapest plan is the $30 per month Startup plan. However, WooCommerce stores will likely want the $115 per month Growth plan because it adds the ability to import your own SSL certificate and gets you 24/7 phone support.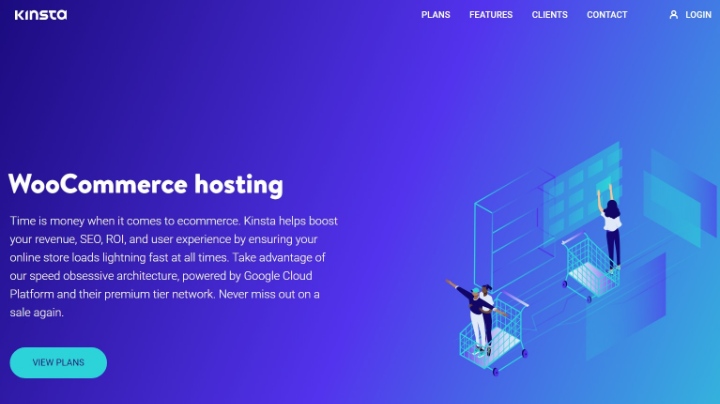 Kinsta is a popular managed WordPress host that uses the Premium tier of Google Cloud for all of its hosting plans.
You'll get fast, reliable infrastructure with:
Server-level caching via Nginx Fast_CGI cache
Dedicated PHP workers
24 global data centers to choose from
Built-in CDN powered by KeyCDN
Free DV SSL certificates from Let's Encrypt plus the option to install your own SSL certificates
Elasticsearch add-on for improved product search performance (for an extra fee)
Kinsta also puts in place some WooCommerce-specific optimizations including:
Proper configuration rules for Kinsta's server-level caching to exclude key WooCommerce pages
Automatically bypassing the cache when shoppers have items in their carts (by detecting the "woocommerce_items_in_cart" cookie
Programmatically purging certain URLs that are unique to your store
In terms of security, Kinsta has its own firewall and malware scanning. They also offer daily backups by default, but you have the option to increase the frequency all the way up to hourly (for an extra fee).
If something goes wrong, you'll get 24/7 live chat support and Kinsta also offers a 99.9% uptime guarantee backed by an SLA.
Kinsta's plans start at $30 per month. However, the cheapest tier that they recommend for WooCommerce stores is the $100 per month Business 1 plan. All plans come with a 30-day money-back guarantee.
In terms of managed WooCommerce hosting, Nexcess has one of the better offerings because it bundles in an entire platform to make your store a success, along with all the features that you'd expect from WooCommerce hosting.
First off, Nexcess WooCommerce hosting has an optimized environment that comes with:
Optimized performance for WooCommerce stores
PCI-DSS compliance
Auto-scaling as needed
24/7 support
Free DV SSL certificates
Security firewall and malware monitoring
One of the most unique things about Nexcess' offerings is that it also includes premium e-commerce tools at no extra cost. These depend on your plan and can include:
Astra Pro theme
WP All Import Pro for WooCommerce
iThemes Security Pro
All Iconic WP WooCommerce plugins
Jilt Pro for email marketing/abandoned cart emails
Dropshipping via ShopMaster
Multi-vendor marketplaces via Dokan Multivendor Pro
Glew.io for e-commerce analytics and business intelligence
They've also recently added the Sales Performance Monitor plugin to all of their WooCommerce hosting plans. The plugin will watch your sales on the backend and measure them against a predicted model based on your site's historical performance on a daily and weekly basis. 
Nexcess uses a unique billing model that charges you based on your store's order volume, rather than your visitors. There are also limits on storage and bandwidth with each plan and you'll get different premium add-ons based on your plan.
Plans start at just $19 per month for a maximum of 500 orders per hour. They'll never cut your store off if you exceed that limit – they'll just ask you to upgrade to the next plan once you consistently go over your limit.
You can try Nexcess WooCommerce hosting with a 14-day free trial of the Starter plan, which is another unique feature of this platform.
Overall, if you want a hosting experience that's 100% tailored to WooCommerce, this is probably your best option and it comes from a reputable hosting company in Nexcess.
Get Started With WooCommerce Hosting Today
All of the hosts on this list are solid options for WooCommerce stores – you'll just need to pick the option that meets your budget, has the features that you care about, and can handle your store's traffic.
Again, if you're just launching your WooCommerce site, you can probably get started with a cheaper shared host like SiteGround or Bluehost (or GoDaddy if you want those bundled plugins). However, as your store grows, you'll likely want to upgrade to more premium hosting from Kinsta, Liquid Web, or WP Engine.
If you're still in the early stages of building your store, you can follow our step-by-step WooCommerce tutorial to set up your store. Then, to create a shopper-friendly, conversion-optimized store layout, you can use Elementor WooCommerce builder to design your shop and product templates using Elementor's visual, drag-and-drop interface  — no code required!
Do you have any questions about choosing the best WooCommerce hosting for your store? Let us know in the comments!