Like most people, you probably get numerous emails in your inbox every day. The subjects could vary. You could get the "Open this email to get a discount" or the "Check out our new product!" email, and occasionally — the "Nigerian Prince" email. 
How many of these emails do you really open, and why? Is it because of that emoji in the subject line? Or is it because you were offered 20% off of something? Or maybe you don't open them at all?
Unlike the popular opinion among recipients (like me) that these emails are created by monkeys, email marketing is a science in its own right. It's also an art form. It is aimed at converting prospects into customers, and customers into loyal fans. 
But what is email marketing, really? 
Email marketing is a highly effective digital marketing strategy that involves sending interesting or valuable content to a list of subscribers via email to generate traffic, get leads and cultivate customer loyalty. Through it, you get the option to sell products, share news and tell stories to your audience. 
Would it surprise you to know that for every $1 spent on an email, you earn $38 in return? Sure, spamming has given it a bad reputation and social media has stolen the spotlight, but email marketing is still the most effective way to turn your leads into customers. 
That's because it is based on interesting templates, on personalization (such as making sure your subscriber's name appears in the greeting), on the appropriate times to send emails, on automation, and so many other details that shouldn't go unnoticed. To make sure that everything is covered, you will need an email management service. Here at Elementor use MailChimp, and we would like to tell you why. 
MailChimp is a cloud-based email management and marketing service. It has elements of CRM, and one could say that it's an all-in-one marketing platform that gives you the ability to create and manage mailing lists, newsletters, automated campaigns, and more. It is simple to use and rich with features. As of 2019, it has 11 million active users with a total audience of 4 billion, with some1 billion emails passing through its system every day.
What Do I Need Email Marketing Software For?
Email marketing is easy enough when you have a few subscribers. You can send them individual emails, or bcc them into one email, but the more subscribers you get, the more difficult it becomes to manage them all. 
You won't be able to send individual emails to thousands of subscribers, certainly not through services like Gmail, Yahoo, and the rest. Why? Because most email service providers limit the number of emails, you can send at one time. In addition, should you be spamming people with your emails, these services may tag your address as a spam address, further limiting your ability to reach any audience. Additional difficulties with design, reporting, and the adherence to the law (like adding the unsubscribe option), will hinder your ability to send emails from your private address. 
An email marketing and management tool will allow you to overcome these difficulties and limitations. It will offer you ways to automate processes, you professionally designed templates, l making sure that your emails are delivered. Most importantly, it will produce reports that will enable you to make better decisions and improve your campaigns, and it will allow you to do it all with ease. This is where Mailchimp comes into play because it offers all of the above and more.
Mailchimp offers a free version of its service, and it's impressive. It allows you to send 10,000 emails to 2000 contacts every month. 
To get started, you'll need to go to the website and sign up. Setting up the account is fairly straightforward, and there's a guide to help you out even if you are not tech-savvy. Once you register, you'll be asked for things like your email address, website, list of subscribers, and to connect to social media, etc. Just before you finish, you'll be offered the "Find Your Marketing Path" option a very helpful service for beginners that only takes 60 seconds to set up. 
Now you can start designing your first email by choosing a template, adding contacts, and voila! You are ready to send your first email after a few easy, guided steps. You should be aware that since it's a free version, there will be a Mailchimp footer in each one of your emails. 
When you import your contacts, it's important that you tag them accordingly, since it will give you more freedom to target very specific subscribers for whatever campaign you decide to run. You can add multiple tags to a single contact. You can also create segments that are used to create target audiences, based on shared data, that will be updated automatically. 
For the paid user, there are additional built-in ways to sort and target contacts. You can combine different conditions like age, gender, purchase activity and more. Marketers who used these segmented campaigns noted as much as a 760% increase in revenue. 
Mailchimp makes it easy to send emails by offering the option to choose from professionally created, customizable templates available for nearly any occasion. You can welcome new subscribers or announce the release of a new product with a premade template. Even if it's your first time creating an email campaign, with these templates, you'll look like a pro. The templates are designed in such a way that you only need to click on a box, add text or an image, and that's it. Mailchimp has more than 100 templates available.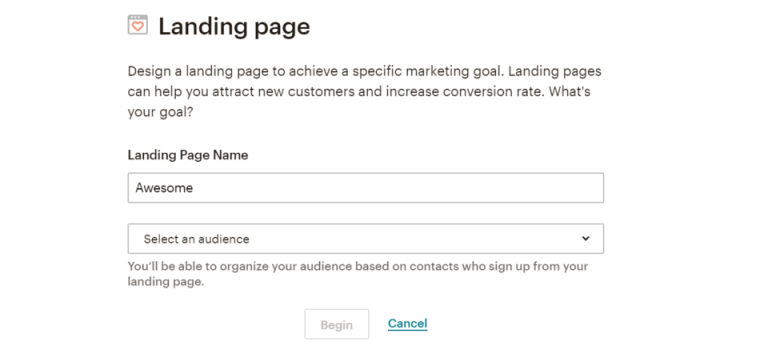 MailChimp also offers a variety of marketing channels, seven of which are available to the free user. The most interesting among them are: 
Landing Pages – You can design beautiful landing pages with MailChimp to include a clear call to action. What's more, you can publish unlimited landing pages for free. 
Facebook & Instagram Ads – You can use your MailChimp data to create Facebook campaigns. You can easily create ads, pay for them and track the results through MailChimp. 
Social Posting – Not only can you create ads, but you can also create and publish your Facebook and Instagram posts, and track their performance on the MailChimp dashboard.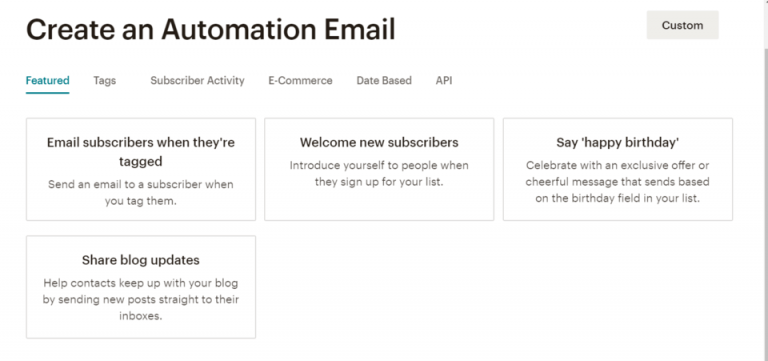 Another bonus for free users is the single-step automation, allowing you to send an automated welcome email to new subscribers. This also allows you to send an automated email for birthdays, anniversaries, and even send reminders to users with abandoned carts. There are 21 types of automation to help you save time and get more things done. Free users are restricted to selecting one, unlike paying users who can select any number of automation actions to create a custom multi-step workflow.
There are, however, some notes to consider. You cannot create your own automation workflows, and editing the ones that are available is difficult, but for those just beginning their email marketing journey, this is a great start. 
Once you start your campaign, you'll have access to reports. You'll be able to monitor trends with real-time stats, track performance and identify your strengths and weaknesses. You'll be able to use this information to create better campaigns, make better decisions, and better understand your audience and their behavior. This helps you understand who interacted with your emails, who clicked on what and who bought or downloaded your products. You can get interactive graphs, geo-tracking, social media information and more. Additionally, you can integrate Google analytics to get even more information. 
For a fee, you can even get comparative reports allowing you to choose any number of campaigns, to help you identify patterns in subscriber engagement. 
Mailchimp offers more than 500 integrations and add-ons. You can easily integrate tools that you are already using and open the door to a myriad of other options. Some integrations are essential; others add customization options and include anything from CRM and e-commerce integrations to analytics integrations and more. Capture more leads and create autoresponders when customers add an item to their cart or wish list. Connect your WordPress site to add more customization options, create popups, and much, much more.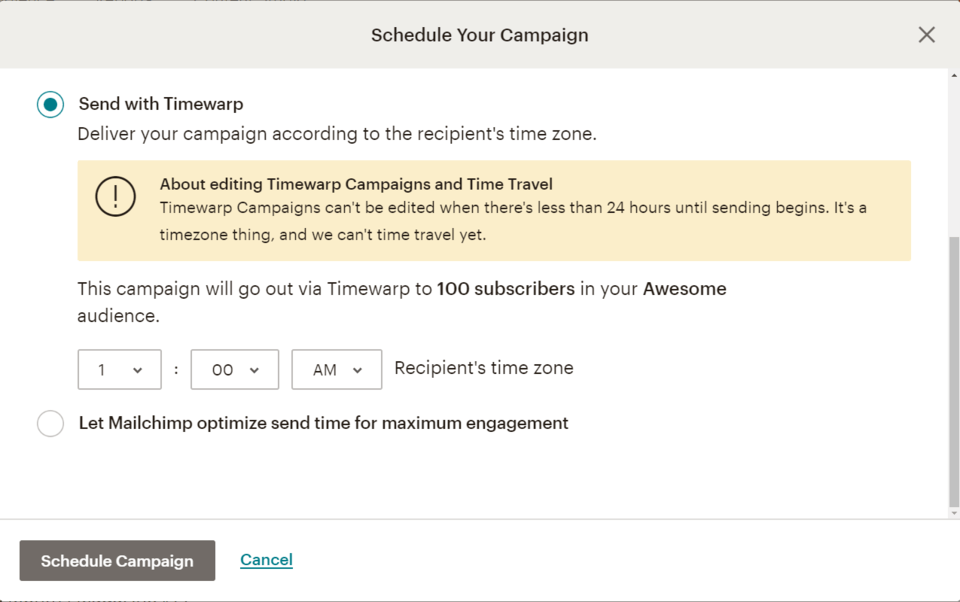 This paid feature schedules email campaigns based on individual times zones. This way your subscribers will receive their emails at the correct time, no matter whether they're in New York or London… Instead of sending the email to everyone at once, Timewarp will delay and send it only when the time is right, allowing you to make sure that your emails are not lost or neglected because you accidentally selected the wrong time to send them.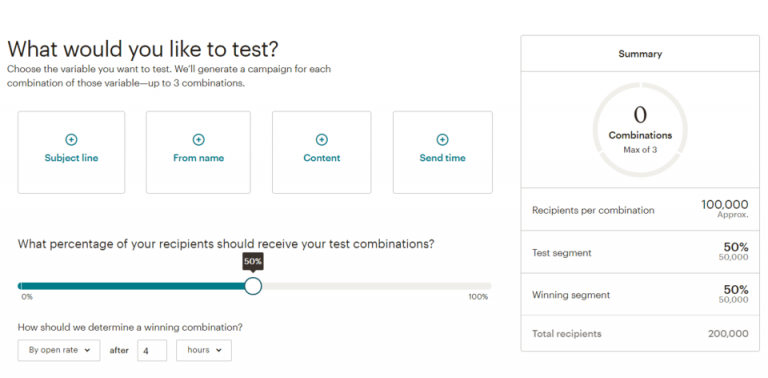 There are two types of testing available: A/B testing and Multivariate testing. A/B allows you to test three variations of a single variable,(the subject line, for example) and how they affect the way your subscribers interact with your emails. Multivariate testing, on the other hand, allows you to test up to 8 variations of each of up to 3 variables in a single test. With these tests, you'll be able to find out which option works best, making sure that your efforts yield the best results.
What We Like About MailChimp (The Pros)
Mailchimp is full of interesting, useful and helpful features and we find that there are many positive aspects to giving it a try, especially the free version.
We like the fact that you can do a lot with the free plan. You can send up to 10,000 emails to 2000 contacts, and not only that you get basic templates, a single automation option, seven marketing channels, basic segmentation options, and basic reports. There is a small catch, however. You will have a MailChimp badge at the bottom of every email, which we believe to be a small price to pay.
Mailchimp is easy to use in many ways: It's easy to set up. The whole process is very guided, and it even offers you a 'find your marketing path' option. It's very intuitive; there is no need for technical knowledge. Its interface is clean, without any unnecessary clatter. It implements a drag and drop mechanism in the editor. You can use pre-built templates and tags, easily set up the automation, and once everything is ready, simply send the emails. 
With more than 500 integrations available, MailChimp opens the door to lots of options. You can add additional analytics tools, more design options, connect your e-commerce stores, add pop-ups, connect your social media and much more, to create a much better, more customized experience and reach your full potential.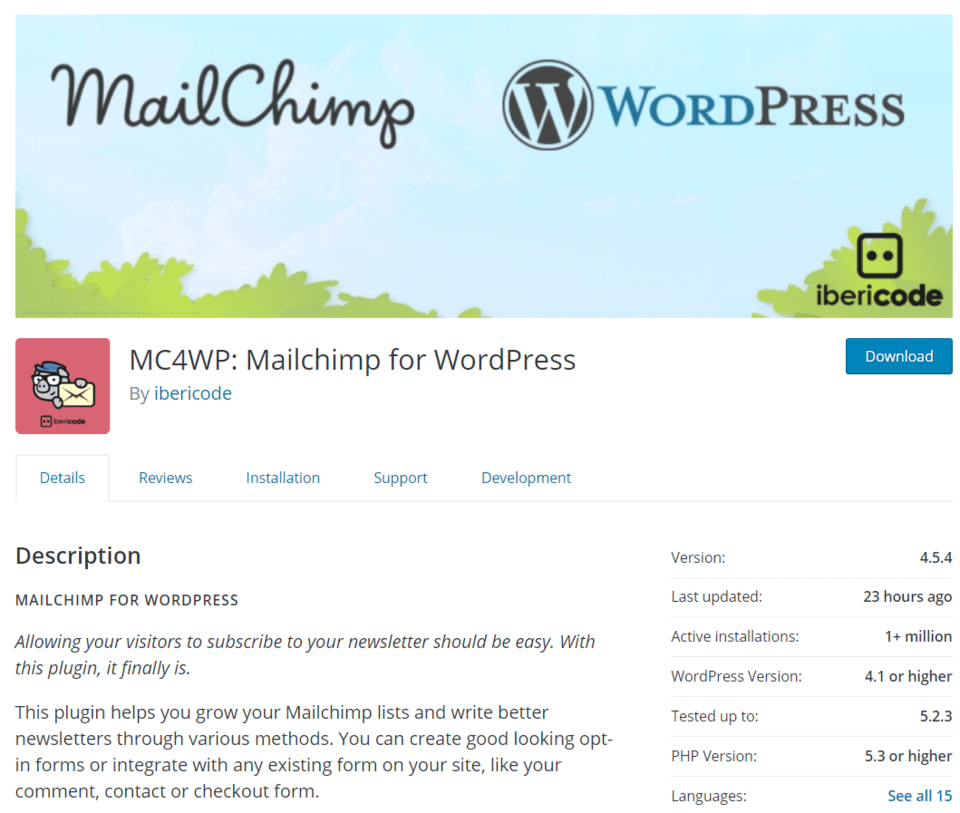 Mailchimp has a WordPress plugin, which we believe is of great benefit to our readers. It will make subscribing to your newsletter easier with sign-up forms that are user-friendly and mobile optimized. 
What's Making Us Reconsider Using MailChimp (The Cons)
Among the many positive aspects of MailChimp, there are also some negative ones. We believe it's important that you know about them before you fully commit to giving it a try. 
One of the main negative sides of MailChimp is its price. The more contacts you want to send emails to, the more you'll have to pay. While the website does have a calculator, it does include the costs listed in the fine print in the final equation. There is an additional cost if you exceed the number of emails in your plan. So, for example, if you pay $259 for a 50,000 contacts plan, and you exceed your allowance, you will have to pay an additional $59.99/mo per additional 4000 contacts. For some, this seems excessive (50,000 for $259 v.s. 4000 for 59.99). Furthermore, they have a pay-as-you-go plan, where you can purchase tokens. This plan also seems very expensive, as each token is spent every time an email is sent. 
There are some limitations to MailChimp in terms of what it offers and how it offers it. If we consider the terms transactional and marketing emails, we'll quickly learn that MailChimp doesn't deliver on what most of us consider to be transactional emails. MailChimp defines marketing emails as messages you send containing promotional content. While transactional emails are defined as messages, you send containing information needed to complete a transaction process (such as a receipt).
While we believe that the templates make it easier to create email campaigns, there is also a downside to this as it limits design options. Not only do you have to follow the template in order to create the email, but you also have to take certain factors, like sizes and dimensions, into consideration. Something that limits your design options even further. Overall, these templates are not exceptional and are similar to other templates offered by other similar tools.
While Mailchimp's automation is simple to assign, in practice, it is too simple and too limited. There is no workflow editor to make managing the automation steps less problematic. Editing the existing automation is also difficult. Overall, when it comes to automation options, MailChimp lacks, whereas others, like ActiveCampaign, for example, excel in it.
We recommend MailChimp for beginners, those who have a few contacts and those who don't necessarily need transactional emails. It is an all-in-one solution for email marketing and informative reporting. The wonderful thing about it is that free users can get a lot from this tool. You can get the basic automation for free, you can get nice templates and the ability to tag and segment. You will have access to 7 different marketing channels, and overall, you'll get a lot for free. If you are willing to pay, however, you'll get even more options like testing and other advanced features. 
There are also several limitations that may cause you to reconsider using this tool. The most important limitation is the price. It becomes increasingly more expensive to use it the more contacts you have. To some, the cost may be acceptable, as they can get a good return on their investment, to others, however, this may turn out to be too expensive. Lastly, while we say that it's an all-in-one solution for email marketing, we can't say as much when it comes to transactional emails. 
We love to use this tool, and we highly recommend it. Though especially good for freelancers and small businesses, we also think that it will benefit larger organizations with lots of contacts. 
Website: https://mailchimp.com/
Function: Email management and marketing. 
Alternatives: ActiveCampagin, ConvertKit, GetResponse, MailerLite
Pricing: Prices vary, depending on the number of contacts, and they have a calculator on their website. Up to 2000 contacts free. 500 contacts – $9.99/mo. 200,000 contacts – $1,099/mo
Looking for fresh content?
Get articles and insights from our weekly newsletter.