The devastating effects of COVID-19 on the livelihood of web creator freelancers and agencies are becoming increasingly evident. The tech and marketing sectors are potentially looking at massive layoffs as surveys indicate 41% of small and medium businesses (SMBs) in the US will fold in the next month without government support.
Web creators need help sustaining their businesses and keeping them afloat. That is why I'm proud to announce that we are launching a brand new product; Elementor Experts, a discovery network that connects pro marketers, designers, developers and other web creators in a brand new way.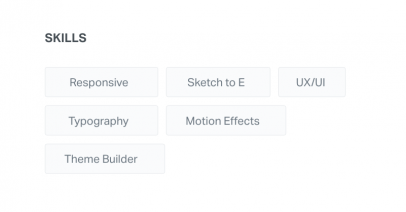 Launching a successful WordPress website project is a collaborative effort, and involves the contribution of different professionals. You need to coordinate web designers, copywriters, branding experts, conversion specialists, SEOs, JS developers… the list goes on.
The Elementor Experts Network connects Elementor-WordPress specialists and makes it easy to collaborate and work together.
If you are looking for an Elementor expert, you'll be able to find a list of varied professionals, filter them according to your needed skills, and connect with them for a potential hire or collaboration.
On the other side, if you are looking to become an influential expert in your field or get hired, you'll be able to upload a portfolio of your best work and get discovered by others who seek a professional with your expertise.
Why We Decided on an Early Launch During This Crisis


With freelancers and SMBs particularly vulnerable, we decided to launch the Experts network ahead of schedule. We've been working on Experts for over a year, and the release of the product was initially scheduled for Elementor's 4th Birthday in June. Following the outbreak, our team buckled down to reach the newly set deadline. Creating a profile on 'Experts' was first intended as a premium service for our top-tier 'expert plan' customers. Following the crisis, we decided to make it available to all pro users, free of charge, for the duration of the coronavirus crisis. Browsing for experts though is free and accessible for everyone.
We built Experts in a way that makes it easier to rate the skills and expertise of each professional.
When you upload a project to your portfolio, you are asked to mark the skills involved in the project.
Your collective skills are calculated by a unique algorithm into what we call 'the skill circle'.
Each profile's skill circle consists of 3 scores: marketing, design and development. All three scores add up to 100% of the experts' abilities.
Each expert gets his or her own unique skill circle. When you browse through the experts, you can instantly assess each expert, and understand their specialty.
But wait, there's more.
After you search for the expert you need, you are able to narrow the results, using six filters:
Expertise: marketing, design and development
Services: SEO, integration, plugins and so on
Skills: Elementor skills, WordPress skills and general skills
Price Range: You can make sure to find professionals who fit your budget
Location
And Language
As we deploy 'Experts' in Beta, for free to all our Pro plans, it's important to note premium support is not available at this point. Support will be provided on a best effort basis. Feel free to use our handy docs, FAQs and tutorials as well as to the content moderation guidelines.
Improve Your Online Presence with Experts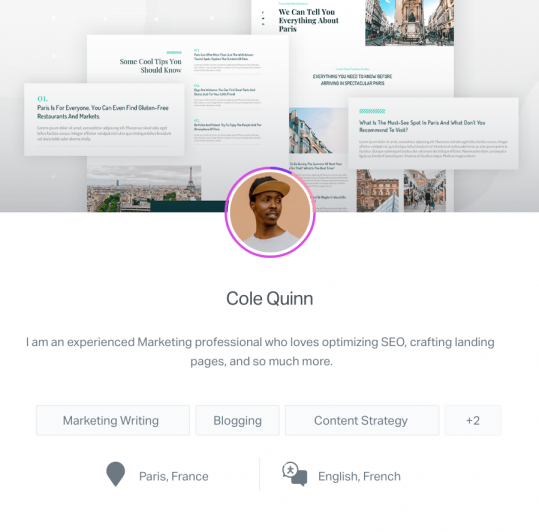 We believe that Experts will help Elementor's web creators community succeed through and after this crisis. Not only that, but it will also assist in several key areas, vital for every professional web creator:
Showcase your work. 'Experts' is not only meant for displaying great designs. We made it easy for you to showcase any website-related skills.
Get clients. Since Experts is the official place to find Elementor professionals in all fields, it's also the best place for you to find relevant clients who are looking for help.
Build expertise. 'Experts' is built to help you focus on what you are good at, and then find partners that will complement the skills you lack, eventually allowing you to offer larger, more complex projects and grow your business.
Build trust and authority. Elementor boasts a huge community of both clients seeking help, and professionals providing expert services. By joining the network, professionals are able to enjoy the trust and authority associated with the Elementor brand.
Connect with colleagues. Strengthen your connections with individuals in the Elementor ecosystem & community, and develop partnerships, collaborations and mutual projects.
Hire and collaborate. Having all Elementor-WordPress experts in one place will make finding and hiring much easier. If you are a web creator yourself, you can easily find fellow Elementor professionals to fill in your skill or knowledge gaps.
While there is no lack of bad news lately, the movement of businesses towards online presence can mean a potential opportunity for professional web creators.
Our hope is that 'Experts' will let your best work and unique talents shine, and be discovered by clients who seek professional service.
Today is another major step of a bigger plan to provide the ultimate platform to empower Elementor community and professional web creators as a whole.
Go to experts.elementor.com, create your free account, showcase your work and start growing your business today.
Looking for fresh content?
Get articles and insights from our weekly newsletter.