WordPress Related Posts? Don't Need No Extra Plugin for That! 😁 #BuiltInElementor
Starting an online magazine or any other content-heavy site on WordPress is a challenging task. Featuring the right articles at the right time – that's a big part of the challenge.
To help you better cope with featured posts, we significantly improved the post filtering options available in our Post, Portfolio and Products widgets.
Introducing Advanced Query Control – WordPress post filtering tools which include:
Related Posts
Date Filter
Exclude options
At Elementor, we care about improving existing widgets and features just as much as we care about introducing new ones. Lucky for us, we have the biggest focus group at the tip of our fingers; over 2 million users who use our tools daily and constantly suggest amazing improvements.
The improvements being released are based on suggestions from users. This shows the power of our open source solution that constantly gets better thanks to the power of our community.
Let's dive in and see how these upgrades give you powerful capabilities when featuring posts on your news, listings and advanced websites. 
Remember spending 4 hours on YouTube, watching one cat video after another? 
This happened because of YouTube's intelligent use of related videos. Now Elementor users can recreate the same experience and keep visitors engaged for much longer, using Related Posts.
The Related Posts option lets you include and exclude the shown results according to the current author or the current term. Relating terms means the chosen posts will be picked according to a related category, tag or other taxonomy. You can also mix several rules to get a sophisticated filter going.
Related posts are not just for featuring blog posts. If you have a site showing listings, you can use related posts to show more listings on a single listing page, increasing the time your visitors spend on your site. With this feature update, Elementor gives you the option to display related posts without having to use another plugin or custom code.
Here's a pro tip: Use Elementor's Popup Builder to add a slide in popup that arrives after readers reach 80% of the article to offer them other related posts on a similar topic (Watch tutorial).
For those cases where you don't have related posts, we added a fallback option which will display either manually selected posts or recent posts. This way, you never leave your readers without a recommendation.
Exclude Posts Via Tags, Categories, Authors & More
Let's say you created a real estate website, with custom taxonomies like city, number of rooms, property size and so on.
With the new query post filters, you can specify elaborate queries when deciding how to display posts. 
For example, for the same real estate site, you can choose to display properties in London, excluding 2 rooms and below, with a property size of 80m and above.  
Ignore WordPress Sticky Posts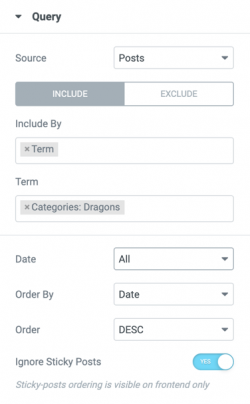 A sticky post is a WordPress setting that lets you stick a certain post to the top of your posts list.
Let's say you have a post you set as sticky. Does that mean that it has to be featured everywhere you show posts?
There are some situations where you would want to stick a post in one area and put it in the normal order in another.
Now, you have the option to switch on 'Ignore sticky posts', and have the post appear in its regular order.
A use case for this control is if you want to stick the post and feature it at the top of the list on the homepage, but show the regular order of posts in the sidebar.
This feature joins the 'Avoid Duplicates' feature released in Pro v2.1, which allows you to make sure posts are shown only once if several post widgets are used. If you have a magazine-style homepage, be sure to check out this feature.
Filter Posts By Date Range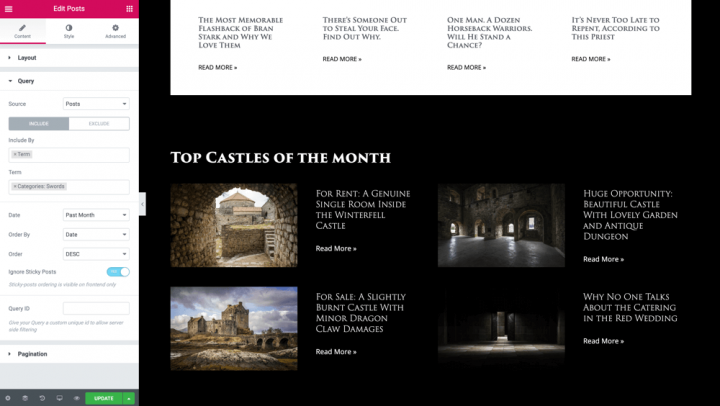 The new date range control allows you to display posts according to a date range of your choosing.
With date range, you can display posts that were published in the past day, week, month, quarter, year, or pick a custom range.
With the date range controls, you can automate many of your recurring magazine spots, like:
Breaking news
Featured daily posts 
Now trending articles
Seasonal posts (where you display all the posts published around the holidays)
If you decide to set a custom date range, you will need to use the before / after date controls. The Before date will show posts published until a certain date. If you choose 1.1.2019 on before, the widget will show all the posts published until 1.1.2019.
The After date, accordingly, will show all the posts since the chosen date. 
If you set before 1.1.2019 and after 1.4.2019, it will show all the posts published before 1.1.2019 and after 1.4.2019.  
If you set after 1.1.2019 and before 1.4.2019, it will show all the posts published between that timeframe.
This feature will improve the way you filter posts on WordPress, letting you set related posts without having to use code or additional plugins.
The posts, portfolio and products widgets, now with a revamped query control, are great examples how Elementor is a tool that manages to empower your development and design capabilities, all in one tool.
We are very proud of these new features, and have high hopes it will help our users build outstanding websites, both in terms of design and functionality.
Hey, Here's Your HomeWork! 👩🏼‍🏫

If you are a web creator who builds magazine, blog or any other listing websites, please let us know what you think of these features and whether you plan to incorporate them in your upcoming projects.
Looking for fresh content?
Get articles and insights from our weekly newsletter.