There's a good reason why most freelance web creators fail to take advantage of social media marketing:
TIME! (or lack thereof)
But there is a way to build a social media marketing process that will not eat away at your valuable client work. Instead, it will help you become a better expert in your field. This is what we'll be exploring in this article.
In the past five years, I was involved in building the social media platforms for Elementor, both hands-on in the first few years after launching the product and then later as the head of content. During this time, we managed to grow a large audience on several platforms, including YouTube, Facebook, Instagram, and our Facebook group.
Back in the early days, we worked as a small team and had to be highly efficient with our time. That's why I can relate to the difficulty web creators face when they need to build and maintain their own social media pages.
The method I will describe can be summarized in the following concept:
As you gradually gain experience and skills as a web creator, share that knowledge as your social media content. 
This is a method that allows you to be strategic with your social media marketing.
By publishing what you learn, you can create a strong social media presence without once stopping and thinking: "what will be my next funny Instagram post?" Moreover, publishing that social content will help engrave that knowledge in your brain. This way, the more content you publish on social media platforms, the better your skills become.
Why Social Media Marketing?
Before we get into the tips, I want to explain why I believe every web creator should invest in social media. 
I'm always on the lookout for exciting agencies that use Elementor. It's always a surprise to discover that many successful and professional agencies, even ones that build the most beautiful and sophisticated websites, have social media pages that look like they were once set up and then forgotten. It's not uncommon to visit one of these profiles and see a lonely post dating back to 2018.
A web creator's willingness to let go of any activity in social media is surprising, given the potential exposure that is possible through these platforms. Through social media, you can reach an audience of 3.96 billion people who currently use social media worldwide.
According to an Orbit Media survey, bloggers see social media as the top choice for getting traffic to their content, beating all other sources:
Bloggers are not the only ones who understand the benefit of social media. Most brands invest heavily in their social media presence, and that investment seems to pay off. 9 out of 10 consumers will buy products from a brand they follow on social media, according to the 2020 Sprout Social index.
Growing an organic following on social media makes even more sense if you are a professional freelancer with limited resources to advertise. Becoming known for your expertise means you need to put less effort into selling yourself to clients.
David C. Baker discusses why it pays to be an expert in his book "The business of expertise":
"The more prospects learn about you on their own, already aware of your expertise and primed to hire your firm, the less time and money you need to spend on selling your services. The easiest way to achieve that is to be viewed as a thought leader among those prospects you serve in the marketing field."
Baker gives professionals a good reason to work on their expertise. It makes selling your services a whole lot easier. Following this concept, the more you build your social media presence as a professional and expert, the easier it will be to get more clients. 
Now that you see the potential of social media for your web creator business, let's see how to get actual results without sacrificing time and resources you don't have.
Most books and articles I've read on the topic of social media strategy use the same social media examples for inspiration: the ones that big brands with millions of followers maintain.
One of these highly praised brands was Denny's Diner. Denny's maintains several creative and funny social media profiles across the different platforms. They managed to build a strong following: 264K followers on Instagram, 466K on Twitter. They post hilarious out of this world content like this one:
There's no doubt that Denny's Instagram page is hilarious, but nevertheless, I would recommend choosing a different strategy if you're a freelance web creator.
Big brands like Denny's have at least one dedicated staff member who can afford to spend the entire day thinking up witty posts without having to utilize the content for other purposes. Denny's posts are like ads. They're funny, engaging but cannot be later leveraged further.
When you finally sit down to write a post for your Facebook business page, instead of thinking of a funny concept, I suggest you write something you've learned recently. Something that you can later use as a story you tell a prospect or during a networking event.
In his video about Instagram content strategy, Chris Do talks about how his own educational Instagram carousels have helped him find out what his most interesting content is. 
If something gets a huge reaction, he can then take it back to his business and base a talk or a course on it. This is how you can leverage the content you create for social media for other areas of your business. 
To create social media posts that you can later utilize in your business, you need to make sure everything you write has a direct link to the problems you solve for your clients.
This brings us to point number 2.
2. Use the "They ask, you answer" approach
Marcus Sheridan was part owner of River Pools and Spas, a company specializing in selling fiberglass pools. In 2008, following the stock market crash, his company suffered $250,000 in losses and was close to bankruptcy. He needed to get more sales and leads to his business in order to survive another year. He thought about utilizing online marketing but didn't know how to do it.
Then, the concept of "They ask, you answer" came to him. He could just answer people's questions.
He and his team brainstormed every question related to fiberglass pools they could think of, based on their nine years of experience. Then, during the following months, they wrote articles and filmed videos that answered every single one of those questions and published them.
The result? Not only were they able to save their business, River Pools and Spas now has the most trafficked fiberglass pools website in the entire world.
Marcus systematized this approach in a book called, not surprisingly, "'They ask, you answer".
So, how does this story relate to social media marketing?
Think back to your work since you became a web creator. Which problems did you solve for your clients?
Maybe you're an SEO expert that is THE person startups in your country know to call to deal with WordPress load time issues.
Maybe you're a designer who gets complimented for your personal approach after clients were used to be treated like another task to be processed.
Maybe you're the kind of one-person show who removes the client's back and forth between various professionals.
In all three cases, the professional web creators answer a clear problem their clients were facing. Not only that, they answer it in their own unique way, using their own special skills.
I recently noticed that Talia Wolf, a conversion expert and a colleague I recently interviewed, does an excellent job articulating her unique expertise and turning it into social media posts.
She uses her expertise in conversion optimization to create successful social media posts like this one:
Now, it's your turn.
Think back to your own work. 
If you have been in business as a web creator for a while, can you notice any problems you see recurring across several clients of yours? 
Maybe you can think back to a project you really loved and ask yourself which problem you helped solve there. How did the client articulate the pain they were facing? The fact you loved working on a specific project may indicate that it may be a good fit for you as a focus point.
For Pros: Take care of your brand value proposition
If you want to take the "they ask – you answer" approach to the next level, you should also come up with your personal brand value proposition in order to get a clear picture of your expertise. 
A personal brand value proposition is a statement that explains how your services solve your customer's problems or fulfills their needs. It tells potential clients why they should work with you and what makes you different from your competition.
The format of the value proposition is: "I help X do Y by Z."
Here are a few examples to get you inspired:
"I help startups streamline their marketing by adopting cutting edge tools."
"I help SMBs get better exposure online by improving their visual presence."
"I help creators find their voices and do work that matters – to careers, companies and communities alike" (Jay Acunzo's value proposition). 
BTW, at Elementor, our value proposition is to help professionals build their future while building websites by providing the industry-standard web creation platform.
Our expertise has led us to create content that teaches about various aspects of design, marketing, development, and other web creation content. You can look at our Instagram carousels posts as examples of such content that is always on web creator topics:
3. Decide on the sources for your content
Do you know about the 1% rule? According to this rule of thumb, in any given social media or online community only 1% of users make the most content contribution. 9% of users contribute a little, and 90% are lurkers who never contribute.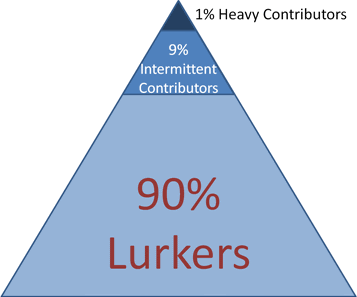 If you want to be part of the 1% who constantly create content, you must understand what you will base your content around precisely.
Top social media influencers don't just go to meetings, have a spontaneous insight, and decide on the spot to turn it into an inspiring Facebook post. It's their pre-thought strategy to get takeaways from these meetings. They decide in advance what the main sources of their inspiration are. 
Then, they are better prepared to keep their ears open during that meeting and write down the inspirational moment for a later social post.
Here are a few potential sources for your social content:
Talking to people at conferences
Listening to talks in conferences
Talking to colleagues
Teaching classes
Questions you get during sales calls with potential clients
Reading books
Discussing client issues with your teammates
Solving client issues
For example, let's say you are a web designer, and you go to an Elementor meetup. There, you meet a colleague, and you start discussing how to get clients to pay on time. You can then "repurpose" that discussion on Facebook and share what happened as a funny story. Not only will that help your social media presence, but you'll be able to reutilize that story on other occasions. 
Ilise Benun, a marketing expert for creative professionals, calls this outward approach "Bat-Signal Marketing." You are listening to the market, gearing your attention out for the sources of your content to inspire ideas, instead of racking your brain trying to think: "What on earth am I going to post next?"
As a professional, you are exposed to a specific set of problems, giving you the unique experience to teach others about these problems and their solutions.
Systematically turning your work to social media content will help solidify your methods. It will also allow you to share your knowledge with a growing audience on various social platforms.
4. Repurpose content, but change it up a bit first
A common mistake many marketers make is to only post links to articles they publish on their blog.
Of course, sharing your articles on social media is fine, but if your entire feed consists entirely of a long list of articles from your blog post, you are not likely to gain a huge amount of followers.
Social media platforms are interested in keeping visitors on their own platform and not sending them out into your website. This means you are basically working against the algorithm and won't get extra exposure for your content.
Instead, I suggest you mix up your social media content and include formats you republish from your blog posts. This is what we did for our Instagram carousels. We took articles from our blog and created easy-to-read carousel tutorials from them:
By repurposing and republishing, you don't have to spend time thinking of new content ideas to post about. 
5. Decide on time investment and schedule
As I mentioned, your biggest obstacle is time. You need to take care of all aspects of your business, including sales, finance, marketing, and operations.
This is why being organized with your time resources can help you stay consistent on social media while not sacrificing too much time.
You need to decide on two things:
A recurring time block for writing your content.
A specific time for posting to social media
Set a time block in your calendar, and force yourself to sit down and create something to post. It can even be once a week for one hour. 
Once the content is ready, you can schedule it to be published from the platform itself or using a tool like Buffer.
Of course, if you have more time to spare, feel free to schedule it. Deciding whether to post every day, week or month has to do with your resources and which social media platform you choose.
Speaking of choosing a social media platform…
6. Which social platforms you will use
I recommend focusing on one social media platform, and only after it takes off considering adding others.
To choose the right social platforms, you have to use all the information you already have: what you want to be known for, who your audience is, where they hang out, and how much time you have to invest. 
You should also take into account your capabilities and skills for building social media content. Even though you will be able to outsource some of the work, it's better to have a basic understanding of the format. Otherwise, you won't be able to control the creation process.
Here are some rules of thumb regarding which formats are the highest performing per social media platform:
Facebook: Videos
Linkedin: Long written posts
Twitter: Short text (tweets)
Instagram: Images, carousels, reels
YouTube: tutorials, vlogs
The next step is to decide which format to work with.
This comes down to how much you are willing to invest in each post and how frequently you are willing to commit to coming up with content.
Creating YouTube videos is a substantial investment, but it has the potential to quickly gain a large following.
To post on Twitter, on the other hand, you just need to come up with 280 characters, but the frequency is higher.
Deciding on the right format also has to do with your skills and abilities. If you are a designer, perhaps making visual content for Instagram is easier. If you are more of a storyteller, perhaps Facebook posts are your best choice.
The Virtuous Cycle: Gaining More Time and Resources While Creating Social Media Content
The average freelance web creator needs to fill the role of a team of people: from accounting to sales, marketing, and doing the actual work, of course. According to a survey by Freelancermap in 2019, 57% of all participating freelancers admitted to working over 40 hours per week. 
Implementing these tips will help you produce a virtuous cycle: The more you create content related to your expertise, the more professional you will become, and the more professional your audience will perceive you.
This way, creating your next Instagram reel or Twitter tweet will not only be a marketing effort but a skill development effort.
In this article, we learned to think strategically about our social media marketing. When we are strategic, we are making sure we are using our limited resources in the most effective way. I hope you, too, will be able to utilize these tips and be strategic when building a social media presence for your web creator business.
The final stage is to implement the plan and stay consistent with what you set out to do. I'd love to hear from you:
What has helped you with your social media marketing? Let me know by leaving a comment below.
Looking for fresh content?
Get articles and insights from our weekly newsletter.