A few months ago, we set forth to do a complete redesign to Elementor's website. We wanted our new website to reflect all the changes that happened over the span of five years, relating our product development, as well as our company's new perspectives and insights.
As part of the redesign, we launched twenty brand-new pages, all exclusively built using Elementor. They tell our story of growth, put the spotlight on the web creators who build amazing online content and show where Elementor is heading.
Inside these page, it was important for us to reflect the development our product, our company and our community, including:
The development of Elementor from a page builder to a full-blown web creation platform.
The building of a wider and stronger community and ecosystem around Elementor.
The list of functionalities added to the product.
The wide variety of tutorials and learning materials we continuously publish.
Out With the Old, In With the New
The new website structure represents how Elementor has evolved as well as where we are heading.
Our platform consists of three essential pillars that you will find in all of our new pages:
Web Creation: All pages highlight our product's key features & capabilities and showcase the most used and loved web creation tools as well as product updates.
Skills: The new content designed to enhance your professional development and growth, giving more space to our various resources and materials that help you amplify your web creation skills.
Community: The amazing community of web creators around the world that expands Elementor, collaborates with, and empowers each other.
Elementor was built by and for web creators. Naturally, we've built our new website exclusively using Elementor and were excited to make use of as many widgets and capabilities as we can. So, while you're browsing Elementor's website, you'll already get a glimpse of what you can achieve with your own website.
The pages we have just launched include key areas of the website, like our Homepage, tools, and features, as well as pages tailored to our different users. All the content aims to be engaging, inspiring, and design-driven.
You will see a lot of colors, brand-new illustrations, and exciting animations and motion effects. With our new website, it was also important for us to dedicate a lot of space to our users, what you have built, and your experience with Elementor.
Another highlight is our shiny new header menu: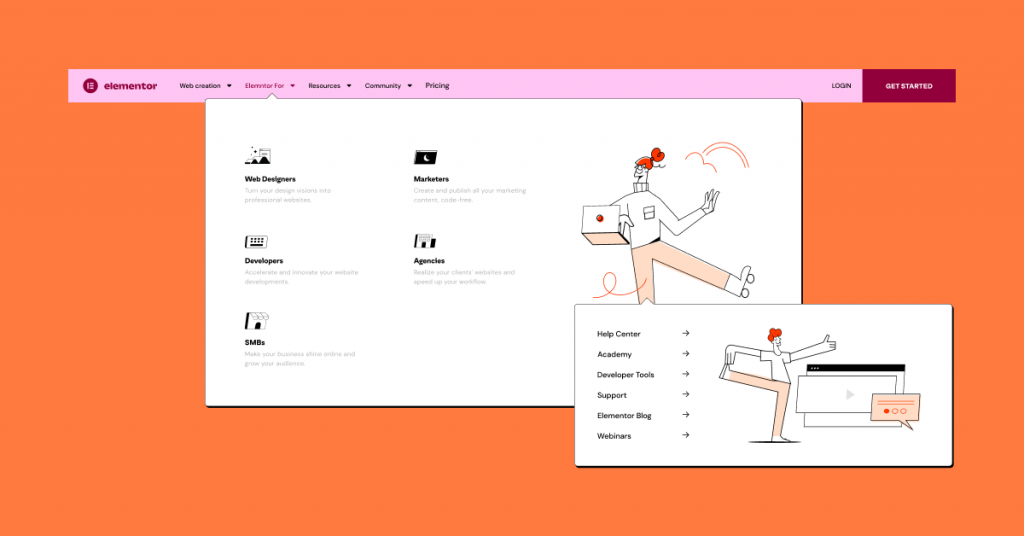 The two-dimensional layout allows us to create a new level of hierarchy, highlight more key pages, and just makes it so much more exciting to browse.
Our Product team is planning a new feature that will allow you to build more advanced header menus. While you wait for it to go live, one of our talented community members, Maxime Desrosiers, created a hack so you can create your own. And of course, we'll share it with you. Stay tuned for a tutorial coming soon.
What's Next?
Over the next couple of months, we will continue updating our pages and content. You will see current pages changing and new pages being added. As every web creator knows, a website is never finished.
There is always more work to be done, more changes to be made, more creativity and innovation to include. A lot of heart and working hours have been put into this project and we could not be more proud to have done this using our very own product and team!
Check out the new Elementor.com and let us know what you think in the comments below.
Looking for fresh content?
Get articles and insights from our weekly newsletter.