Once you've selected and applied a website kit to your site, you'll need to add the menu and customize the kit's contents. This article will show you how to customize the kit's content. A separate article will explain how to customize the site identity and menu.
Editing pages and posts
Kits generally come with several built-in pages and posts. These pages and posts come with default text and images which you'll want to swap out for your own content. In order to make these changes, you'll need to be able to use the use the Elementor Editor. You can start by taking a tour of the editor and then perhaps create a page to see how it works.
After importing your kit, you may visit your dashboard and look at the pages, posts, Theme builder site parts, and popups that were imported.
You may ask: I imported my kit but the menu and some other things seem to be missing.
Do not worry, this is part of the expected behavior. Some dependencies including menus, the site name and logo, post categories, popups, and products (if importing a shop kit) all still need to be connected. Learn more about what to do next.
Accessing your kit's pages
Your pages can be found in the side menu column of your WordPress dashboard.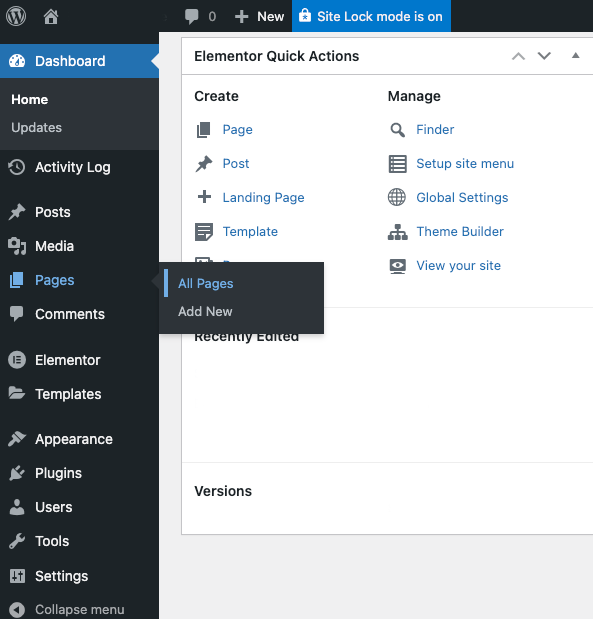 These will typically include a homepage, about, services, portfolio, and contact but varies with each kit. Each is already created in Elementor and you may click the edit with Elementor link in each.
Accessing your kit's posts
Your imported posts will also be found in the side menu of WordPress.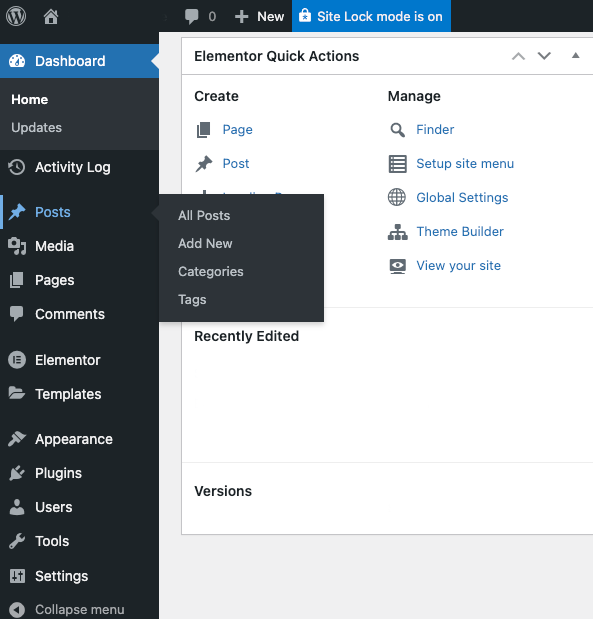 These are usually just placeholder content and filler text so that you can see how these will look when you begin adding your own content. They are already created with the Elementor editor and may be edited by clicking the link.
Accessing your kit's template site parts
Sites come with template site parts – things like the header, footer, page and post templates. These can be accessed via the Theme Builder. You can locate these from the WordPress dashboard side panel under Templates > Theme Builder.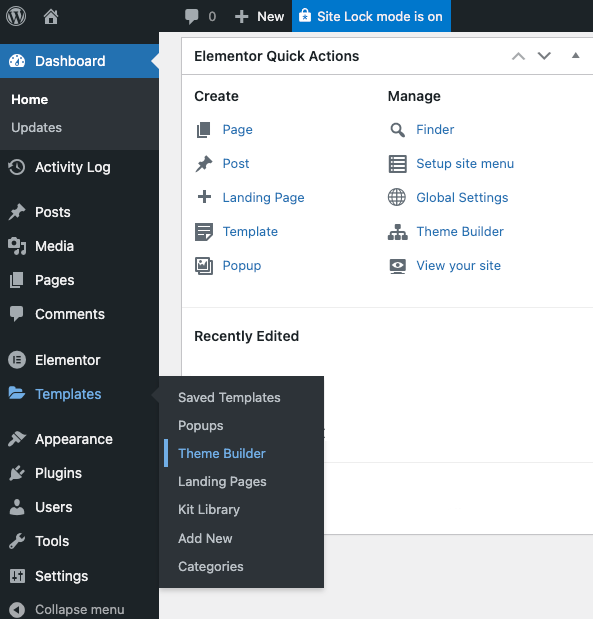 These generally consist of a header, footer, archive, single post/page, search, and 404 page template but will vary on the kit you select.
Popups
Some kits contain popups for call to actions, exit intent, and menu navigation. You can locate these from the WordPress Dashboard Side Menu>Templates>Popups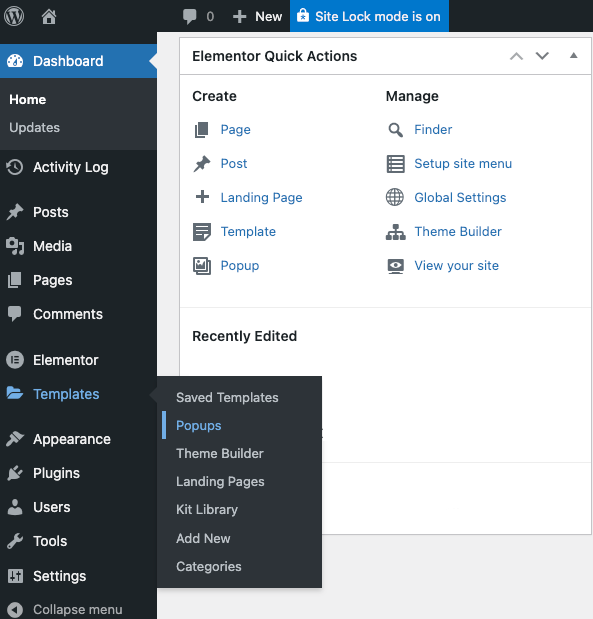 Global Settings
Your kits global colors, fonts, and much more can be edited from the site settings. These can be accessed via the editor panel, or from your top admin bar when viewing any page.

Global Colors
Each kit uses global colors for fonts, buttons, links, backgrounds, and more by setting global color codes.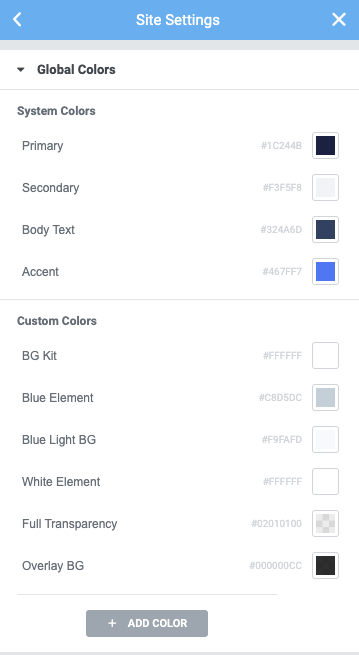 Global Fonts
Kits use global fonts to improve your workflow and ensure there's consistency across your website, all from one place.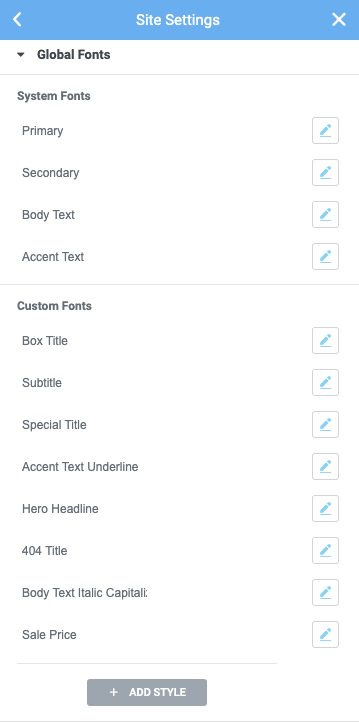 Previewing, publishing, and saving as draft
After you're done designing your page, you can Preview it and Publish it.
Go to the bottom panel:
To preview click the icon.
If you are satisfied with the result, go ahead and click the button.
Click 'Have a Look' to view the published page
Note: The Preview link is different than the actual page link
---
Save Draft
In Elementor you can edit a Published page and save your work as Draft. That means that you will not ruin your published page while saving your work as Draft.
Click the arrow next to Update / Publish
Choose Save Draft
Summary
You now know where to find the imported content and ready to start editing each part.
Note: Please be advised that some of the kits contain third-party images, videos, media, files, audio and other visual components. While we have the right to use them in our Kits Library, we cannot ensure that you may use them in your own product. Therefore, please replace or remove all above assets from your copy of the Kits.
What's Next
You may create additional pages if you need for your goal.
Add your content to the kit pages.
You may assign the homepage of your website from the WordPress Dashboard or your theme's customizer.
Create menus for your website from the dashboard, or your theme customizer.
If you are ready to launch your website, we can help you get started.