About Onlychild
Onlychild Design is a full-service design studio committed to empowering women by helping them create, re-imagine, and carry out their dream brands.

Lina and Nazareno are highly talented and creative individuals with impressive portfolios of fantastic websites. Lina is the founder of Onlychild and an experienced graphic designer, while Nazareno is a full-stack developer with a passion for creating websites. They bring a unique combination of skills to their projects, resulting in stunning and functional websites.
Since discovering Elementor, they have been using it as their main tool for creating websites for their clients. They appreciate the constant updates and improvements to the platform, and they believe that it is an essential tool for their business.
March Website of the Month: CC Digital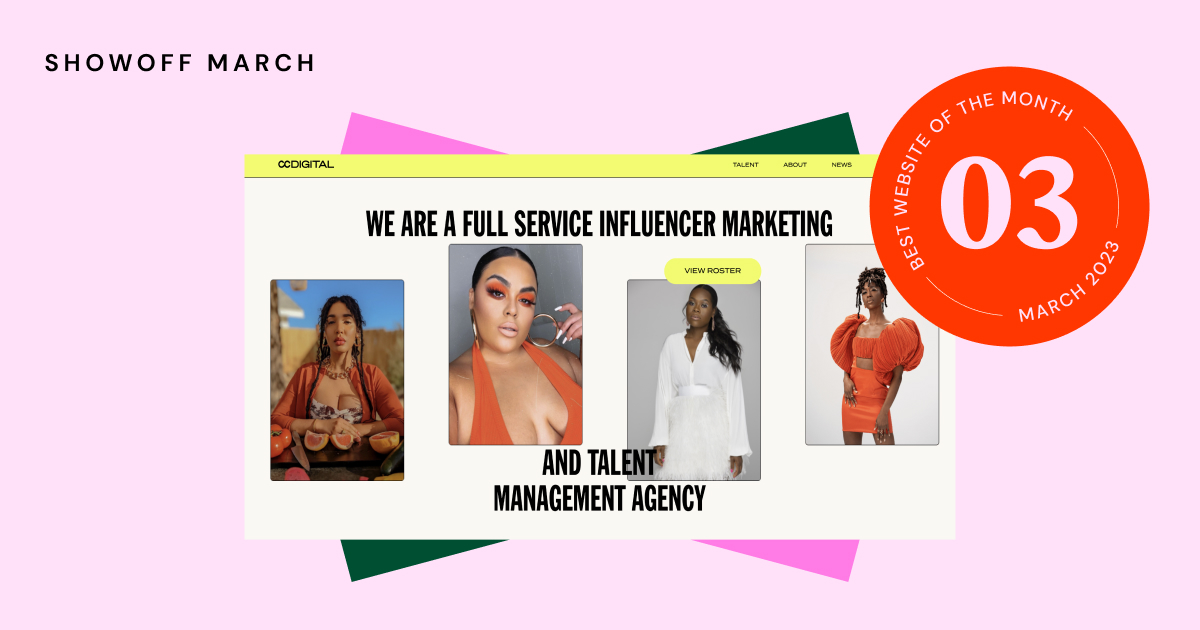 The March 2023 website of the month is a beautifully designed talent agency platform that showcases various talents using Elementor's powerful Loop Builder feature. With a minimalistic design and carefully chosen animations, such as the Zoom on hover effect, the website draws the visitor's attention to the talents it represents.
In addition, the website features a news page with a custom cursor to engage users and encourage them to read the full article. The About page, created using Elementor elements and motion effects, provides visitors with more information about the agency, while the simple contact page with an Elementor form allows for easy communication.
"Our goal was to create a visually captivating and easy-to-navigate website that showcases the talents represented by CC Digital in the best possible light."

Lina Cordero
An In-Depth Look at CC Digital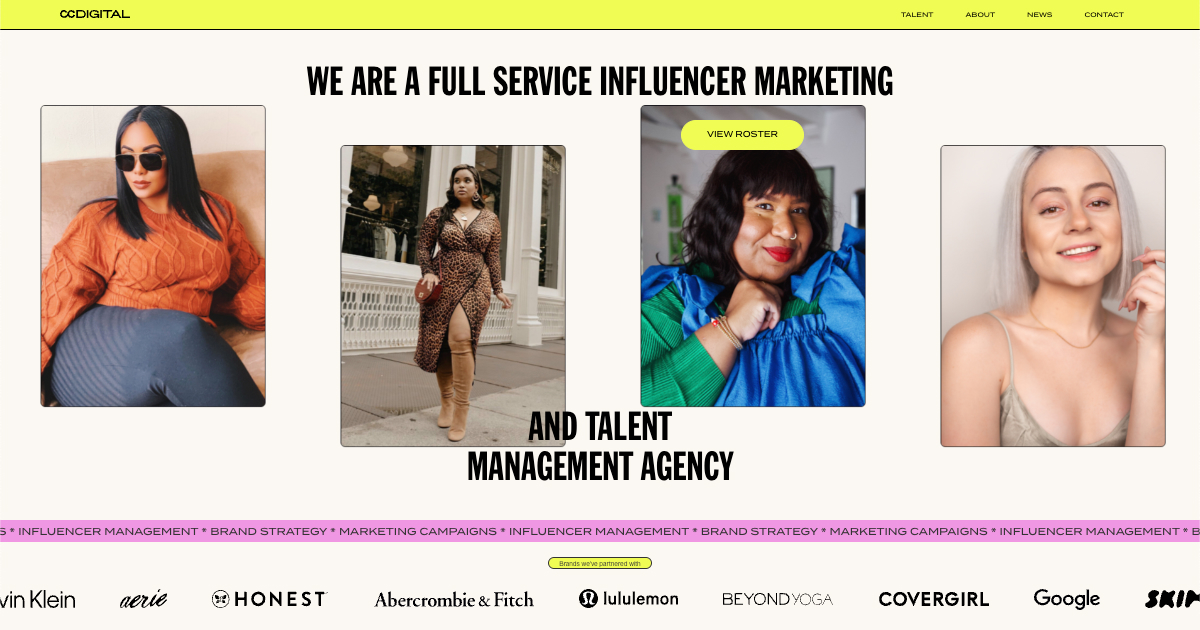 Homepage
The captivating homepage sets the tone for the entire website, reflecting CC Digital's identity and values while grabbing visitors' attention and showcasing the core offerings. Custom templates, CSS, and interactive elements work together to create a seamless user experience. The clever use of custom CSS transforms images in the carousel into clickable links that guide users to each talent's profile, generates an eye-catching alternating effect with varied margins, and crafts a playful cursor that entices interaction, further enhancing the website's overall appeal.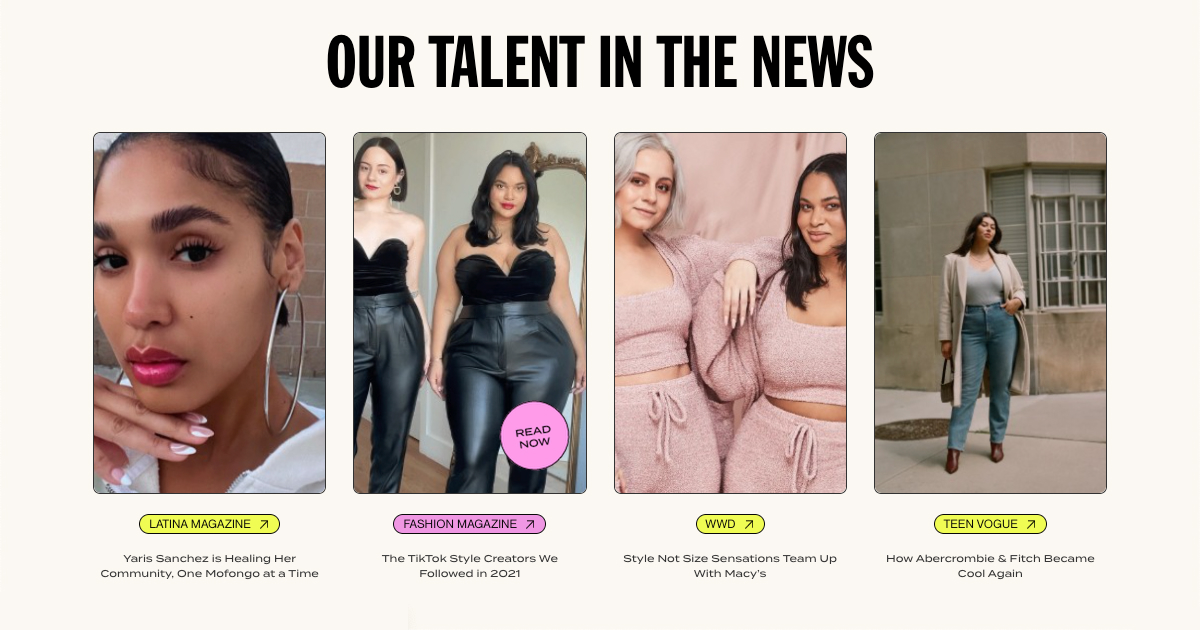 Talent and News
Thanks to Custom Post Types, the client can effortlessly upload new talents and news articles. With ACF integration, all the headings, text, galleries, and other details fall perfectly into place. For talents with one or more social profiles, custom code comes to the rescue, hiding empty links with finesse. The Elementor Loop Builder works its magic to create loops for both talents and news pages, with custom CSS adding delightful animations on hover, like zooming in and changing text color.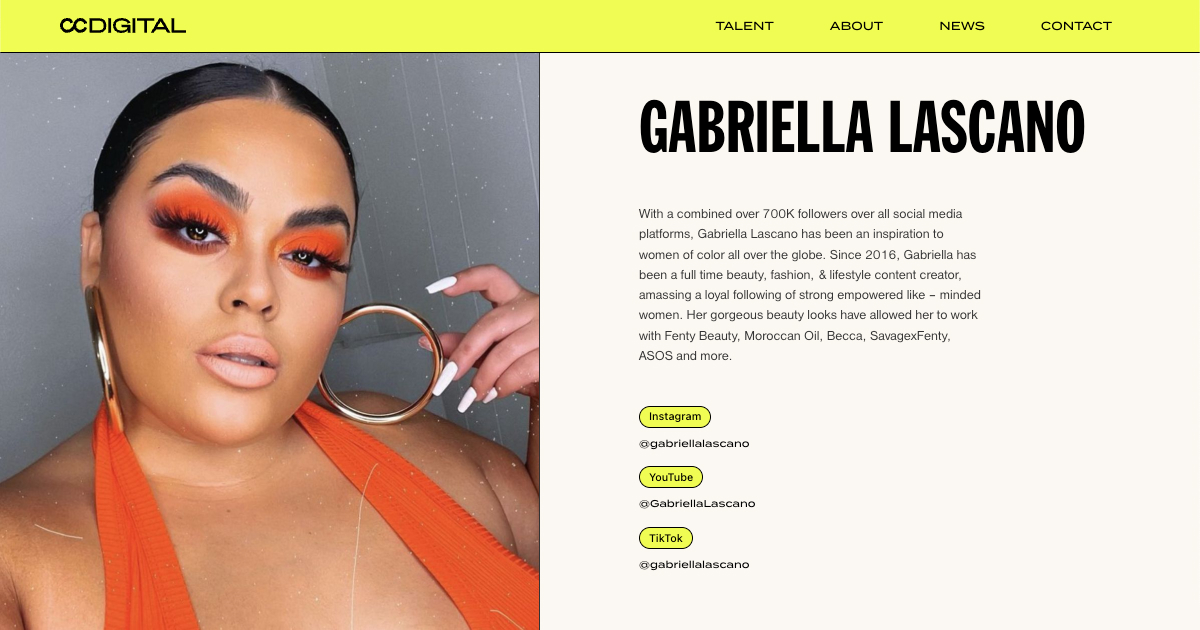 About Us Page
The About Us page is a delightful journey through CC Digital's story and values, artfully crafted with Elementor elements to leave a lasting impression. By incorporating Elementor motion effects and transform effects, the page comes to life, engaging the audience in a dynamic and memorable way. These creative touches not only showcase the team's expertise but also mirror the passion and commitment that Onlychild brings to each project.
Contact Page
The contact page aimed to make the contact process as seamless as possible, integrating a simple yet effective form to encourage potential clients to reach out. Using Elementor's form builder and custom code, a straightforward and visually appealing contact form was crafted that streamlines the communication process and encourages visitors to reach out for more information.
Empowering Clients with Elementor
Onlychild Design's success stems from their commitment to enabling clients to manage their websites independently. Lina emphasizes the importance of client empowerment, saying, "We work with a lot of small businesses, and we want to make sure that we empower them to do things on their own." By providing hands-on guidance and tutorials, Nazareno and Lina ensure that even small businesses without dedicated website teams can harness the power of Elementor.
Nazareno's Favorite Elementor Features
When discussing his favorite Elementor features, Nazareno highlighted the significance of the Loop Builder: "We've tried the new e-commerce Loop Builder, and it has become a crucial part of our development process." He also mentioned the importance of custom templates, emphasizing that they're essential in creating various client websites with Onlychild Design.
Looking Ahead: CC Digital's Future with Elementor
As CC Digital looks to the future, they remain dedicated to using Elementor for upcoming website projects, they love the platform's constant updates and are eagerly anticipating the upcoming innovative AI features. Nazareno expressed their enthusiasm, saying, "We are really excited to try the new AI features, and we are going to continue to use it. It's the main tool that we use to create websites, so we'll keep it that way." Lina and Nazareno's commitment to Elementor showcases the platform's versatility and potential for creating exceptional websites for their clients.

Congratulations to Lina Cordero, Nazareno Caggiano, and Onlychild Design for being selected as the March 2023 Elementor Showoff Website of the Month. Their exceptional work truly stands out, and we look forward to seeing more extraordinary creations from the talented team at Onlychild Design. As they continue to champion women and develop stunning, impactful brand identities, we're excited to follow their journey and celebrate their accomplishments.
Visit the website of the month: https://ccdigital.co
Vist Onlychild Design: https://www.onlychildesign.com
Looking for fresh content?
Get articles and insights from our weekly newsletter.