For the majority of creative professionals, their work demands two or twenty processes to translate colossal goals into actionable tasks. Then there are the administrative to-dos: answering emails, checking on copy documents, following up on copy documents — the whole gamut of busywork. Le sigh. 
If you're a designer, project manager — or Riley from Marketing who's curious to learn something new — this guide to managing design projects will show the practical steps you can take right now to shut down time-wasting activities and frustration. Put an end to reworking assets. Say no to scope creep. And build a no-fail framework that can pivot for the unexpected.      
This guide is one part how-to tutorial and one part productivity philosophy (with a splash of software recommendations) to get your design project management ambitions fulfilled. Now grab your third cup of coffee and let's begin!
What Is Design Project Management?
Design project management is working with creative professionals to conceptualize, manage, and build design projects, from products to pop-up shops.
Unlike traditional projects with a start and closing date, design projects are ongoing. It takes client and customer feedback to improve for the next experience. What's more, design projects have different characteristics and challenges because design work is subjective. As a result, no two designers will produce the same project deliverable! Everyone has unique tastes, perceptions, and life experiences.
Successful creative professionals understand that design and systems must work side by side for people to deliver high-quality work to the world — without burning out. So let's peel back the curtain and walk through the inner workings of design project management. 
As we dive into each design project phase, you'll learn tips to help you 10x team productivity and create a predictable environment for designers to focus on the work that matters!
How To Execute Design Project Management (and Tips To Solve Designer Challenges)
Phase 1: Planning and Preparation
The not-so-secret to design project success? Clarity. This means bringing together your employees, project management tools, and systems to prepare how you're doing to deliver design services. 
Step 1: Organize the project team
Most businesses have adopted a remote-first structure in this rapidly changing world. You're not limited to the same building or zip code when looking for talent! What's more, the landscape of design skill sets is vast and diverse. You'll want to bring in diverse design project managers and designers to fulfill specific responsibilities of the design process.
Here is a shortlist of the most common design roles, each with different functions:
Graphic designers arrange visual and text concepts to convey the message of the brand, marketing, web, and advertising materials
UX designers shape a user's journey with web pages to make it enjoyable and accessible
UI designers organize a webpage's buttons, text entry fields, color schemes, etc. to make every visual element come together as a picture but individually serve a purpose 
Product designers build solutions to a customer's needs by developing and improving a product's features
Experiential designers construct an interactive experience to communicate information to people in a space
Motion graphic designers blend storytelling, animation, and filmmaking to create 2D and 3D videos 
Game designers invent a virtual world experience with characters and storylines 
Writers compose the taglines, phrases, and sentences in a brand's voice to get readers to take action 
Whether you have an internal team of two or fifty, you'll likely enlist the help of contractors for different reasons at any given time:
Add support to a large-scale design project
Backfill for a designer while they're on leave or vacation
Provide skills or specialties that don't exist within the current project team
Take on fulfilling assignments while the core team focuses on design strategy and planning
Building a project team with a Rolodex of reliable contractors will ensure you have the right people in place (or the right people to ring) virtually anywhere!
Step 2: Arrange workflows in design project management software
If you're like most design teams, you use multiple processes and tools to complete a project from start to finish. People shouldn't work 24/7, but there's one thing that can — your design project management software! 
Designers need brainpower for creative work, not busy work. Busywork is sifting through 50+ emails to get feedback on a design. Building a client folder from scratch each time. Or responding to the same "Can I get this font file?" message every other day.
So how can you develop fail-proof workflows? Ask the source: your team!
Which design assets take up the most time?
What monotonous tasks are you doing day to day?
What types of tasks require collaboration with others?
What meetings are you attending that provide no value to you?
Are there things that need to be automated or outsourced to someone else? 
Is it the project management tools that are slowing you down? Is it me? 
Then you can start to assemble workflows that will positively impact the entire team.
Something to keep in mind is you don't (and shouldn't) over-engineer and make drastic changes to the design process overnight. This could potentially disrupt the team's flow and invite more issues in. If you want to start making moves today, create and customize web design templates for various projects. A must-have for teams with routine projects, processes, or tasks! 
Tip: add buffer time in your templates for cushion throughout the project timeline.
Step 3: Intake the design project request
Does this sound familiar? A designer is sent an email from Jesse in IT asking for "just a branded LinkedIn banner for the IT team." Innocently, the designer thinks it's simple enough and can knock it out in half a day. After a few short exchanges, the designer sends the Linkedin banner and returns it to their to-do list. A notification pops from Jesse suggesting the banner is part of an internal campaign and now needs 43 assets.
A tale as old as time.
That's the reality most graphic designers have to deal with almost every day when there isn't a standardized design request channel in place. To help our graphic designers get out of this cycle, use an online form!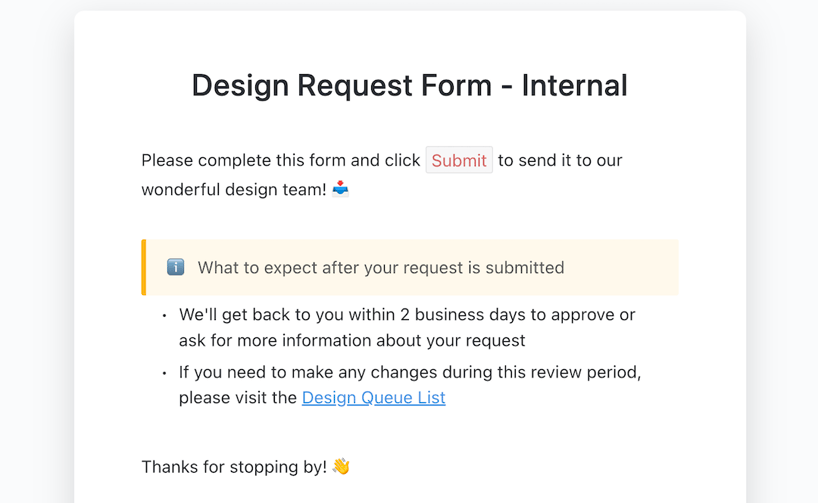 Online forms are much better than emails that get buried in someone's inbox. Here's why:
Online forms ensure time and people resources are not wasted — especially during the execution phase
Online forms are sent to the project management tool for accessibility and approval — before any work begins
Online forms ensure design requests have enough information about the client's requirements to start outlining the project scope without confusionץ
Part of a designer's role is to offer solutions to the problem a client is trying to solve. Still, it can go in a million different directions if the designer is scrapping for information. Customize your online form to require clear expectations (project objective, high-level deliverables, target live date, budget), so the project team can see what's involved. 
On the flip side, a design client needs to know what working with your designers and business will look like. Elementor's sentiments on client expectations say it best: "One way to ensure that a project goes smoothly is by setting and managing client expectations. While there can be quite a few steps that take some time and effort, doing the necessary due diligence can prevent friction in the long run and keep your reputation stellar." 
These few steps you can take now to lay the groundwork for a successful client experience are providing a hub where you can share documents, key dates for client calls, and tasks with status updates. Create a template for this client hub and improve it as your team's strategies, workflows, and resources evolve over time!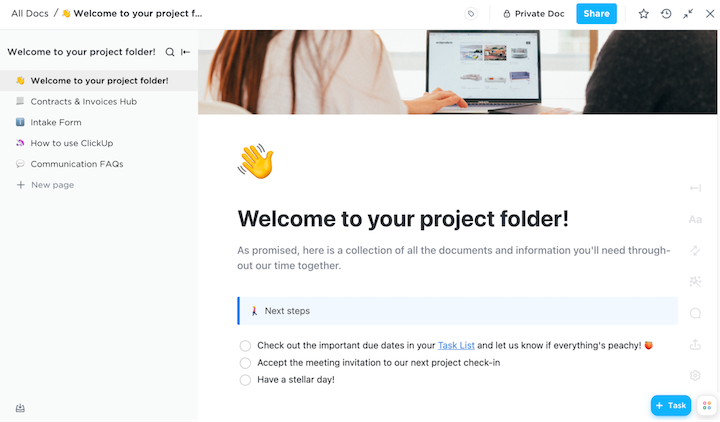 Phase 2: The Build
Step 4: Prune the priorities for complete transparency
When tasks come from a medley of sources — managers, marketing teams, Jamie asking to print their homework — which takes priority? It can get messy early and often between post-it notes, Slack messages, and emails. 
With a dedicated task list in the design project management software, every designer has a detailed view of their workload each day and how it fits into the bigger picture. A personal task list helps creative teams in more ways than one:
Designers are free from administrative burdens
Designers stay on track with priorities, due dates, and task dependencies
Design project managers can assign tasks and track progress to update clients and other stakeholders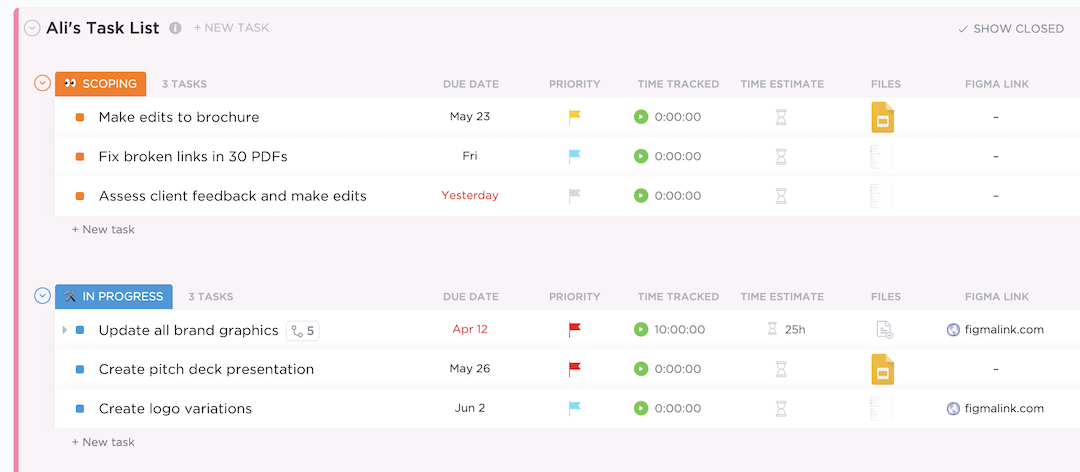 Step 5: Make work memorable with a time tracking system
Time is a finite resource, yet it's the most misunderstood. Creatives struggle with timekeeping, and it could be for other reasons than motivation:
They're using a prehistoric time tracking tool that's complicated and not creative-friendly
They don't know how to start and be consistent with timekeeping
The idea of being micromanaged is a discouragement
Start now if time tracking is not a collective habit. The most essential areas in your business are affected by time tracking:
Keeping projects profitable
Improving pricing models
Managing team workloads
Requesting budget approvals to upgrade technology and bring in design support
You need validation that your design team's attention, systems, and energy are spent on the right tasks. So let's take the timekeeping reservations list above and look at how you can encourage your design team to consistently track time:
They're using a prehistoric time tracking tool that's complicated and not creative-friendly. Research project management tools that can integrate with your design project management software. (Bring in two to four designers during the trial and selection process. See why in #2)
They don't know how to start and be consistent. Ask "Time Ambassadors" (the selected designers) to use the time tracking tool and teach the rest of the team in safe 1:1 sessions
The idea of being micromanaged is a discouragement. Share with your team how honest time tracking data is not working against them, but for them to push back when there's too much work coming to the request queue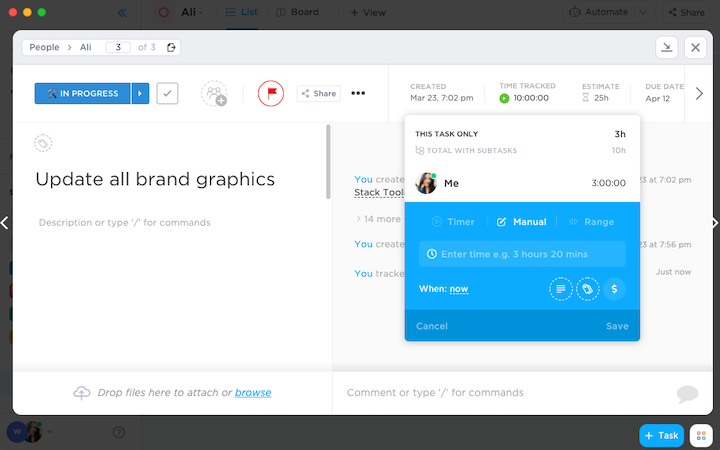 A designer drifts away from their creative zone every minute they spend looking for a file. It's like a Nancy Drew mystery searching for a draft's digital footprints. Here are things to avoid:
Storing project files on a designer's desktop 
Oftentimes, design tasks are passed through multiple designers. As a result, a designer can easily misspend time waiting on someone to send the project file from their desktop. (Or they can listen to the 10-minute version of "All Too Well" twice, and it won't be considered misspent time.)
Using multiple cloud-based services with unreliable access 
"It's in the drive. No, not the brand drive… not the Google Drive… not Dropbox. Wait wait, it is in the brand drive. Oh, you need VPN to access the brand drive? Sh*t."
Need I say more?
Limiting access to project files 
If Alex is living out their luxury travel dreams in the turquoise waters of the Bahamas, the very last thing they want to do is send a file path to the web page mock-ups.
Saving design changes over the original file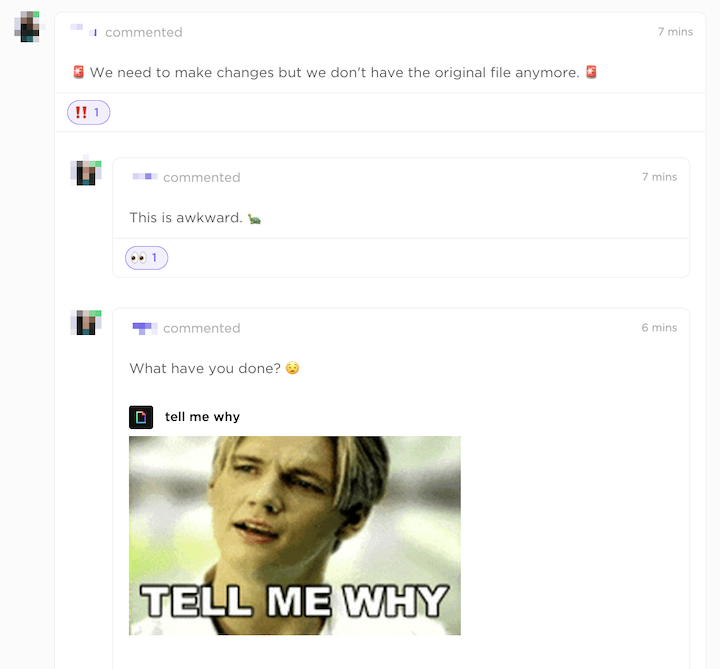 Moving on…
If using a plain and boring folder system doesn't spark joy in your design team, try ClickUp Whiteboards! Designers can link assets, brainstorm new ideas, and create detailed project tasks. "We conduct design and product hackathons — brainstorming sessions — where we ideate in real-time and work through challenging UI/UX problems," says Zach Blodgett, ClickUp's Senior Product Manager. 
Phase 3: Wrapping Up
Step 6: Establish a culture of feedback
This part of the design project management process feels like a sprint to the finish line. First, designers get feedback and make intricate tweaks or significant changes to get closer to the client's vision. Then days feel like hours and hours feel like minutes.
Consider filtering all feedback messages into your project management system to maximize this short but critical period. 
Get hyper-specific by using annotation tools to comment directly on files, so designers don't have to do detective work. Unless you're Shania Twain, you must give quality feedback to a designer about the asset elements that don't impress you much. An ambiguous comment can snowball into multiple iterations of a design that could have been avoided.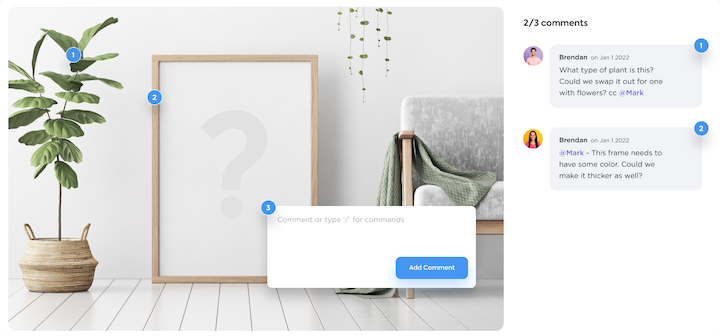 If you're looking to get started or improve your feedback system, consider using DACI, a decision-making framework that defines a person's involvement in a project.
Driver: the person who manages the entire project from start to finish
Approver: the person or people who have the final say on features of a project
Contributor: the person or people who influence the decision because of their expertise
Informed: the person or people who are not directly involved in the project but need to be aware because it could influence their work
Take it a step further and add this to your design project management tool for transparency, updates, and record-keeping!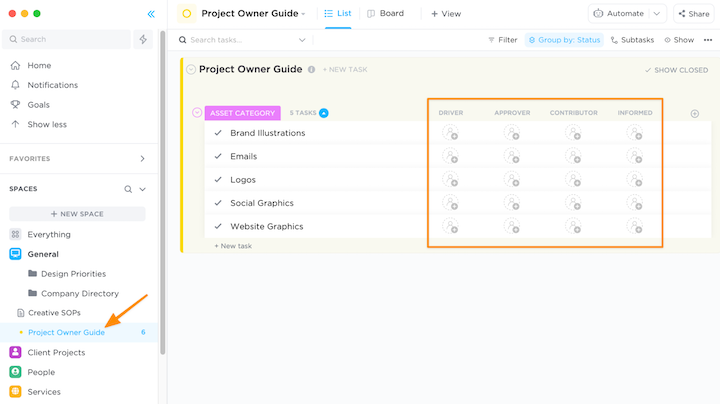 Step 7: Send final deliverables and housekeeping
All assets are approved, and it's time to wrap them up in a virtual bow and send them off! This is where the client project folder from phase one comes in handy. Not only does this streamline the delivery to the client, but it also serves as an archive for all project-related materials. Tasks, communication, documents, invoices—they're all linked together for easy reference!
Step 8: Bump the Greatest Hits of the 90s and celebrate as a team
Celebrations are not required, though highly mandatory, especially for projects that can last up to nine months! All the late nights of problem-solving and team members going above and beyond should be recognized in a fun setting. (I mean, look at these smiling faces after a victorious launch!)
Ring the bell! We're at the end of the design project management process — but there's one last piece of this puzzle to bring it all home. My hope for you and your team is long-term success, so here are a few methodologies to consider that can help you understand your projects and teams better. 
A Pocket Guide To Design Project Management Methodologies
Agile Design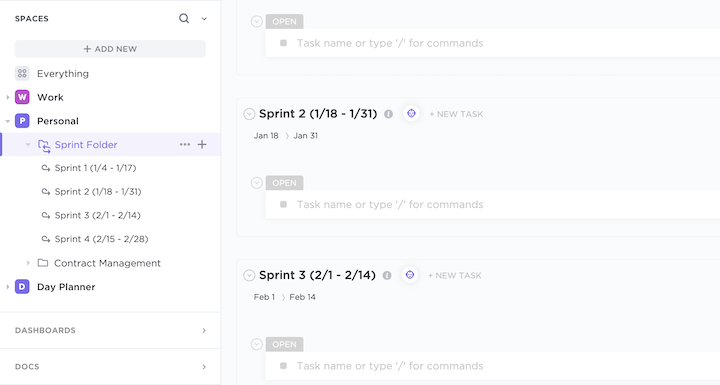 The agile project management methodology is an incremental and iterative approach to managing projects in phases. Each iteration has a fixed scope (between 1-3 weeks) to maintain product release consistency, stability, and on-time delivery!
Agile design pros
Client satisfaction and retention increases
Software code and testing standards are used repeatedly
Specific roles with multiple project drivers to meet the same goal
Agile design cons
Potential lack of understanding in workflow flexibility
Some organizations might find agile workflows to be a poor culture fit
An experienced agile professional might be necessary for teams new to agile
Kanban Design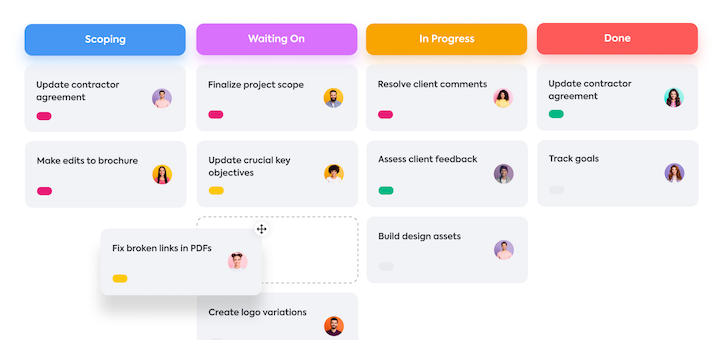 The Kanban project management methodology allows teams to visualize their work in a non-disruptive way. A Kanban board is structured into columns to help teams visualize the amount of work in progress. A card (representing the task) moves through each column (representing the workflow status) from left to right until it reaches the done status.  
Kanban design pros
Work in progress limits prevent overburdening
A project management tool designed for visual people
More predictability with a stable system and open communication
Kanban design cons
Lack of timeframes within each workflow stage
Outdated Kanban boards will become a bottleneck
Must be used within a well-oiled project management framework
Scrum Design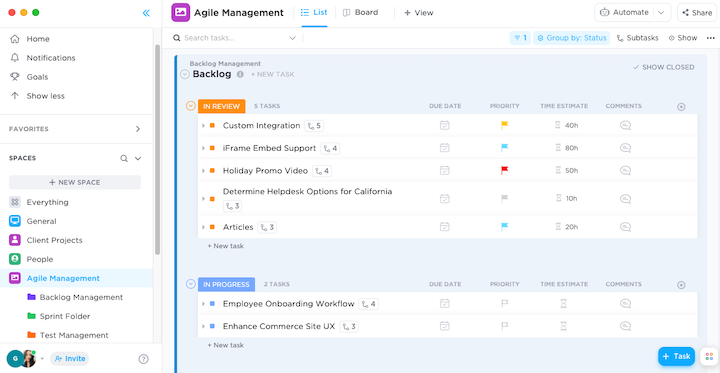 The Scrum project management methodology adds to the agile approach by implementing design sprint meetings. High-priority items from the design request queue are carefully selected to build one sprint that can last up to four weeks.
"We — designer, project manager, and chief creative officer — review all incoming requests and schedule out tasks based on deadlines and team bandwidth. We also use this time to ask any questions about the request brief and provide status updates on tasks already in progress," says Sarah Gordon, ClickUp's Creative Project Manager.
Scrum design pros
Flexible timeline length, typically 1-4 weeks
Short sprints support faster changes from client and stakeholder feedback
Teams are aligned around tasks and progress through daily scrum meetings
Scrum design cons
Daily meetings might not be a culture fit for some teams
The success rate is higher with experienced agile team members
Adopting the Scrum framework in larger teams can be a long process
Waterfall Design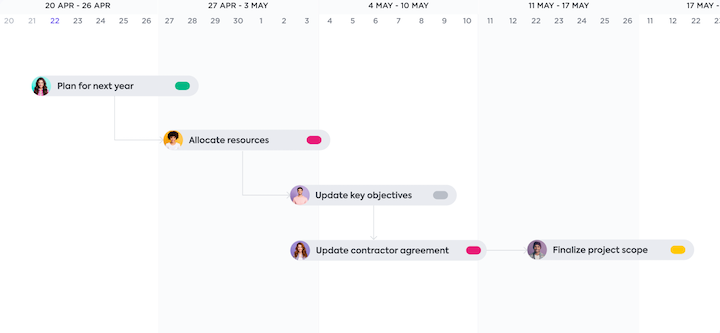 The waterfall project management methodology is one of the traditional methods. It has two main attributes: thorough initial planning and fixed-end requirements. Waterfall project management is predictive, meaning each stage starts when its predecessor ends.
After a project has begun, it's nearly impossible to make changes. (This characteristic of waterfall is off-putting for organizations that experience changing requirements!)
Waterfall design pros
No overlap between project phases
Easy and familiar to understand for new and seasoned teams
Clear deadlines are determined and adhered to at the start of the project
Waterfall design cons
Top-down communication model
Not best for ongoing projects
Not suitable for software development or complex projects
Retool Your Design Project Management
Imagine all the ideas you can conceptualize and tasks you can finish in a day's work by taking your systems up a notch. Let this guide be your anchor to create your best design project management solutions—bookmark it or share it with a fellow designer.
It's been fun hanging out with you and Elementor! Remember to be extra kind to yourself, change your environment to think in different ways, and connect with others in your artistic communities. We're rooting for you!
Looking for fresh content?
Get articles and insights from our weekly newsletter.