Why Backup?
Your website is vulnerable any time you make a change, and there are always some security risks in the internet. Therefore, it's important to always maintain an up-to-date backup that can be used to restore your site.
Note: Elementor Cloud websites are automatically backed up, but these automatic backups are deleted after 14 days. Manual backups, as well as the first automatic backup of your site, are never deleted. This way you can always restore your site to its original settings.
Accessing your website management screen
In Cards view, hover over the card or thumbnail of any Elementor Cloud Website and click the Manage this website link. This will open a new screen with that site's details. Scroll down to access the Backup Now area.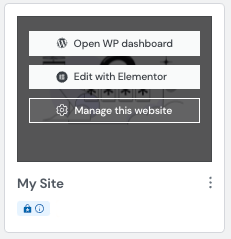 If using the List view, click the cog icon to access the site management screen.
Creating a back up
Click the Create new backup button to create a manual backup of your site. In the popup, enter a name for the backup and click the green Create new backup button to proceed.