Introduction
Note: If you purchased your domain name from one of the providers listed below, click the link for documentation tailored to that domain name provider:
Creating an Elementor hosted website is your first step on the road to success. Now it's time to attach a great name to your beautiful site.
When you purchase an Elementor hosted website, your site is assigned a name (e.g. mycoolsite.elementor.cloud). However, you'll probably want to give it a more memorable name like mycoolsite.com.
If you don't currently own a name, check out our guide to buying a domain name.
Once you've purchased a name, or if you already have a custom name, you're ready to add it to your Elementor website. This means that when visitors type mycoolsite.com in the address bar of their browser, they'll go to your site.
In order to do this, you will first need to make some changes to the DNS records of your domain name. This document will walk you through the steps.
Before you begin
Before adding a custom domain name to your Elementor website, make sure you have:
Purchased an Elementor hosted website subscription and created a website.
Purchased a custom domain from a domain provider of your choice. See Elementor Cloud Website Purchasing and Registering a Domain.
Logged into your domain provider's system and reached the DNS records area, where the DNS records are updated.
Connecting your domain to your Elementor hosted website
From your Elementor Cloud Dashboard, go to Websites and click the Manage This Website button located in your website's card to open the site details screen. From the Manage Domains section, click Connect my domain.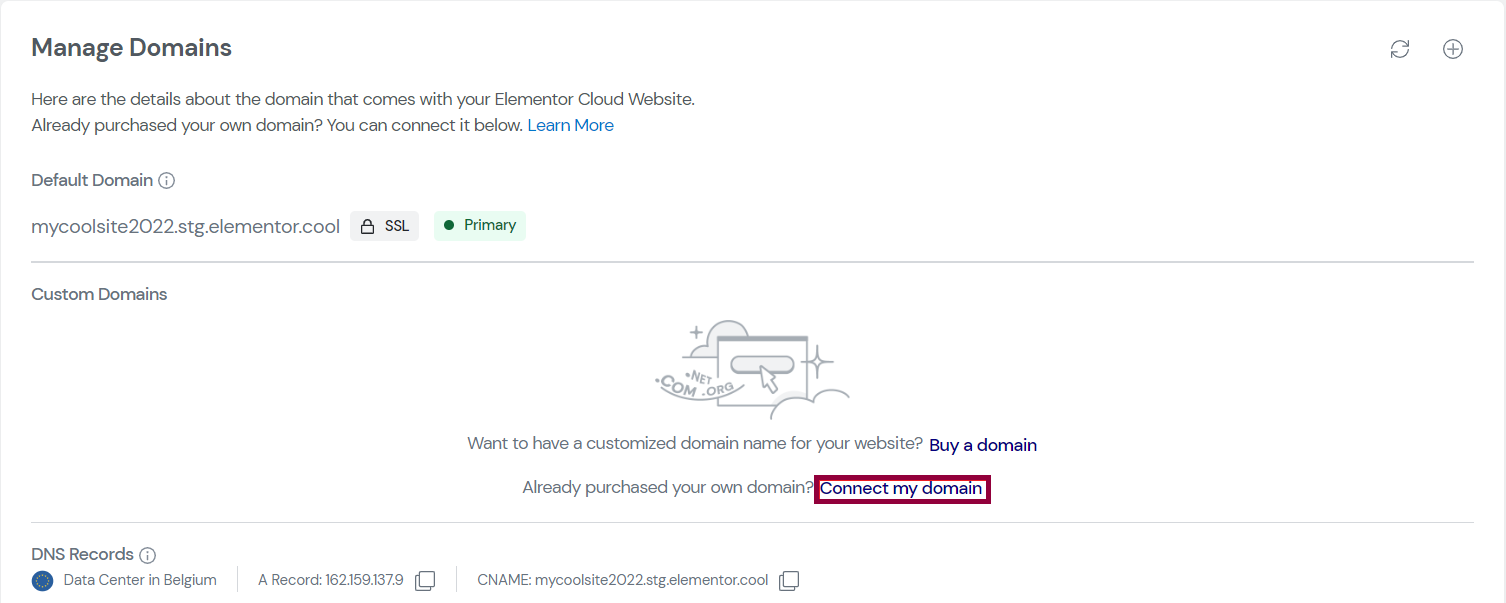 A pop up window will now open.
In the popup window, enter the custom domain name you purchased and click Let's begin. Generally, you will use the domain name without www in front of it.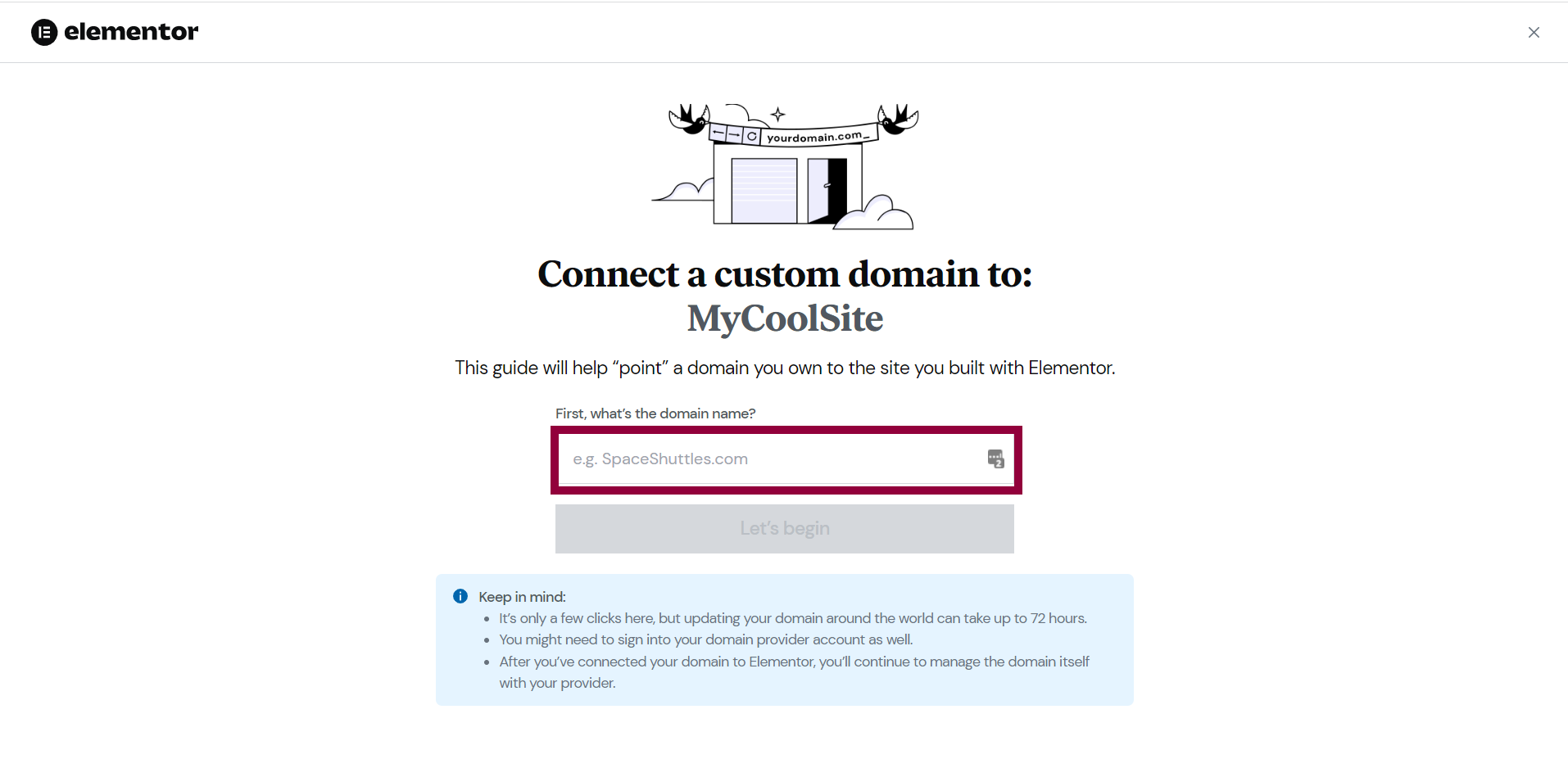 By default, the system will use the name you entered as the primary domain and will also connect the name with www in front of it. (e.g. mysite.com will be the primary domain and www.mysite.com will also be connected.)
Note: Domain connection can take up to 72 hours.
Editing the domain name settings with your provider
If these defaults are okay, click Let's begin.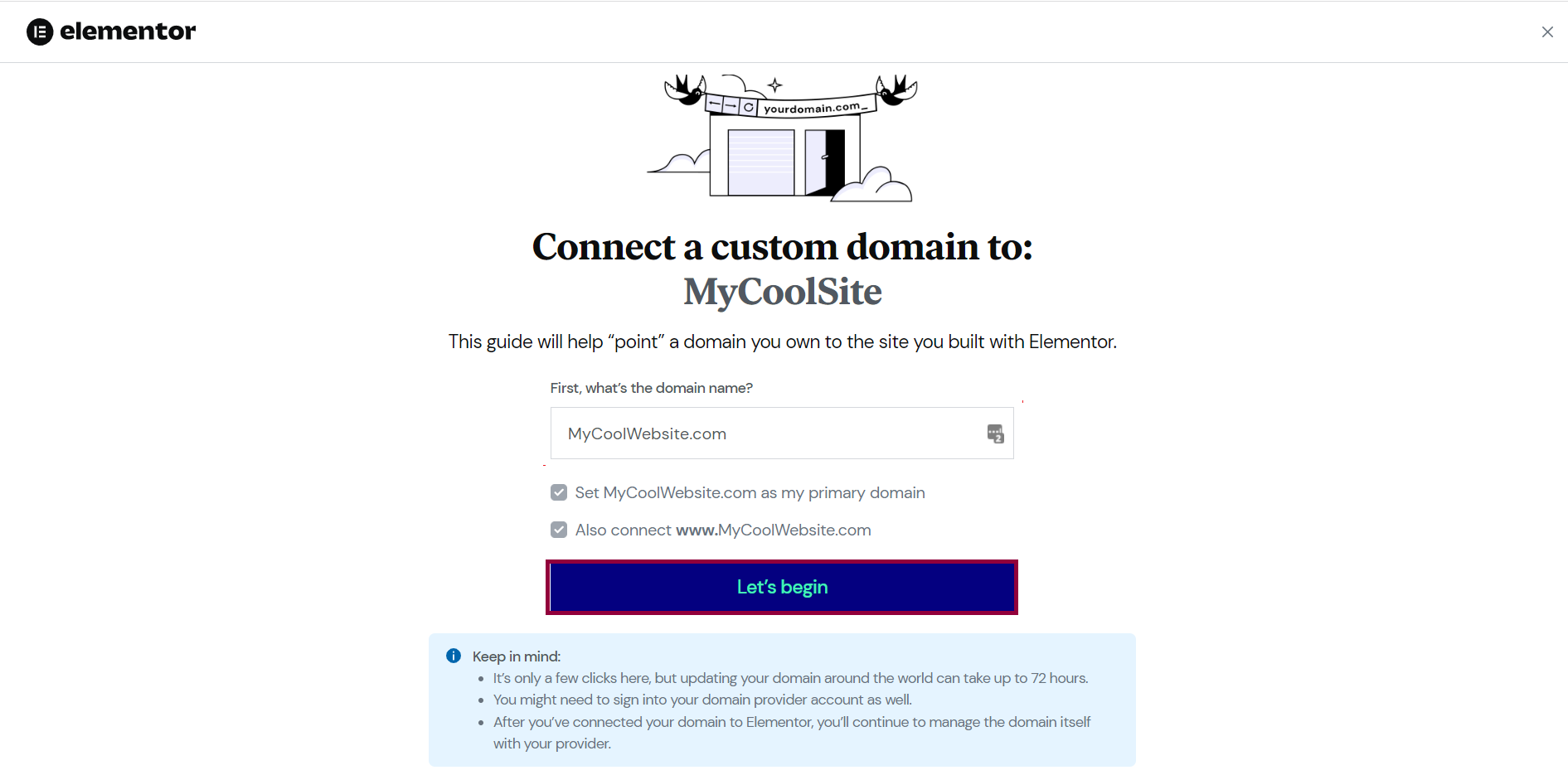 For this next step you'll need to open a new tab in your browser and sign into your domain name provider account if you haven't already.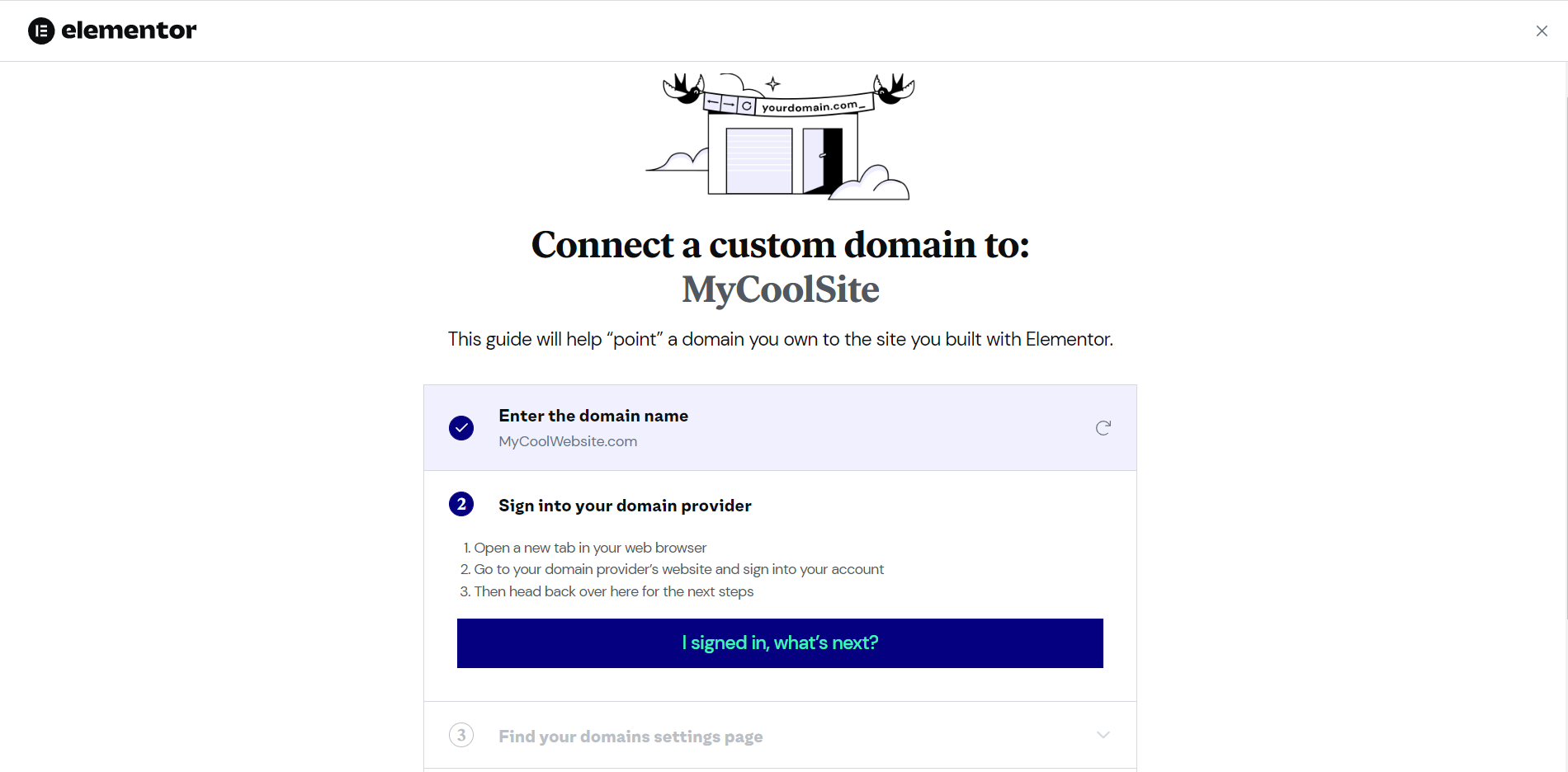 Once signed in, click I signed in, what's next?
Log in to your Registrar Website Account
Once you've logged in to your registrar's website in a new browser tab, you'll need to access the settings for your domain. This will vary according to your domain name provider.
Once you've found your domain settings click Found it, what's next?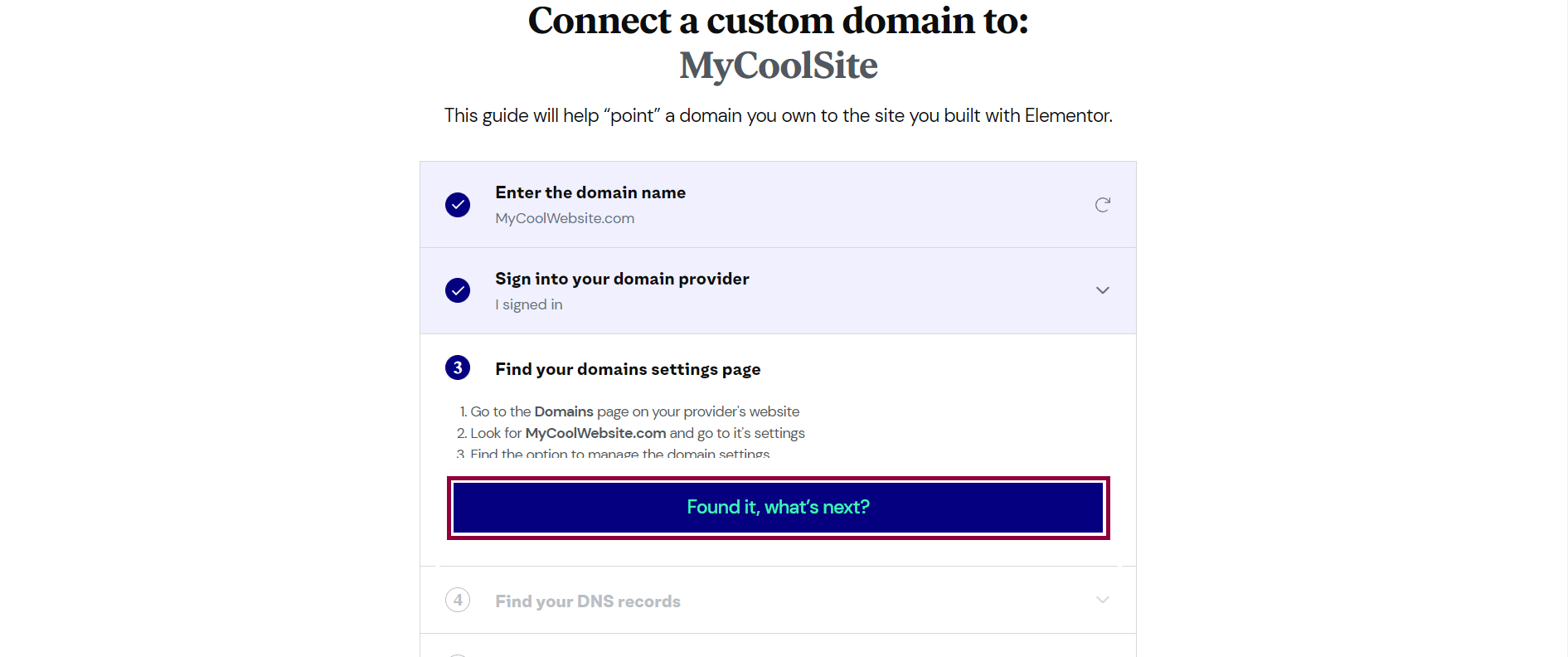 Once you've found your domain settings click Found it, what's next?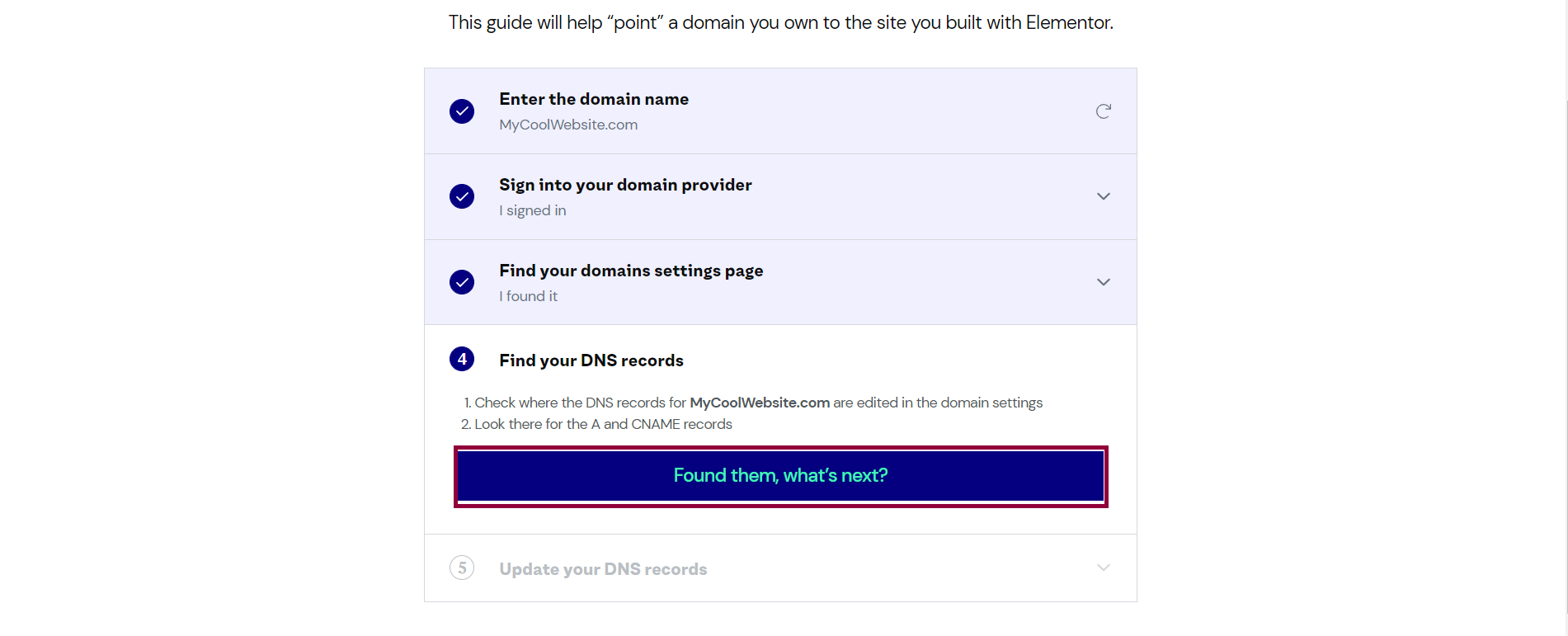 You can now access the A record and CNAME of your Elementor hosted website. Use the icon to copy this A record and CNAME and use them to update the A record and CNAME found in your domain settings.
Each domain name provider will have their own way of editing the A Record and CNAME. At the end of this article you can see an example of how to change an A Record and a CNAME.
Note: If your domain is marked as Parked or is a AAAA domain, you may have to remove the existing record.
Important: If your domain is hosted at Cloudflare, you must turn proxy off. It is on by default and this will not allow the domain to be properly connected. It has to be set to 'DNS Only'.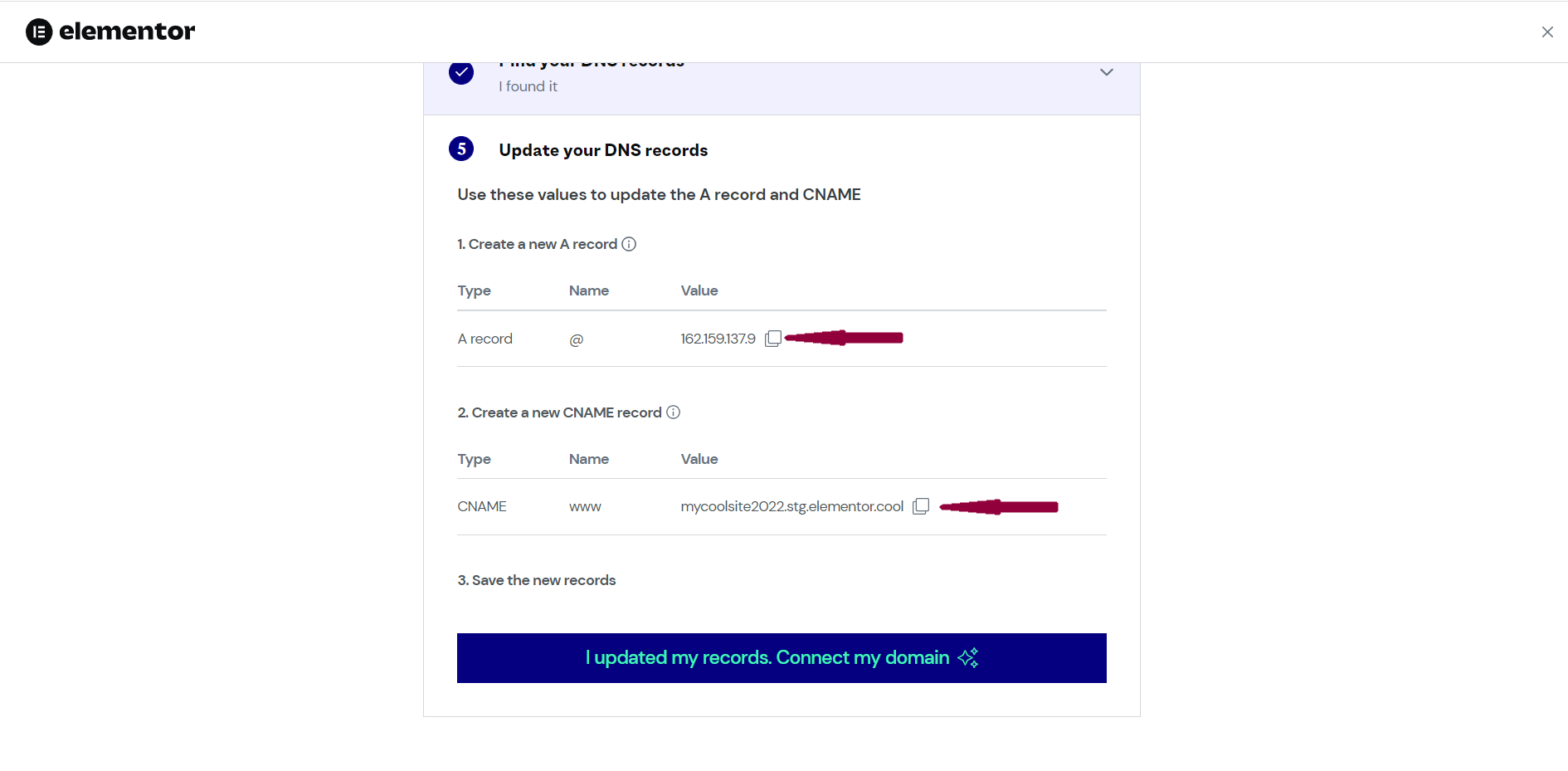 Save the new domain settings you set with your domain name provider.
Click I updated my records. Connect my domain.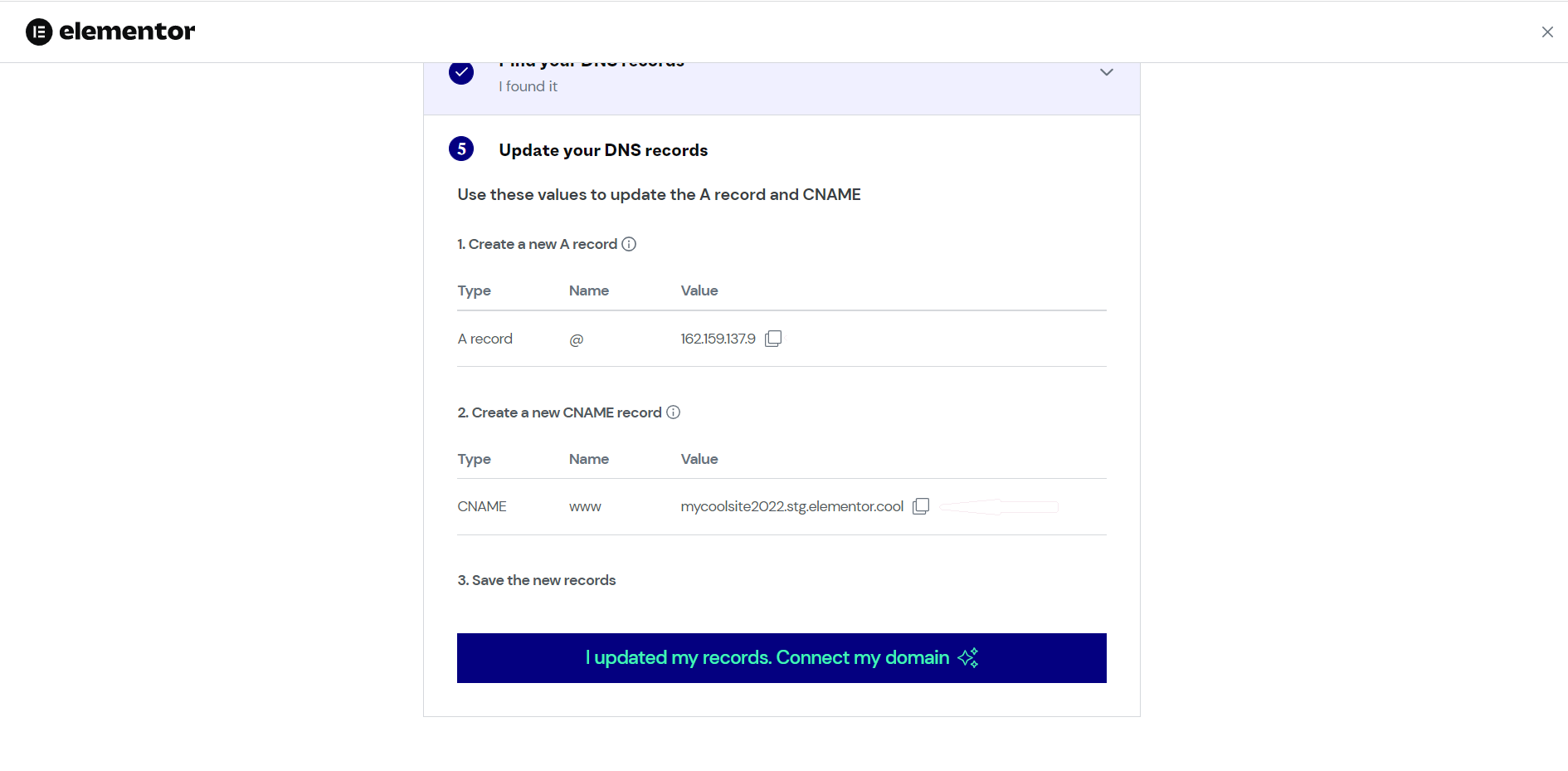 So, what's next?
Wait for the DNS changes to propagate (this might take up to 72 hours).
We'll issue an SSL certificate for your website
When your domain is ready, we'll notify you by email
Additional notes
Removing existing records
Parked domains
After purchasing your domain, it may show up in your list of domains as "Parked." You will first need to delete or edit this to point to your Hosted Elementor Account.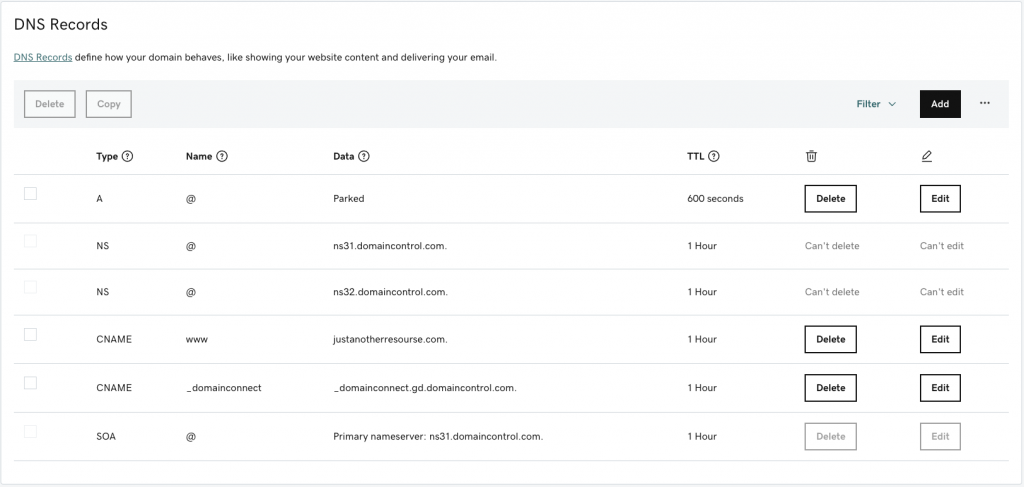 AAAA Records
If your domain's DNS records have an AAAA (IPv6) record set, it needs to be removed (deleted) as these types of records (IPv6) are not yet compatible with Elementor Cloud Websites.
Example of adding an A Record
An A Record is the most common method for directing a domain to point to your Elementor Cloud Website. An A record assigns an address for your domain to a specific IP address (eg. the example points to IP address 162.159.137.9).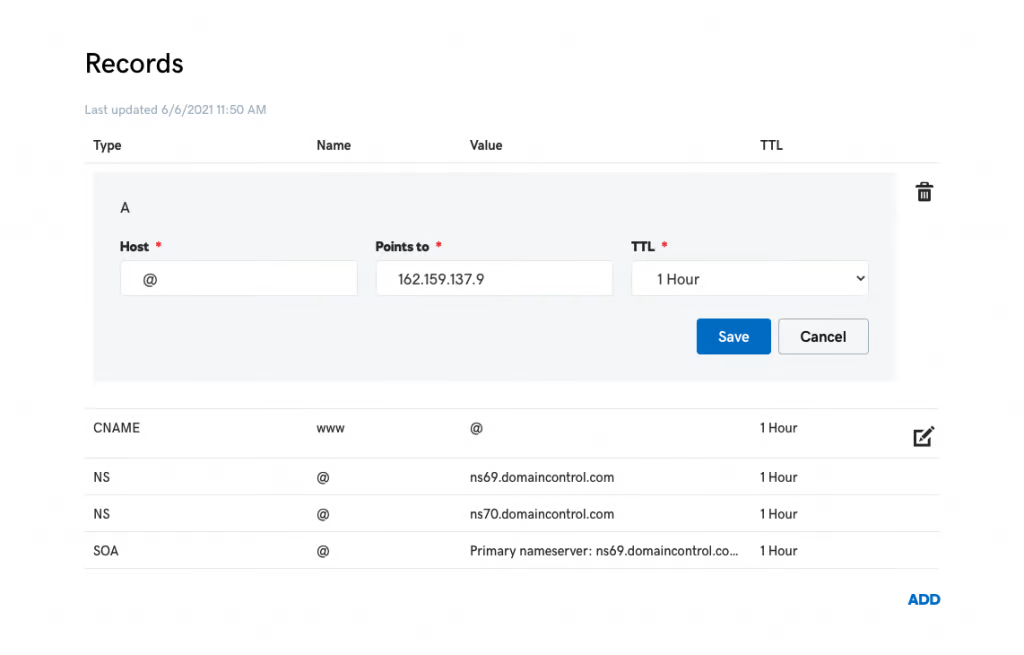 The correct IP addresses are currently 162.159.137.9 and 162.159.138.9. You will see the correct IP from your Elementor Cloud Website Dashboard.
Example of changing a CNAME record for the www address
The alternative method of pointing your domain to your cloud account is to add a CNAME record that points your domain to your Elementor Cloud Website Domain. For example, if your domain name is example.com and your Elementor Cloud Website, e.g. example.elementor.cloud, create a CNAME record on example.com that points to example.elementor.cloud.
Changing the CNAME
To direct the "www" address to your Elementor hosted website, you need to create a CNAME record with the host name set to "www".
To do this, follow these steps:
Click Add.
Navigate to the Type dropdown menu and select CNAME.
Select the Name field and enter the "www".
Go to the Value field and enter your primary domain.
Find the TTL dropdown menu and select the 1 Hour option.
Click Add Record.