Building a Professional WordPress Website
In the digital age, a website is more than just an online presence. It's a powerful tool that can drive business growth, enhance brand visibility, and foster customer engagement. However, building a robust, high-performing WordPress website is no small feat. It could involve juggling multiple tools and services, dealing with technical complexities, and investing significant time and effort.
From choosing the right hosting provider and installing WordPress to selecting a theme and adding the necessary plugins, each step presents its own set of challenges. And that's not even considering the ongoing maintenance tasks such as updates, backups, and security checks. For those without a technical background, these tasks can be overwhelming, often leading to frustration and wasted resources.
That's why Elementor created a holistic solution to simplify the way you build and manage WordPress websites. Now, with Elementor Hosting, web creators can have everything they need in one plan: managed WordPress hosting, Elementor Pro builder, Hello theme and premium support.
So What is Hosting?
Every WordPress website necessitates a hosting service. Think of hosting as the digital warehouse for your website's assets. It securely stores and organizes everything that makes your website unique, from code files and images to videos and data. But it doesn't just store these files — it also makes them accessible to your site's visitors around the world, serving up your content whenever it's requested.
There are various types of hosting available, including shared, dedicated, VPS, and cloud technologies, each offering its unique advantages. However, these types of hosting can sometimes be complex to set up, require technical knowledge, and become costly as your site grows.
This is where managed hosting comes into play. Managed hosting, like what Elementor Hosting offers, is an excellent choice as it handles the technical aspects for you. This includes tasks like setup, maintenance, and security, allowing you to focus on building and managing your website without worrying about the technical details.
Selecting the appropriate hosting is crucial as it forms the backbone of your website. The quality of your hosting service directly influences your website's speed, security, and reliability. Factors like server location, uptime guarantees, customer support, and backup solutions should also be considered. A swift and reliable hosting service ensures that your website loads seamlessly and rapidly for your visitors, enhancing your website's ranking, traffic, conversions, and user retention. With managed hosting, you get all these benefits without the hassle of managing it yourself, making it the best choice for many website owners.
Elementor Hosting- The Professional Choice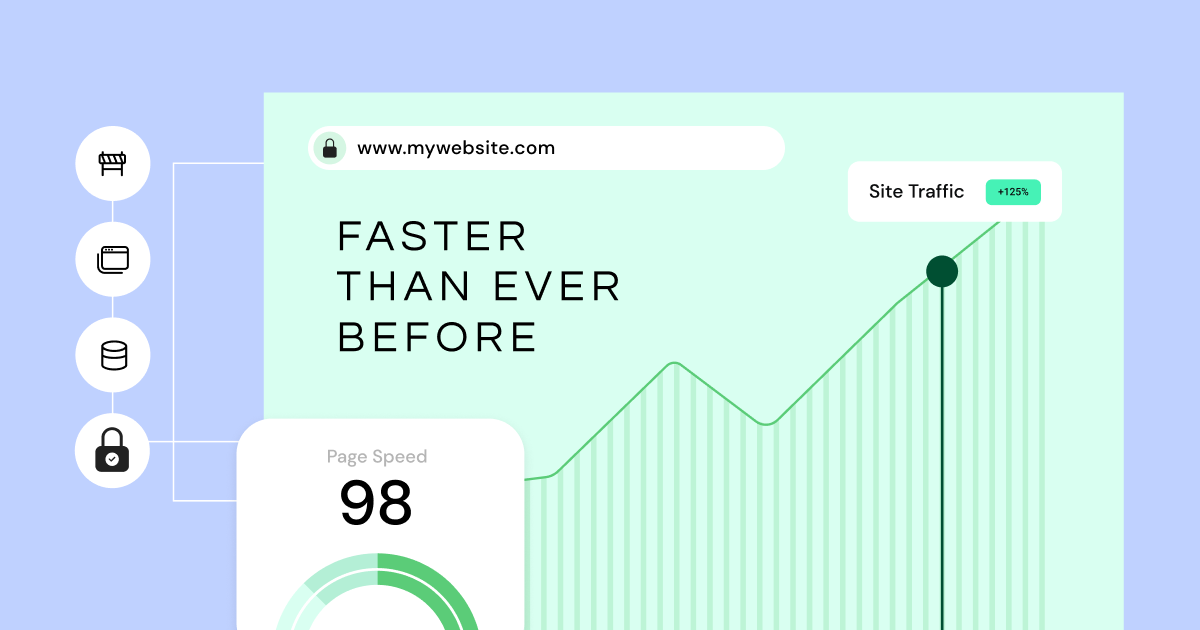 Elementor hosting, powered by cloud technology, is an ideal choice for WordPress websites, ranging from eCommerce and content-rich sites to portfolios, blogs, and business websites. One of the significant advantages of cloud hosting infrastructure is its ability to scale automatically according to your site's requirements. This means that even during periods of high traffic, our cloud hosting can handle it effortlessly. Resources can scale up to meet your needs, ensuring your visitors enjoy the best and smoothest browsing experience.
Fast & Reliable Hosting
Elementor Hosting is designed to deliver superior performance. Powered by Google Cloud's highest tier of C2 servers, it ensures your website loads quickly and runs smoothly even on times of high traffic, with an uptime of 99.9%. The integrated caching tool and Content Delivery Network (CDN) further enhance your website's performance, providing a superior user experience.
Safe & Secure
Top performance is just one aspect of Elementor Hosting. It also prioritizes security. Each website comes with a pre-installed SSL certificate, providing secure, encrypted connections between your website and its users. In addition, Elementor Hosting includes multiple layers of security protection against Distributed Denial of Service (DDoS) attacks and Web Application Firewall (WAF) rulesets. With a dedicated team monitoring your website around the clock, you can rest assured that your website is safeguarded against cyber threats.
Professional Hosting Tools
Elementor Hosting also includes a range of professional hosting features such as staging, cloning, phpMyAdmin, and SFTP Access, giving you complete control over your website's management and optimization. You also get automated daily and manual backups, giving you an extra safety belt in time of need. Plus, with the new AI-assisted content creation feature, you can generate high-quality text, images and code for your website in just a few clicks, which is mind blowing.
Affordable Price
Elementor Hosting is not just about providing top-tier services, it's also about offering an affordable solution. We understand that cost can be a significant factor when choosing a hosting provider, especially for small businesses and startups. That's why Elementor Hosting is priced competitively, providing an all-in-one solution that is accessible to a wide range of budgets.
For instance, cloud hosting providers can start from $240 per year. Add a pro builder plugin to the mix, and you're looking at an additional $59 per year. If you want to ensure your website is secure and backed up, a daily backup service can cost around $100 per year. And let's not forget the SSL Certificate, which can cost around $70 per year.
When you add all these costs together, you're looking at a total of approximately $459 per year. And that's without considering other complementary plugins, the growing cost of your hosting year over year, and upsells that require you to pay for extra features.
In contrast, Elementor Hosting's plans start from just $9.99 a month ($119.88 per year). This includes not just the hosting service, but also a premium website builder, robust security features, daily backups, an SSL certificate, and exceptional customer support.
With Elementor Hosting, you're not just paying for a hosting service, you're investing in a comprehensive web solution. This makes Elementor Hosting a cost-effective choice that delivers excellent value for money.
All-In-One Solution for WordPress Websites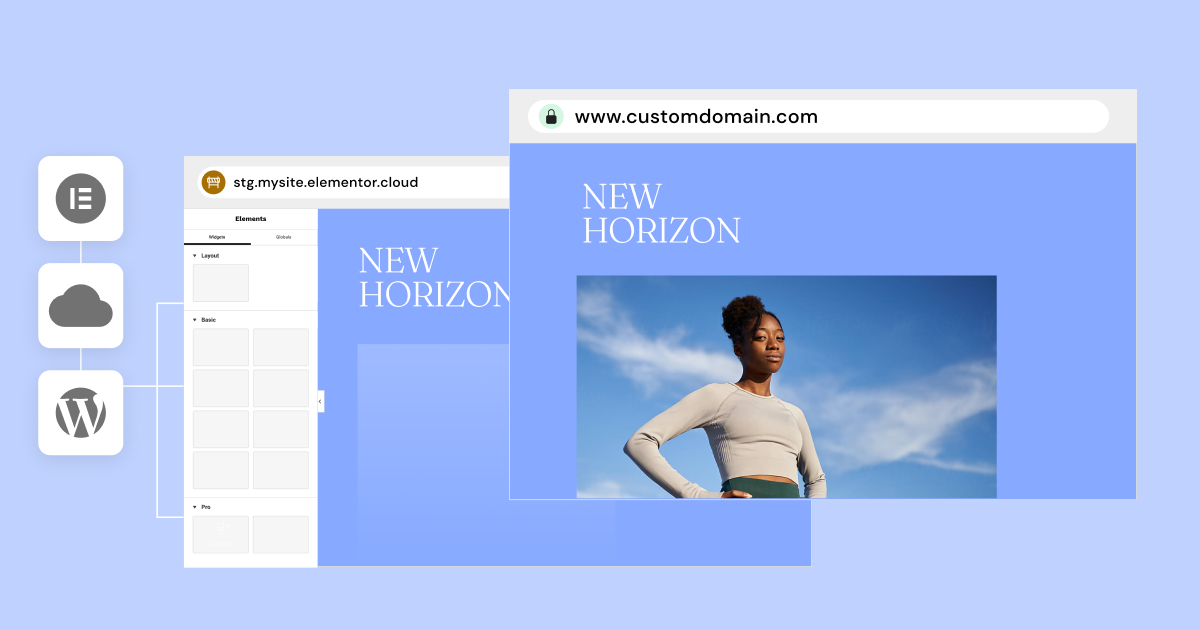 Elementor Hosting is much more than just another WordPress hosting, it is the perfect solution for building WordPress websites, and includes everything a winning website needs – all in one place:
✔ Managed Hosting for WordPress
✔ Elementor Hello theme
✔ Elementor Website Builder (pro version)
Elementor Hosting sets a new standard in the industry, from today you no longer need to assemble a WordPress site from countless different products (hosting, template, plugins) from countless different suppliers, deal with different experiences, double payments, compatibility issues and look for someone who can give you support and service.
Elementor Hosting operates on the highest tier of Google Cloud infrastructure, which leads in performance, uptime and the ability to grow. With 24/7 monitoring, DDoS protection and a firewall that blocks malicious traffic, you can rest assured that your site is in good hands.
One of the key benefits of Elementor Hosting is that it includes the Elementor Pro builder, with all pro widgets and features such as forms and popups, loop builder, advanced animations and WooCommerce widgets. This means you have access to a wide range of powerful tools for designing and customizing your website, right out of the box. This minimizes the need for third-party plugins, simplifying your website setup and maintenance, and saving you time and money.
Elementor Hosting offers also a simplified way of purchasing a domain and professional email boxes. You can now purchase a domain directly through Hover, a leading domain name provider and seamlessly connect your new address to your website. This integration simplifies the process of setting up your website, allowing you to purchase a domain and set up hosting all in one place.
But that's not all. Elementor Hosting also allows you to set up a professional email through Zoho, Google, or Microsoft. Having a professional email that matches your domain name can enhance your brand's credibility and make your business appear more professional. Whether you're sending emails to customers, partners, or suppliers, a professional email can make a positive impression and reinforce your brand identity.
The Best Hosting for Building with Elementor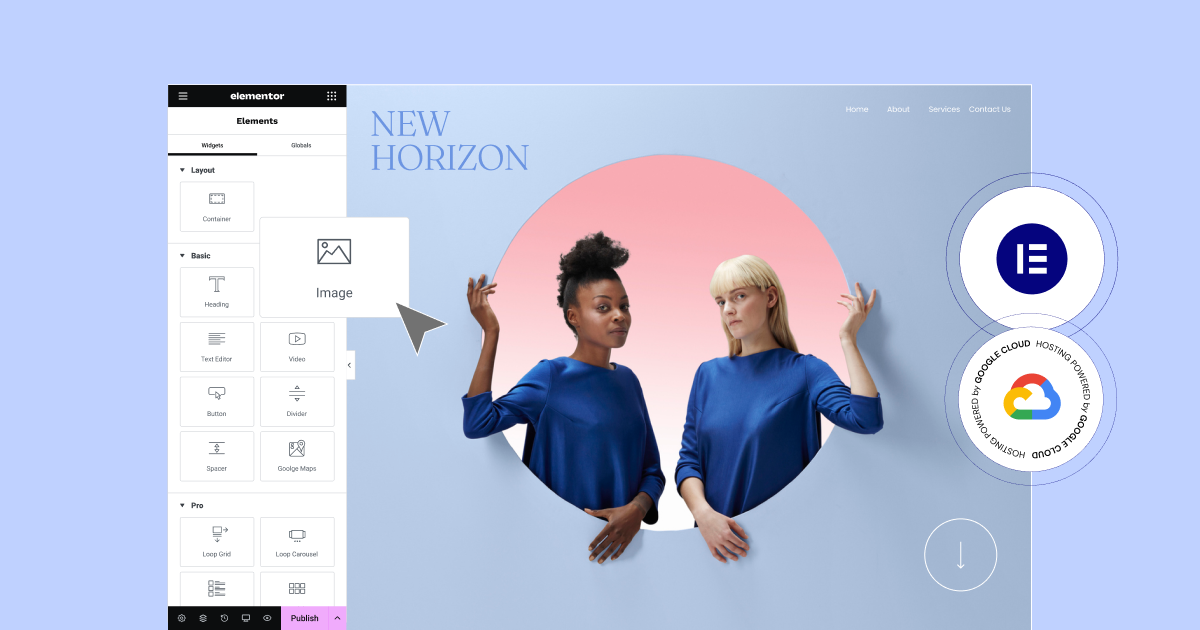 Drawing from years of industry experience, Elementor has developed a hosting solution that is specifically tailored for web creators. Elementor Hosting is designed to work seamlessly with the Elementor Pro website builder, providing a smooth, hassle-free web creation experience without any compatibility issues.
This means you can focus on crafting your website, without worrying about technical hiccups or compatibility issues. You won't face any issues related to PHP conflicts or modules, memory limits, CPU limitations, or DB size limits that could potentially cause your website to go down.
In addition to its seamless integration with Elementor Pro, Elementor Hosting offers a high-end Content Delivery Network (CDN) with over 285 locations. This ensures your website is not only faster but also more reliable, boasting an impressive uptime of 99.9%.
Summary
Elementor Hosting is a powerful solution that addresses the challenges of building a robust WordPress website. If you're looking to build a website for your business, start a new online store or present your portfolio without the need of dealing with the challenges that comes with building a professional website, Elementor Hosting is the right choice for you. It combines speed, convenience, and quality in one package, making it easier for you to go live fast without compromising and at an affordable price. Whether you're a seasoned developer or a small business owner taking your first steps into the digital world, Elementor Hosting is the ultimate tool to power your online presence. Start your web creation journey with Elementor Hosting today!
Looking for fresh content?
Get articles and insights from our weekly newsletter.