Meet the Brave Team
Brave is a Bali-based branding and web agency for nonprofits and mission-driven brands. They believe that good branding can help change the world for the better and work hard to prove that. Since 2017, they've helped create brands, build websites, and design communications for nonprofits and foundations around the world. Their creative process is built to solve communication challenges and create real value for their clients and their target audience.
The team behind this project includes Lauren Kay, the co-founder and creative director, Jalal, the art director, and Alfian Firdaus, the senior developer.
Lauren, with her extensive experience in the digital design industry, led the team with a clear vision. Jalal, with his keen eye for aesthetics, ensured that the website's design was visually appealing and engaging. Alfian, with his technical expertise, brought the design to life, ensuring that the website was not only beautiful but also functional.
RiseNow.us: A Platform for Change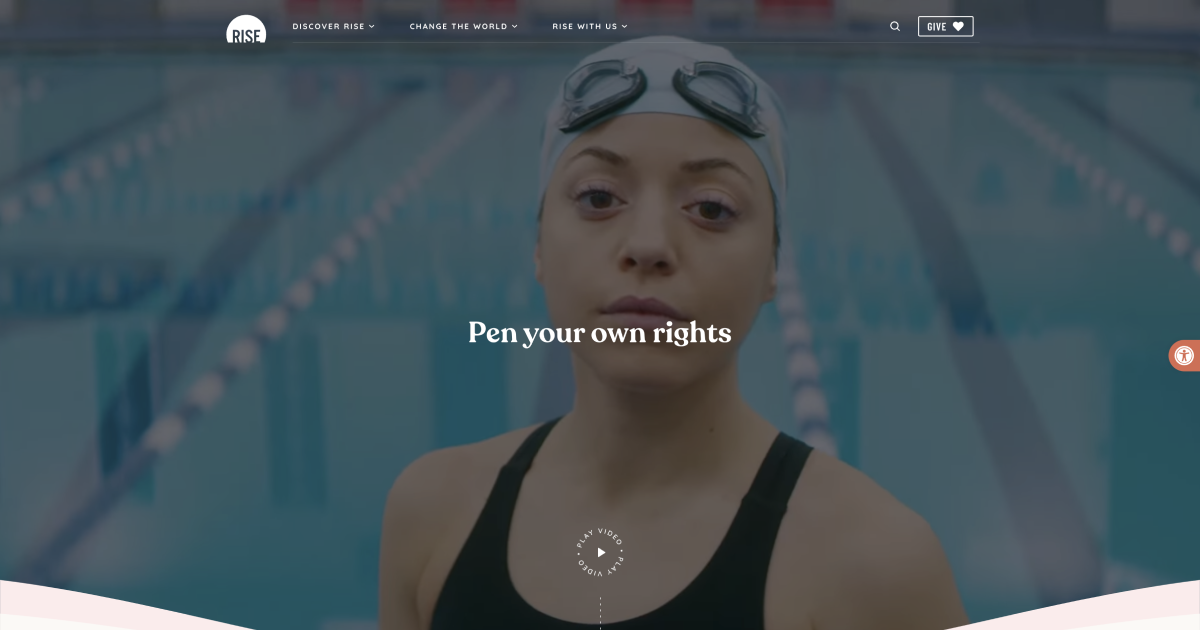 RiseNow.us is a civil rights organization that works to change laws. They believe that no one is powerless when we come together, and no one is invisible when we demand to be seen. Rise works to codify civil rights and has been instrumental in passing more than 65 laws. They are leaders from #MeToo, #StopAsianHate, Women's March, and March for Our Lives – the largest grassroots organizing moments in recent US history.
The need for a new website arose from the organization's desire to better communicate its mission and work. They wanted a platform that could effectively showcase their campaigns, resources, and impact.
The team at Brave took on the challenge of overhauling a previous DIY solution and created a website that not only looks great but also functions seamlessly. The new website, with its fresh and compelling new branding, is a testament to the expertise and talent of the Brave team. They transformed the online presence of Rise from a self-made endeavor into a professionally crafted platform that effectively communicates their mission and engages their audience.
In-Depth Look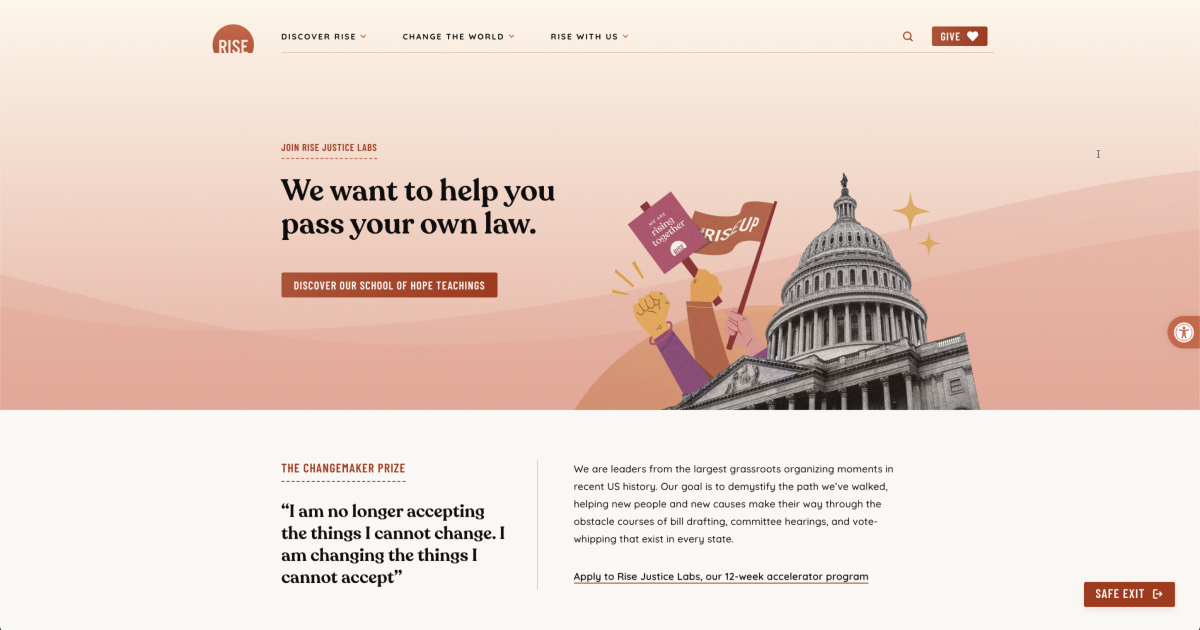 One of the standout features of the risenow.us website is the inner page banners. Alfian shared their innovative approach to creating a sense of depth and visual intrigue. "We used a multi-layered background with different elements such as a wave pattern, a noise texture, an image object, and a background gradient," Alfian explained. This combination, along with bold colors and strong typography, creates a powerful visual impact that immediately draws in the viewer.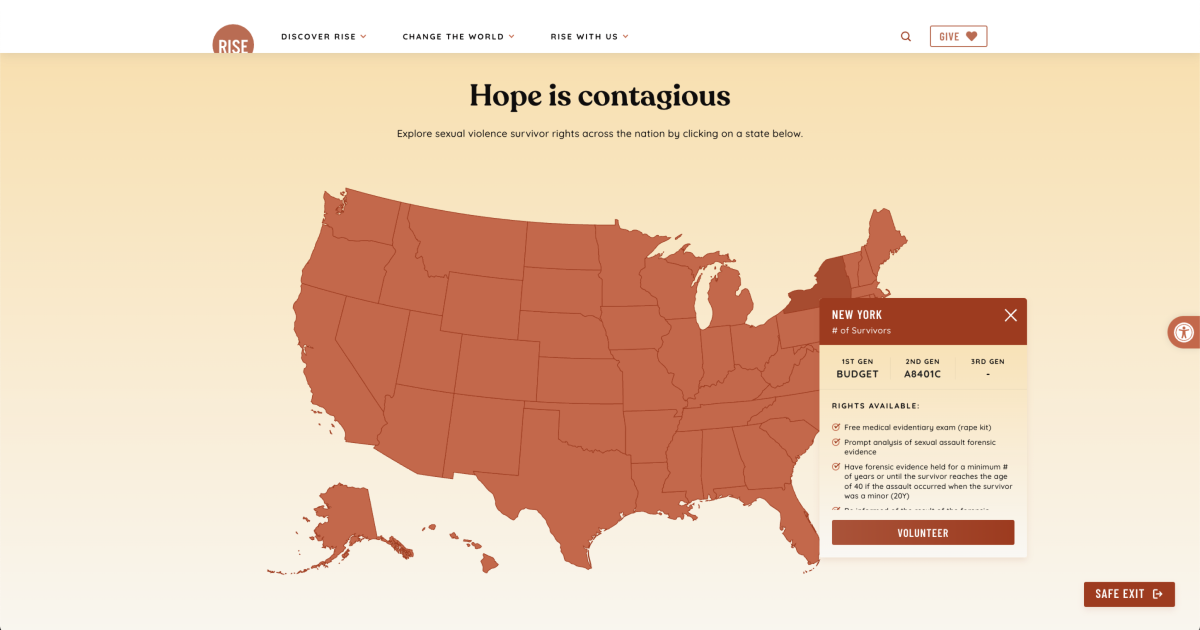 Another impressive feature of the website is an interactive map of the United States. Lauren highlighted the importance of this feature. "The map allows users to click on their state and see what laws have been passed and what support is available for sexual survivors," Lauren said. The team used a combination of JetEngine for custom post types, JetPopup for dynamic popups, and custom JavaScript to bring this feature to life.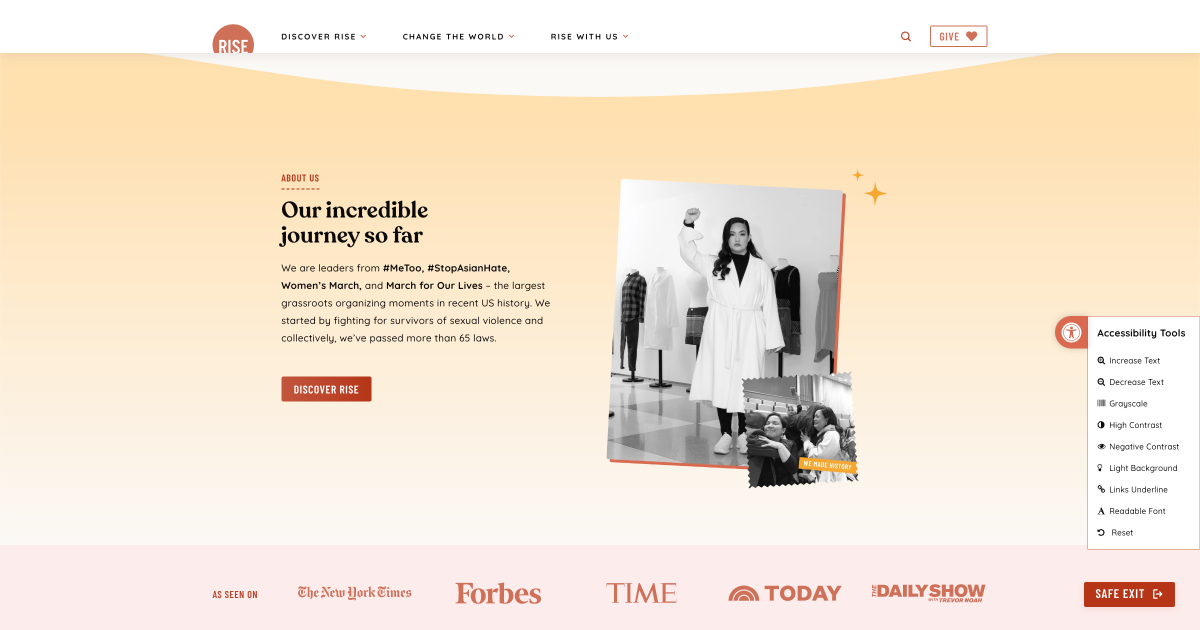 The website also prioritizes accessibility. Brave incorporated a plugin that allows users to adjust the website to their accessibility needs. Alfian emphasized the importance of using SVGs for icons and images. "We switched to SVGs so we can change the color in different accessibility modes. This ensures that logos and other visual elements remain visible and adaptable to the user's needs," Alfian explained.
Looking Ahead
The team at Brave is dedicated to innovating in web development and design, consistently refining their processes for efficiency and user-friendliness. Their goal is to empower their clients with the tools and independence to manage their websites, and mission exemplified in their work on the Rise project.
Lauren explains "Our clients usually have limited budgets or resources, and often we have to hand the projects off to them. By using Elementor, they can maintain their independence to build their own campaigns, events, and more. "
Congratulations to the Brave team for their outstanding work on Rise, and we look forward to seeing more of their innovative solutions in the future.
Experience the power of Elementor and the creativity of the Brave team for yourself by visiting the Rise website. We're sure you'll be as impressed as we are.
Looking for fresh content?
Get articles and insights from our weekly newsletter.