Any way you turn it, creating a WordPress website requires technical expertise. From finding a hosting provider, choosing a domain name that is compatible, choosing a website builder that is powerful — and then connecting them all together. This poses a high barrier to entry for less experienced and tech-savvy creators, but can also weigh down the workflow of professionals looking to set up a website for a client. Having to deal with multiple providers in terms of payment and support can be a hassle for first-timers, as well as for the more seasoned veterans among us – a hassle many of us have come to see as necessary. We're here to change that.
This complex process has been made easier with the launch of Elementor Managed Hosting.
Web Creators can now build websites faster and more efficiently using a single end-to-end solution that includes a code-free builder, first-class hosting, and the ability to connect your own domain name — all at a fixed annual subscription starting from just USD $9.99/month.
Web Creators demand an open-source ecosystem, with a secure and high-performing hosting service, where they can build websites freely. An Elementor Hosted website is exactly that — 100% WordPress, with secure built-in hosting from Google Cloud Platform, and all Elementor Pro features built-in. The service empowers Web Creators to focus on what matters — creating your perfect website.
An Elementor Hosted Website is truly plug-and-play, with no additional installations required. You also have full ownership of your content, and you can even export and transfer your website if you wish. There are no additional fees on top of the subscription. It's at a fixed price, charged annually, making it an all-in-one solution for your web creation needs.
The Challenges of Website Creation
A website is not that different from building a house in the real world – to get started you need a plot of land, an address, and finally a house. A domain name, a hosting provider, and a website are also necessary in the virtual world. When building your own website, you often find yourself having to get all of these individual components separately, from different vendors and providers.
Let's break down these challenges:
Choosing a WordPress hosting service
WordPress hosting plans can be even more difficult to choose if there are hidden costs, SSL requirements (essential when doing online transactions), storage limits, and other constraints. Not to mention deciding between managed hosting, shared hosting, and cloud hosting.
Registering a domain name
A domain name is one of the hidden costs of website design. Domain registration costs vary depending on the name's popularity. This is important because the name can affect branding, SEO, as well as how easy it is for audiences to find you on the internet. It is important to note that some hosting providers even charge extra for connecting a custom domain name.
Finding the best platform to build your website
Once you have visitors on your website, finding the best website creation platform is crucial. There are many website creation platforms available, with most of them using closed-source content management systems. Leaving these systems usually means starting from scratch. Additionally, a closed system makes it nearly impossible to find enhancements from third parties.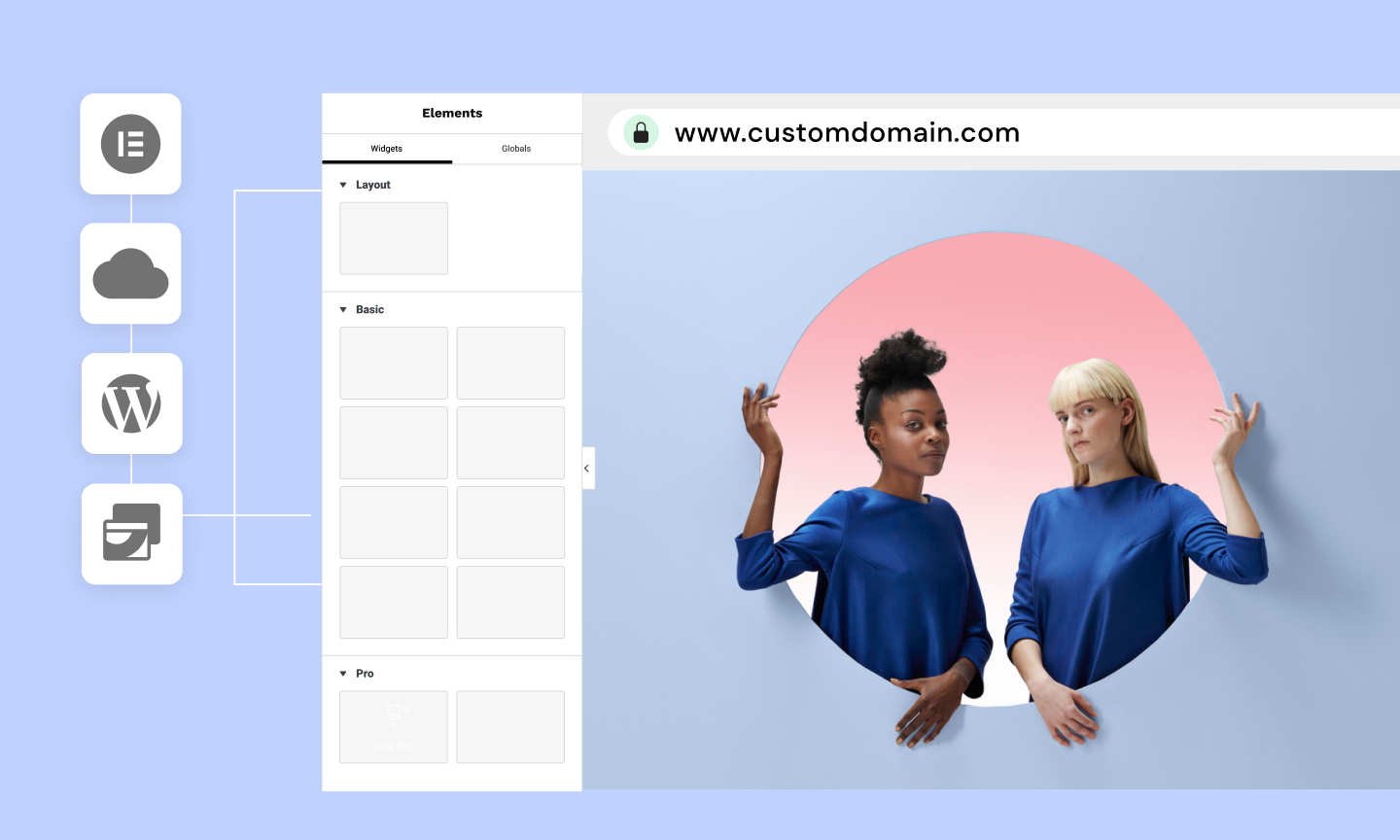 How Elementor Hosting Is the Solution
Elementor Hosting for WordPress is the ideal solution for Web Creators who want to focus solely on creating a good website. An all-in-one solution, the built-in hosting features relieve Web Creators of the need to pursue third-party fundamental WordPress services.
Web Creators can get started right away with an Elementor Hosting because it comes pre-installed with WordPress CMS, Elementor Pro features, and the Hello Theme. With the technical logistics covered by Elementor, you can simply add your professional touch and launch when ready.
This allows you to take control of your online presence with the option to connect your own domain at no additional cost, as well as the ability to easily export your website if you ever decide to switch services.
Elementor Hosting has the highest security requirements and certifications available. You also have the option to import your own if you choose. Every Elementor hosted website is automatically backed up every 24 hours. Additionally, Elementor gives a unique code that may be used to access your website while it is being updated.
What's Included in the Subscription?
All features that are currently available in the Elementor Pro plugin such as its 100+ widgets, WooCommerce and marketing features, Pro kits and templates, are all included in an Elementoer Hosting subscription. In addition, you'll get round-the-clock Premium Support for your website all in one place, whether you're experiencing issues with the Editor or technicalities regarding Hosting. That means no more bouncing from one service to the other just to figure out the source of the issue.
The fact that Elementor Hosting comes with built-in hosting from Google Cloud Platform means you enjoy the same top-of-the-line service Google itself — as well as all their Enterprise customers — use. Additionally, utilizing CDN by Cloudflare's global network of secure servers means website visitors are automatically sent to the server that is nearest to them, delivering the best possible experience. Since it is hosted using Google Cloud Platform, it comes with its best-in-class features. It also includes a built-in free SSL from Cloudflare and offers generous monthly visits, storage, and bandwidth.
You can build and publish your Elementor hosted website immediately starting from just US$9.99 per month.
Final Thoughts
With an Elementor Hosting, Web Creators' jobs will be streamlined, profitable, and more enjoyable as it will nullify (or at least mitigate) much of the financial and technical hassles that arise when creating WordPress websites.
Packed with all the power of Elementor Pro features, it offers Web Creators a visual, intuitive website-building experience backed by over 100 powerful widgets. The accompanying cloud-based web hosting service will serve the needs of virtually any client as it runs on the universal Google Cloud Platform, including CDN by CloudFlare which automatically optimizes every visitor experience. Providing built-in SSL, automatic and manual backup, as well as the option to connect to a custom domain at no extra cost, means this is now the most comprehensive web creation platform on WordPress, sans none.
Elementor Hosting is set to revolutionize how WordPress website projects are organized. By streamlining your workflow, removing technical setup barriers, and simplifying hand-off to clients, Elementor now offers Web Creators a solution that lets you focus on what you do best: Create websites and design your future.
Looking for fresh content?
Get articles and insights from our weekly newsletter.