Note: Elementor has updated its domain registration process. See Adding a custom domain name to your Elementor hosted website for more details. However, the information here regarding Google Domains is still accurate and can be used to help locate your domain name records on the Google Domains site.
Let's get started
So you've got a brand new Google domain name and want to connect it to your Elementor hosted website? Follow these quick steps and you'll be hooked up in no time!
From your My Elementor dashboard, go to Websites
Click the Manage This Website button located on your website's card to open the site details screen.
Click the Add Custom Domain link from the Manage Domains section.

A pop-up screen will appear that looks like this.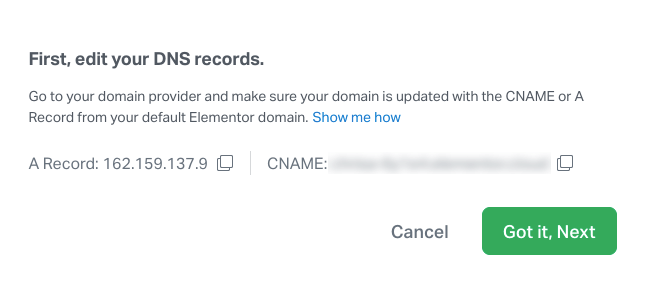 Keep this pop-up screen open because you'll need to copy the information to your Google Domains account.
Adding the DNS records
Visit https://domains.google/ and log in to your account in another browser tab.
Navigate to the domain you wish to use for your Elementor hosted website on the My domains screen. 
Click Manage.


My Domains allows you to select the Elementor hosted website you want to manage.

Go to your domain management screen.
Navigate to the side menu options and select DNS.

Add an A record
On the DNS management page, navigate to the Custom records section. Here, you'll create an A record for your domain. If your domain already has an A record set to Parked or another address, you should delete it.
Important: If your domain's DNS records have an AAAA (IPv6) record set, it needs to be removed (deleted) because IPv6 is not compatible with Elementor hosted websites yet.
Leave the Host Name field blank because it will default to your domain name '@'.
Navigate to the Type field and use the dropdown to select an A record.
Leave the TTL field to default to the 3600 value present.
Enter the IP address of your Elementor hosted website in the Data field . You can find this IP on your Elementor hosted website dashboard page. 
Click the blue Save button to apply the record.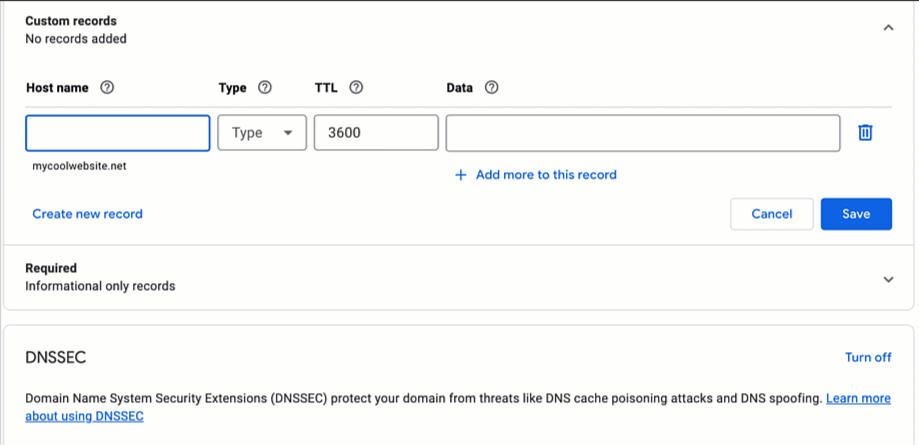 Using CNAME record for www
To direct the "www" to your Elementor hosted website, you need to create a CNAME record with the host name set to "www".
Click the Manage Custom Records button.
Navigate to Create new record.
Go to the Host name field and enter the "www".
Select CNAME from the Type dropdown menu.
Leave the TTL field to the default 3600 value.
Enter your primary domain in the Data field.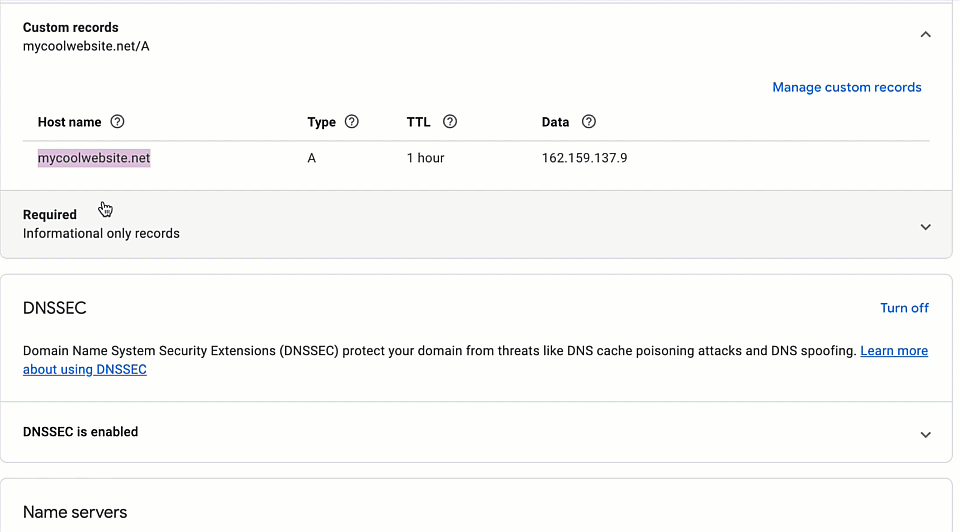 Using a CNAME (alternate)
Another way to connect your domain to your cloud account is to add a CNAME record that points your domain to your Elementor hosted website domain. For example, if your domain name is example.com, and your Elementor hosted website is example.elementor.cloud, create a CNAME record on example.com that points to example.elementor.cloud.
Wait for the DNS changes to propagate
DNS servers across the world periodically check for any changes to the DNS records. A DNS change requires up to 72 hours to propagate worldwide. In practice, this typically happens within a few hours, and in some cases, within a few minutes.
Return to the My Elementor dashboard
On the Elementor Dashboard browser tab, click the green accept button. If the popup has been closed, click Add Custom Domain Button at any time.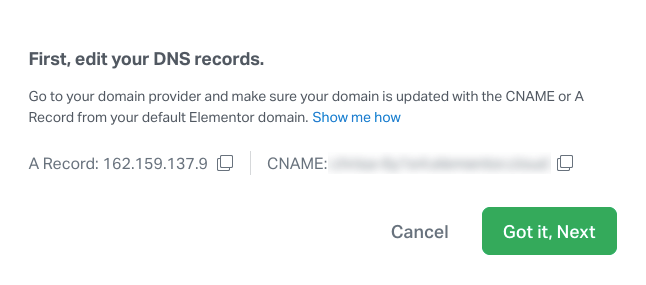 Adding your custom domain name to the My Elementor Dashboard
In the next pop-up, you'll enter your domain name in the input area provided.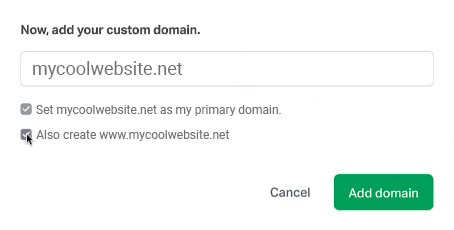 Add your domain name to the text area, without "www". In the example above, we're adding a custom domain name, mycoolwebsite.net. At this time, you can also set your domain as the primary domain and create the "www". You can add or edit these later if you wish.
Wait for Elementor to connect to your domain
Sit back and relax. As mentioned, it can take upto 72 hours for changes to apply, but it's usually a lot quicker. You'll be notified by email once the process is complete.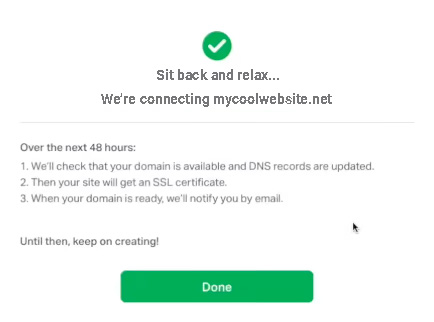 Setting the custom name as primary
To set your domain as the primary destination for visitors, follow these quick steps:
Click the Set Primary Domain next to your custom domain name.
Click the green Set Primary button on the new pop-up. The popup window will close. It will take 30 seconds to several minutes for your changes to appear.
Check your email inbox for a notification.
The bottom line
We'll check that your DNS is available along with the SSL certificate for your website. This process can take up to 72 hours due to the time it takes for changes to propagate. When your domain is ready, you'll be notified by email.
To get the best out of Elementor, check out the Elementor Academy for useful learning resources. If you have any other issues, please contact our Support Center for help.