Funnels rarely get the credit they deserve. If you've ever tried pouring gasoline in a lawnmower through a funnel, you'll realize how simple yet effective it is. You only need to tip the can into the funnel, and it directs the fuel where it needs to go — inside the tank.
Although not as simplistic, sales funnels are highly effective at guiding leads into sales. They help you drive revenue growth and achieve better returns on your marketing investments.
However, that's only possible if you optimize your sales funnel to match your business, industry, and target audience.
Want to learn how? Here's a detailed guide on sales funnel optimization that explores what a sales funnel is, and its different stages, and shares ten ways to optimize a sales funnel.
Sales Funnels: What You Need To Know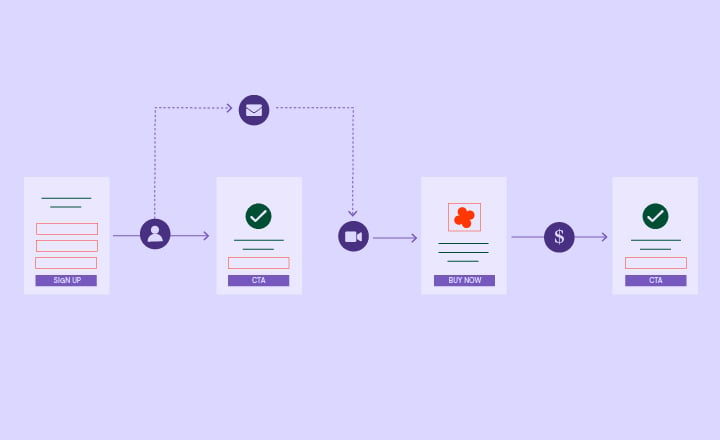 Sales funnel, also known as a conversion funnel, is a term that describes a prospective customer's journey from their first interaction with a business to the time they make a purchase.
Sales funnels outline marketing strategies and map interactions across the customer lifecycle. They provide deeper insights into customer behavior and help identify friction in the buying process to improve conversions.
Building a sales funnel allows you to influence buying decisions without active intervention. But you can't leverage the benefits of a sales funnel without optimizing it.
Whether you sell online, offline, B2B, or B2C, an optimized sales funnel can help you:
Identify points of failure and success in your sales process.
Improve your content marketing strategy.
Increase conversion rates.
Build customer loyalty and improve customer retention.
Before we show you how to optimize a sales funnel, let's explore its stages to understand how to target the customers as they make buying decisions.
The 4 Stages of the Sales Funnel Explained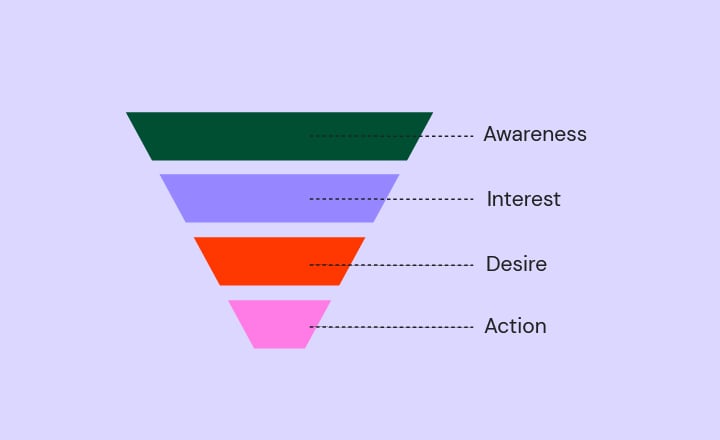 Sales funnel stages describe the cognitive processes customers go through as they make their buying decision. The "funnel" analogy helps visualize and categorize the different stages in the sales process.
Like an actual funnel, the sales funnel is widest at the top. As prospects move through the sales funnel stages, each stage becomes progressively smaller as qualified customers move to the next stage, and unqualified customers drop off.
Although there are several different models of sales funnel stages, the most popular and widely referenced one is the AIDA model, which consists of the following four stages:
Awareness
Interest
Decision
Action
1. Awareness
The Awareness stage is a "top of the funnel" stage where customers become aware of:
A problem they're facing and, in some cases, a solution to it.
Your business and its product or service that addresses their problem.
Your goal in the Awareness stage of the sales funnel is to reach your target audience, help them discover your offering, and gather leads. You can do that using PPC campaigns, relevant blog posts, ebooks, and social media.
Optimize your sales funnel in this stage by creating informative and engaging content that encourages those who may be interested in your product to act.
Whether it's signing up for your email newsletter or a webinar, you should motivate them to engage with your business and move to the next stage.
2. Interest
When your target audience engages with your business in the Awareness stage, they demonstrate an interest in what you offer. Although these prospects haven't considered purchasing from you yet, you have their attention.
At that point, they've entered the Interest stage.
Your goal in the interest stage is to figure out what your potential customer's pain points are and what motivates them. One way to do it is by engaging with them and building a relationship through direct and indirect sales channels.
You can also optimize your sales funnel in this stage with content that touches on common pain points and showcases your product as a solution. You can do that via email campaigns, blog posts, and free trials. Once they're convinced, prospects will move on to the next stage.
3. Desire
When a customer reaches the Desire stage, they're aware your product meets their needs and are considering a purchase, but they're not ready to convert just yet. They're still comparing pricing options, customer testimonials, and case studies to make an informed decision.
Your goal in this stage is to convince customers by showing them:
Why your product fits their needs.
How well your offer suits their budget.
What they can expect post-purchase.
You can achieve these goals through one-on-one demos, discount codes, customer testimonials, and reviews. The key here is to show them what life as your customer can be like. Once you've convinced them, they'll move on to the next stage.
4. Action
The Action stage, or the purchase stage, is the final stage of the sales funnel. This stage is where the nurturing and guidance of the past three stages bear fruit. Customers know your product is what they need, and they're ready to convert.
Your goal in this stage isn't just to nudge the customer into purchasing products. You should give them everything they need to get the best value from their purchase.
For example, you can use email campaigns, targeted promotions, and community building to help customers get the best value from your products and retarget them with upsells and cross-sells to boost sales.
How To Optimize Your Sales Funnel
Define your target audience.
Create content that solves problems.
Optimize your landing pages.
Optimize your CTAs.
Capture leads.
Use email marketing to nurture leads.
Incorporate trust signals and social proof.
Reduce friction at the conversion stages
Create measurable goals and track key metrics.
Stay active on social media.
Let's have a closer look at what these sales funnel optimization strategies entail.
1. Define Your Target Audience
You can't sell to an audience without understanding who they are and what they like. The best way to identify who you should target is with a buyer persona — a research-based semi-fictional representation of your ideal customer.
Buyer personas give you insights into who your buyers are, how they think, and what motivates them. They can help you target prospects at the top of the funnel, minimize drop-offs at the Awareness stage, and improve your sales funnel conversion rate.
Naturally, to build a persona, you need data. You can use data from Google Analytics, social media analytics, and your customer database. Here's what you should focus on:
Age
Location
Interests
Occupation
Technology
Social media preferences
Armed with this data, you can create an outline of your ideal customer. Look for recurring patterns and try to build multiple personas for your target audience.
2. Create Content That Solves Problems
Once you've identified your target audience and what motivates them, it's time to create content that targets their pain points. We're still at the top of the funnel in the Awareness stage, which is why it helps to create content that solves your audience's problems.
Informative content helps position your brand as an expert and builds credibility. Research by Conductor found that consumers are 131% more likely to buy from a business after consuming early-stage, educational content.
Blog posts are a great way to optimize your sales funnel in the Awareness stage. But there are other options you can consider, such as social media posts and podcasts. Statista shares that as of 2021, 57% of all U.S. consumers above the age of 12 listen to podcasts.
Fire up your mike and start a podcast. It's a great way to target a new audience, deliver value, and engage with users to build awareness for your brand.
3. Optimize Your Landing Pages
The landing page is where potential customers learn about your products and brand. Whether it's through an ad, blog post, or webinar, when they reach your landing page, it should communicate what your brand represents, what it offers, and how it solves their problems.
It's essential to maintain a consistent brand voice and message across all channels. After all, we're still in the Awareness stage of the sales funnel.
Here's an effective landing page design by Misfits Market — an online grocery service to inspire you:
Misfits Market uses bright imagery against a clean, minimalistic background to convey their offering at first glance — grocery delivery. They complement this with a clear headline stating, "Save big by saving food," and highlighting their value proposition above the fold.
Once they've reached your landing page and you've convinced them with compelling content, they'll filter through to the Interest stage.
4. Optimize Your CTAs.
Every page and piece of content on your website needs a clear purpose and a call to action (CTA) that encourages prospects to move to the next stage of the funnel. CTAs can be used at every stage of the sales funnel to motivate customers to filter through.
You can use phrases such as "Sign up for a free trial" or "Get the free ebook" in the Awareness stage to generate leads and customer inquiries. Similarly, you can use words such as "Jump on a call to learn more" or "Reach out to our team for more information" to engage with prospects in the interest stage.
CTAs such as "Limited time offer" or "Exclusive discount" work great in the desire and action stages. The key is to use your CTAs multiple times on every landing page and position them in a way that captures your customers' attention.
Here's how BarkBox — a dog treat delivery service, uses multiple CTAs and clever landing page optimization in their ecommerce sales funnel:
5. Capture Leads
Once you've impressed your customers with targeted content and compelling CTAs, it's time to funnel them into the Interest stage. When customers share their information with your business, they're expressing an interest in your product or service.
In doing so, they move from the Awareness stage to the Interest stage. The best way to make this happen is using a lead generation form that captures their contact information and gives you an opportunity to start a conversation.
Make sure you set expectations upfront during signup and offer something valuable in return. Prospects are unlikely to share their contact information without it. Access to a discount coupon or free ebook on signup are great ways to generate leads and deliver value.
Here's how Brian Dean, founder of Backlinko, uses an email sign-up form field to gather leads on his website's homepage. He promises "Exclusive SEO Tips" in exchange for your contact and uses "Try It" as the CTA, making it feel less transactional:
6. Use Email Marketing To Nurture Leads
Capturing your customers' attention alone isn't enough. You also need to increase interest in your products and move them to the next sales funnel stage. An easy way to do that is with email marketing.
Contrary to popular belief, email continues to be one of the best-performing sales channels. Research by HubSpot found that 64% of small businesses effectively use email marketing to reach customers.
Here's how Google uses relevant emails to nurture warm leads and nudge them from the Interest stage to the Desire stage by offering a free consultation call with its sales team:
7. Incorporate Trust Signals and Social Proof
Trust is essential to the success of every sales process. You can't optimize a sales funnel without a healthy distribution of trust signals and social proof across all stages. The type of indicator you use can vary based on the funnel stage.
For example, product ratings and reviews can work wonders for addressing friction with signups in the Awareness stage. Similarly, customer testimonials and case studies demonstrating past results and wins can boost conversions in the Desire stage.
Here's how Stripe use social proof to optimize their sales funnel and boost their sales conversion rate:
Here's another example of how Amazon uses several trust signals such as ratings, reviews, delivery estimates, and free returns to optimize their sales funnel on the product page:
8. Reduce Friction at the Conversion Stages
Nurturing prospects and establishing trust leads them into the Action stage. But your job isn't done yet. Even your best leads can fall out at this point if you're not careful.
A recent quantitative study by the Baymard Institute revealed that 69.82% of online shoppers abandon their purchase due to reasons such as:
High shipping, tax, or other fees.
Missing guest checkout option.
Slow delivery.
Lack of trust.
Each reason represents a friction point at the conversion stage and an opportunity to optimize your sales funnel. Don't know how to do it?
Here are four helpful tips to reduce checkout friction:
Don't force signup during checkout; leave that for the "Thank you" page.
Implement a one-page checkout process to minimize steps.
Offer free delivery by including the delivery costs into your product margin.
Include trust signals such as payment gateway logos and security trust badges in your site footer and on the checkout page.
9. Create Measurable Goals and Track Key Metrics.
You can't optimize a sales funnel with a set-and-forget approach. You need to continue monitoring and optimizing each aspect of the funnel to identify areas of improvement as your business grows and customer needs evolve.
An easy way to track key metrics of your sales funnel is with Google Analytics. It helps you visualize your sales funnel, identify drop-off points, and track progress when implementing fixes.
You can also use Google Tag Manager to organize your trackable metrics. Here's an example of how the Behavior Flow report in Google Analytics can help you visualize drop-off points in your sales funnel:
If you're using Elementor, you can set up A/B testing using Split Test For Elementor, a third-party plugin developed by Rocket Elements. Read our guide on setting up A/B testing on WordPress to learn more.
10. Stay Active on Social Media.
Social media is an excellent tool to optimize your sales funnel. Data from Pew Research Center reveals that 72% of U.S. adults use at least one social media site daily. Although it works best at the top of the funnel, you can use it to target prospects at every stage.
You can use scroll-stopping visuals to grab user attention and video posts to engage users in the Awareness phase. The size of your audience at the top of the sales funnel is massive. But with the right buyer persona in place, you'll be able to target prospects easily.
Next up, in the Interest stage, you can use Facebook, Instagram, and Pinterest ads to drive traffic to your website. You can use tracking pixels to retarget these users in the Desire stage with special discounts.
Finally, in the Action stage, you can use conversion-oriented ads to promote your products and nudge prospects into customers. You can also use Instagram's Shop feature and Facebook Marketplace to minimize conversion friction on social media.
Final Thoughts: How To Optimize Your Sales Funnel To Boost Conversions
Conversion goals at each stage of the sales funnel vary tremendously. Sales funnels aren't meant to convert leads in the first interaction. So make sure you aren't forcing users to act. Instead, optimize your sales funnel to help them flow through it organically.
Focus on small yet consistent micro-conversions at each stage of the funnel and modify your creatives to target changing customer needs in each step of the buying journey. Don't know where to start? Use Elementor's funnel builder and pre-designed templates to build the ultimate sales funnel without code.
Looking for fresh content?
Get articles and insights from our weekly newsletter.