As a web creator, live streaming may not be the type of creative endeavor you'd ever considered undertaking. But live video content can boost your visibility immensely, as well as solidify the bonds between you and your audience. Live video allows you to showcase your artistic visions, teach your skills to others, and network with other web creators on the best practices in your field.
For those who have never done it, live streaming can seem like it has a huge learning curve. Don't you need special equipment and tons of free time to live stream? Nope! You can invest as much or as little money and time into live streaming as you want, and getting started is much easier than you think.
In this guide, you'll learn how to start live streaming as a web creator, from collecting the basic streaming gear to choosing the best streaming platforms for your audience.
The Benefits of Live Streaming for Web Creators
Why should you be interested in live streaming as an online creator? Live content holds one major benefit over recorded videos: engagement. People spend 3x more time watching a Facebook Live video than one that's no longer live. Interacting in real time with viewers provides more opportunities for different types of content, like live workshops, talk shows, panel discussions, and contests.
Live streaming has the potential to boost your visibility and build a tighter community around your brand. It's a good industry to get into right now, and it doesn't take much to get started with streaming. You can even turn your live videos into another revenue stream.
Live Streaming Is a Fast-Growing Industry
In the past few years, live streaming has seen a rapid rise in volume. More people are creating and consuming live video content than ever before. If you haven't tapped into this potential yet, now is definitely the time to start.
Take a look at these impressive live streaming industry stats:
Live Streaming Is Cost-Effective
The barrier to entry for live streaming is low. Most major social media platforms have live-streaming capabilities that anyone with an account and a smartphone can use for free. You can broadcast live to your followers from anywhere, at any time, in a matter of minutes. Unlike recorded videos, live content isn't as big of a time commitment either. A 30-minute recorded tutorial video might take hours to edit before it's ready to publish. In contrast, a 30-minute live workshop takes just 30 minutes.
Of course, as a web creator who takes pride in their content, you'll want to invest in some streaming equipment to make higher-quality videos at some point (which we cover in the next section). You should also spend a little time prepping live stream content, so things go smoothly when you're live. But starting out, it doesn't take much to create engaging live videos.
Live Streaming Has Several Monetization Options
Live streaming can become an alternative revenue stream for web creators. YouTube, Facebook, Twitch, Twitter, and Instagram all offer monetization options for live streamers. Live streaming comes with many of the same monetization options as recorded videos, along with additional features like accepting donations or gifts in-stream.
Some of the most common monetary features platforms offer streamers include:
Donations from viewers
Viewer subscriptions
Advertisements
You can also make money with live streams through other means:
Brand sponsorships
Affiliate links
Third-party platform donations
Custom merch
Courses or workshops
The desire for live video content is only increasing. As creators step up to meet this demand and offer higher-quality content, viewers are willing to support them.
Live Streaming: The Perfect Outlet for Web Creators
Many web creators want a way to showcase or share their talents with others, but designing an entire course isn't feasible. Live streaming sessions allow you to run tutorials, host Q&As with your audience and even interview other creators about their processes. Sharing advice and answering questions in real-time builds your legitimacy as a creator.
What do you need to start live streaming? Let's go through the four steps it takes to start creating a live video.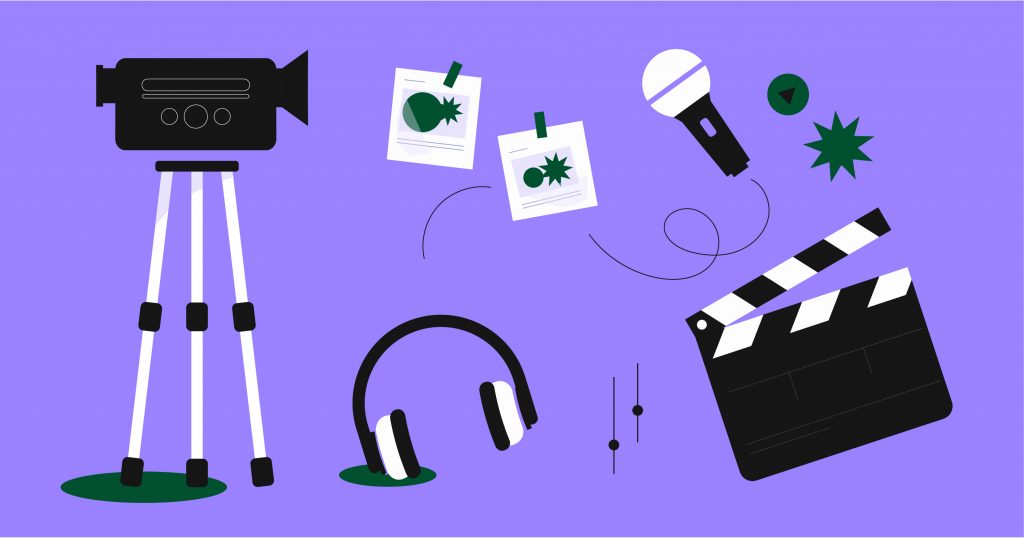 Step 1: Gather Your Equipment
As mentioned previously, you don't need a lot of gear to start going live. A basic streaming setup should include a good internet connection, camera, microphone, and streaming software.
Good Internet Connection
Filming, transmitting, and uploading video in real time requires fast internet upload speeds. Each platform has its own speed requirements, and they vary depending on the resolution and frame rate of your live video. Here are few general guidelines for Facebook, YouTube, and Twitch for a video with a 720p resolution and between 30 and 60 frames per second:
Facebook Live recommends a max bitrate of 4,000 kbps, so you need an upload speed of between 3 and 4 Mbps.
YouTube Live recommends between 1,500 and 4,000 kbps, so you need an upload speed between 2 and 5 Mbps.
Twitch recommends between 2,500 and 4,000 kbps, so you need an upload speed between 3.2 and 5 Mbps.
If you want to stream in a higher resolution, such as 1080p or 4K, it will require an even higher bitrate. Run a speed test to see how fast your internet is and whether it will be enough for your desired platform.
Camera
You can start with your laptop's or smartphone's built-in camera. A decent, external webcam isn't too costly, though, and you don't need a sophisticated, high-tech webcam. If you have a DSLR camera lying around, you can start streaming with it as well, but it will require one more piece of gear to hook up.
Microphone
You can skimp a little on a camera, but your mic should be top-notch. Do not use the built-in microphone on your device if you can help it; instead, opt for an external USB mic. XLR microphones offer better-quality sound, but they require a separate audio interface to use with your computer.
Streaming Software
A streaming application or tool takes your live video and audio and converts it into a format suitable for streaming platforms. OBS Studio is a popular choice for going live from your computer or laptop because it's free. If you go live from an app, like Facebook or Instagram, you don't need streaming software; you can simply stream from directly within the app. Using your computer and a streaming application gives you more control over the look and feel of your stream than using a mobile app, however.
Step 2: Choose Your Streaming Platforms
Once you have your streaming basics, you can decide which platform to go live on. Each has its advantages and downsides, as well as particular audiences you may be trying to target. If you don't feel like choosing just one, you can also use a multistreaming service like Restream to broadcast to several platforms simultaneously.
YouTube: YouTube is a generalist platform where you can find content of all types. It's a good place for web creators to stream to because your target audience is likely already searching YouTube for tutorials and how-to videos. Before you can go live, you need a YouTube channel, and you must be approved. Approval takes about 24 hours.
Twitch: Twitch is known as a live streaming platform for gamers, but content in other niches has become increasingly popular as well. Artists, musicians, scientists, talk show hosts, and hobbyists all stream on Twitch too. You don't need anything to get started streaming on Twitch other than a Twitch account and your basic streaming setup (see Step 1).
LinkedIn Live: The audience on LinkedIn differs substantially from those of YouTube and Twitch. As a professional platform, users are looking for business-oriented content that helps them learn new skills or network. If you choose to do live videos on LinkedIn, you can accomplish both! Teach your talents to other web creators or launch important industry discussions using LinkedIn Live.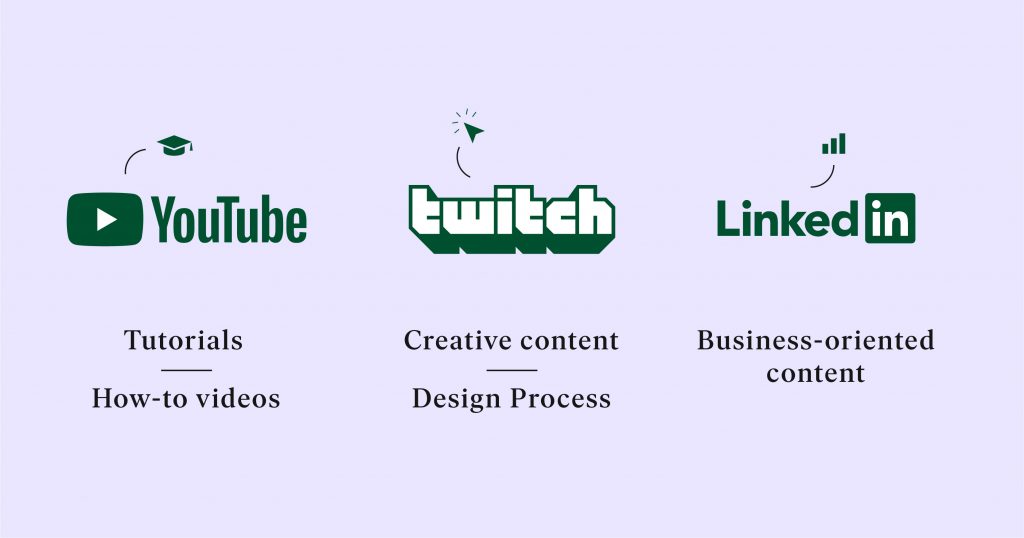 Step 3: Follow Live Streaming Best Practices
Not everyone is used to being on camera — and it can be a nerve-wracking experience for beginners! Many people assume their stream has to be flawless because it's live, but that's false. Viewers are actually more forgiving of small mistakes or errors when you're live. In fact, those little slip-ups make your stream feel more human and relatable. That being said, you shouldn't start spontaneously streaming without a plan. Rely on these tips and best practices when you want to go live.
Prepare your stream in advance. You don't have to script the whole thing, but jot down some notes about your main idea and the sub-topics you want to cover. Having your structure and main points written down will help you stay on track throughout your stream.
Control your body language in front of the camera. Remember to sit up straight or stand if it's easier for you. Also, look into the camera lens as you speak to your audience. It may feel odd at first, but the audience will feel like you're looking directly at them.
Test everything before going live. Always do a test run before hitting that "go live" button. Make sure your internet connection is good, your camera and mic are hooked up properly, and your lighting looks decent. Do a test recording on an unlisted or private channel, and replay it for any issues.
Close unnecessary apps. If you stream with your computer, close any apps or software you do not need during your stream. These programs will simply take up more of your computer's resources, and you need as much power as you can get directed at live streaming.
Connect with an ethernet cord. One way to ensure a more stable internet connection is to connect your computer to your modem with an ethernet cord, rather than relying on a wireless signal.
Remove distractions. Ensure that the space you are streaming in is free from distracting sights or sounds. Try to stream in a room with a closed door, and tidy up your background. You can help prevent echo in the room with carpets, pillows, blankets, and other soft items.
Use good lighting. A not-so-good webcam can be forgiven if you have proper lighting. All it takes is a few cheap clip lights placed in the right spots or a single, inexpensive ring light to drastically improve the image quality of your stream.
Step 4: Engage With Your Audience
The final step for starting a live stream is to keep your viewers interested. You've gone through the trouble of setting up your gear and preparing a stream session, so make sure your audience sticks around. Interacting in real time with your viewers is the most appealing aspect of live streaming, but audience engagement can be challenging if you're not used to it.
Try these tips to keep people interested.
Promote Your Stream Beforehand
Get your viewers interested before the stream even starts! Create a short teaser video and post it on your social media channels, or make a simple post about your stream. You can also create an event or schedule your stream in advance, so it's easy for anyone to share the link to the stream. Answer any questions people might have about the stream too, so your audience knows fully what to expect.
Be Responsive
During your stream, answer questions you get from the live chat, especially if you're running a tutorial. You can let viewers send in questions throughout the stream, but be mindful not to let answering questions take over and side-track you from your main topic. If needed, you can set aside chunks of time during the stream to do Q&A. Also, acknowledge people as they join the chat at the beginning. Some shout-outs and small talk go a long way toward making your viewers feel appreciated.
Create Interaction Opportunities
If no one in the chat is asking questions or saying anything, it's up to you to create conversations. You can do this by asking viewers to complete a short activity or worksheet before coming to your stream, then discussing it live. Another method is holding a quiz to see how well viewers are paying attention and giving a prize to the winner. Polls are a good way to hold attention during a stream as well.
Make 2022 the Year You Start Streaming!
Live streaming is a powerful tool you can add to your arsenal as a web creator. For community building, teaching, showing off your work, or networking with other creators, live streaming offers countless benefits. And it's easier than ever to start broadcasting live videos. With some basic equipment and a little preparation, you can create engaging and high-quality live content!
Looking for fresh content?
Get articles and insights from our weekly newsletter.