A successful website strikes a harmonious balance: it needs to be attractive to catch the eye, convenient for seamless user experience, and, of course, blazingly fast to retain attention. According to Google, 53% of mobile site visitors leave a page that takes longer than three seconds to load. This means that for every second delay in page response, conversions can fall by up to 20%.
At Elementor, we understand the business criticality of website performance, and our recent upgrades aim to offer an unmatched speed, thereby increasing conversions, user experience, and ultimately, your business success.
We're excited to announce that all Elementor Hosting users will now benefit from our upgrade to Google Cloud's premium C2 tier servers. In addition, we're rolling out our exclusive Accelerated Plugins feature, beginning with Elementor and Elementor Pro, with more to come soon. 
Our recent enhancements highlight Elementor's dedication to delivering premier Hosting and tools to our users. With the introduction of Elementor Hosting's Advanced Caching tool and a variety of upgrades, we continue to pioneer in innovation, ensuring you receive an unparalleled and dependable hosting experience.
Elementor Hosting: From Great to Outstanding with Google Cloud's C2 Servers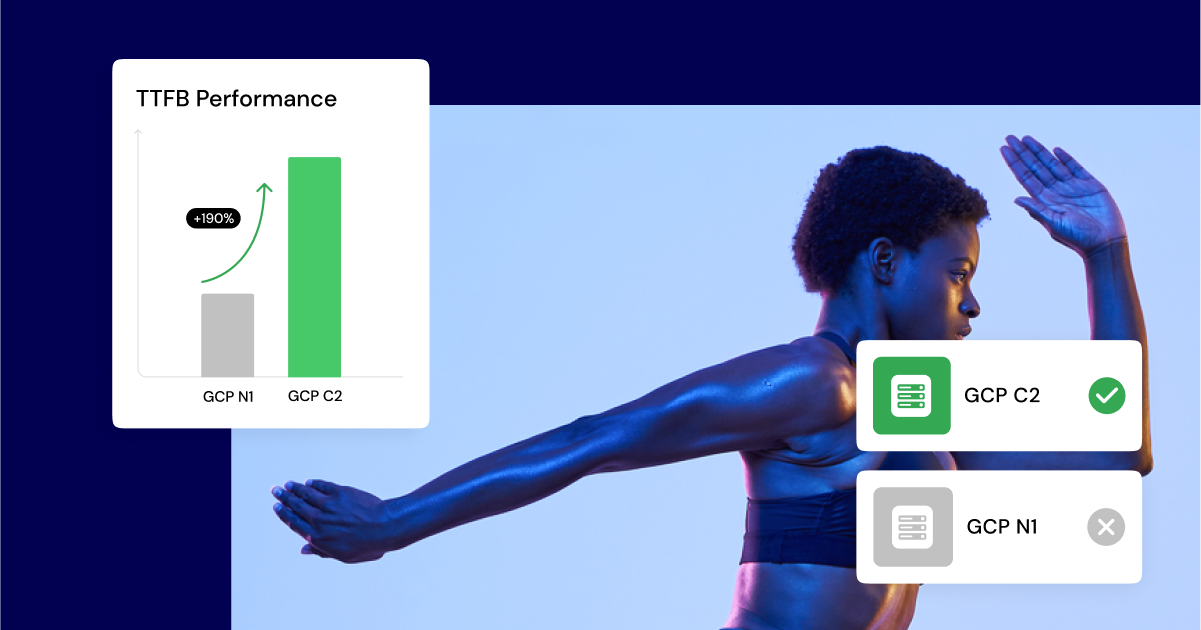 Switching to Google Cloud's C2 servers wasn't just another tech update for us. It's a transformation that offers groundbreaking speed and efficiency. Google Cloud's C2 servers are designed to deal with compute-intensive tasks, offering superior speed and resource allocation. With this upgrade, our performance metrics indicate a speed boost of up to 190%!
Unparalleled Scalability and User Experience
The switch to the C2 tier opens up an array of advantages for your site. Its high-frequency processors elevate data processing speeds, and our groundbreaking serverless architecture ensures rapid response times, even under the weight of virtually limitless user requests. This synergy delivers accelerated loading times, smoother interactions, and an overall enhanced user experience.
Boosted Network Efficiency and Throughput
The C2 tier also comes with a fortified network capacity, boasting enhanced bandwidth and superior packet processing rates. This robust infrastructure ensures your website can cater to a surge in concurrent users and handle increased data traffic without a hitch. So, whether you're running a modest blog or a bustling e-commerce platform, you can trust your Elementor website to meet demand with unparalleled efficiency.
Elementor Hosting Outperforms the Industry Average
We are delighted to share a significant milestone in our commitment to providing exceptional hosting for Elementor websites. With our recent transition to Google Cloud's highest-tier C2 severs and specialized optimizations, we've achieved speed increases of up to 190%. Notably, we have also seen great improvements in Time to First Byte (TTFB) which measures the time between the request for a resource and when the first byte of a response begins to arrive, and Largest Contentful Paint (LCP) which represents how quickly the main content of a web page is loaded, and other Core Web Vitals metrics.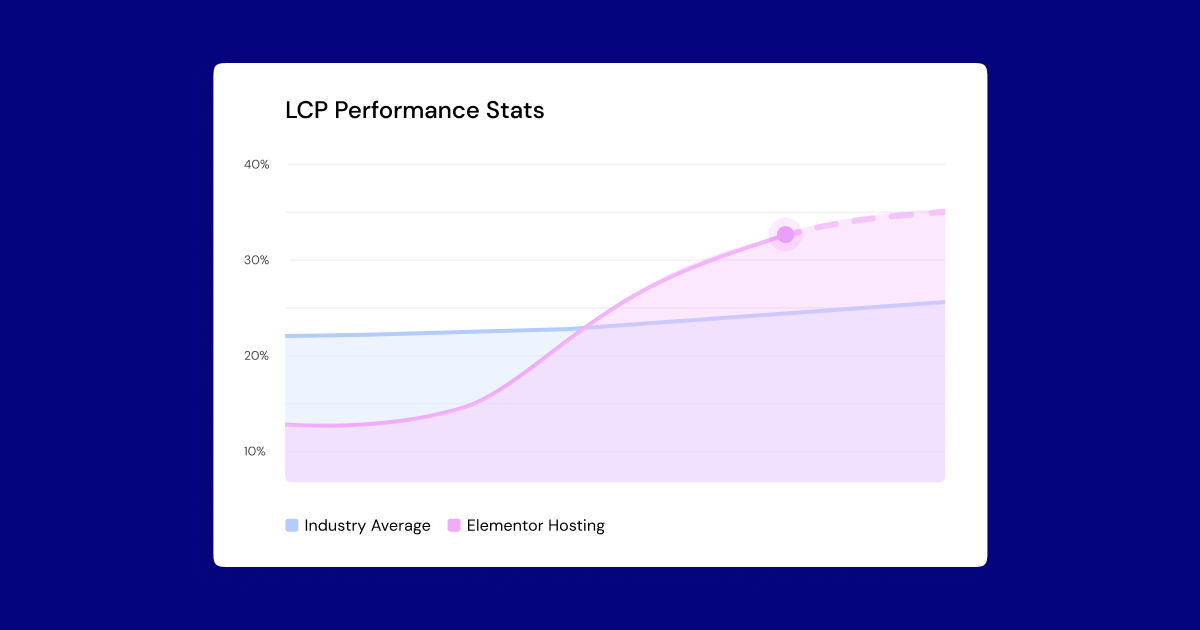 The accompanying chart clearly illustrates how Elementor-hosted websites outpace the industry average in speed, solidifying Elementor Hosting as the best choice for sites built with Elementor.
And we're just warming up! Which brings us to…
Accelerated Plugins: Innovation as an Ongoing Effort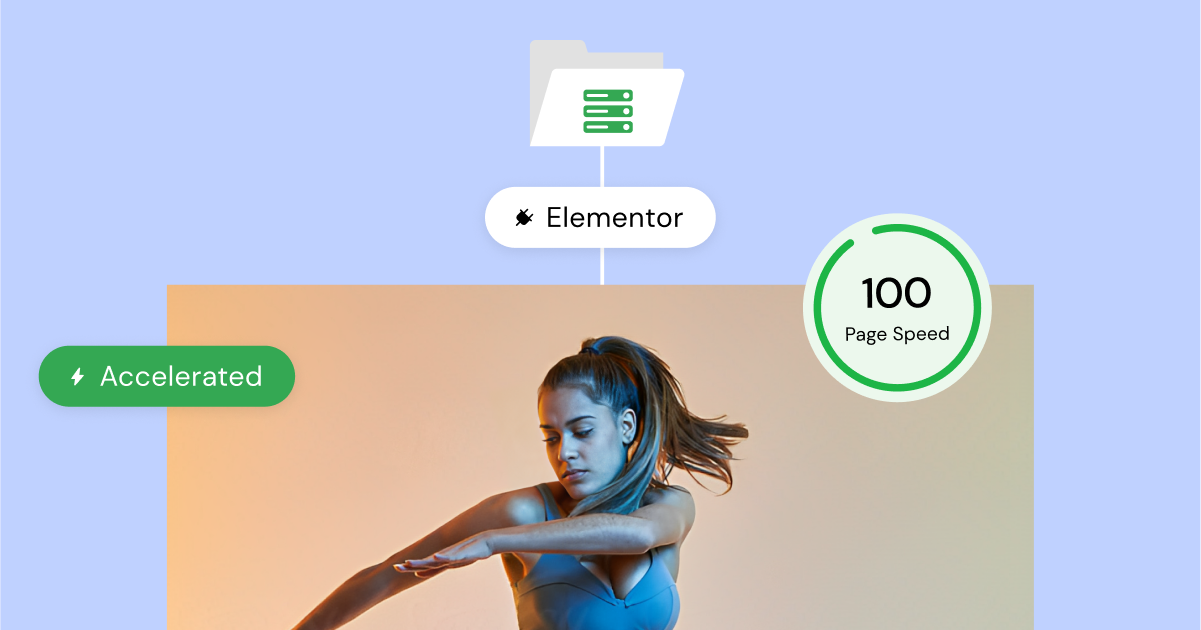 At Elementor, innovation is always in motion. We're thrilled to announce that we have rolled out our Accelerated Plugins feature, which will be available to all Elementor Hosting users by the end of September. This groundbreaking feature pre-loads and caches plugin files, lightening the server's load and boosting your website's speed. This advancement is yet another milestone in our commitment to offering a hosting service that's both effective and efficient.
Accelerated Plugins Explained
WordPress plugins can be both a blessing and a curse: they add functionality but can slow down your website. Elementor Hosting's unique Accelerated Plugins feature changes the game. By storing plugin files in the server's RAM instead of the disk, we reduce server workload and speed up your site.
The first plugins to gain accelerated status are Elementor and Elementor Pro, with more popular plugins to be added soon. As a result, you can expect faster loading times during editing, and quicker response times when visitors access your site. Stay tuned for updates on the supported plugin list!
Look for the Acceleration Icon
Keep an eye out for this specific icon
It indicates that a plugin is part of the Elementor Hosting accelerated plugin program.
The Best Hosting for Elementor Websites
Elementor is continuously working on providing a premium hosting solution, with blazing fast loading speeds, while remaining committed to provide a seamless and reliable hosting platform. The speed and performance of your website can make or break the user experience, and in turn, affect your bottom line.
We believe in a future where Elementor websites are not just great, but outstanding. Our transition to Google Cloud's C2 servers and the introduction of Accelerated Plugins are giant leaps in that direction. These enhancements set new industry standards, and they're only the tip of the iceberg.
Stay tuned for more updates!
Looking for fresh content?
Get articles and insights from our weekly newsletter.