Now that we are back from WordCamp US and have finally recovered from jet lag (and Covid!), it's fun to look back and appreciate the wonderful time that our team had, connecting with the community, meeting new people, seeing old friends, and generally contributing to the greatest Open Source project: WordPress.
What is WordCamp US?
WordCamp US is one of the three main flagship WordPress conferences that takes place throughout the year. In fact, WordCamp conferences originated in the US, and in the early days mainly took place in Philadelphia. At a certain point the location of the conference started rotating to different cities, which added a nice fresh angle to the conference and gave participants an opportunity to experience new locales and communities.
This last WordCamp US took place in National Harbor, Maryland, which is right outside of Washington DC on August 25 and 26, with Contributor Day happening on August 24.
So let's take a stroll down memory lane…
Side event
We love hosting a side event party on the evening before WordCamp starts. People have already gathered in town, don't have specific plans, and are excited to meet up! Our #WCUS party was a big success, bringing together people from our community to connect and have fun at a really cool venue. We also karaoke-d. It was a real pleasure co-hosting this with the great folks from WebPros (cPanel) and Rocket .net.
Contributor Day
Contributor Day represents the heart and soul of WordPress, and our team attended in full force. It's a beautiful thing to see people coming together to invest time and effort in making WordPress better and we were glad to be a small part of it.
Sponsorship
WordCamps are key to the success of WordPress, since it's at these conferences that friendships, connections and community happen. Elementor was thrilled to sponsor, since we love supporting these amazing events. Our super pink booth was hard to miss, and it gave us the opportunity to connect with the community and our users, and get valuable feedback.
Contributing to Community Summit and speaker travel grants
The Community Summit is a very important event that brings together WordPress core contributors to discuss the future of the Open Source project, and strategize next steps. It took place right before WordCamp. Volunteer contributors are integral to the project, but travel costs to conferences like this can be prohitibitve, so the travel grants were established to make sure that all key people can make it, and financial constraints should not be a factor.
Elementor was very grateful to be one of four companies contributing to these grants. The fund provided $48,000 in travel assistance, and supported 38 attendees with roundtrip transportation and hotel stays.
Diversity at events is integral to the WordPress community, and many efforts are made to ensure that speaker lineups include under-represented populations. Sometimes financial constraints mean people who should have the opportunity of speaking and being represented, are not able to do so.MasterWP established a travel grant program to counteract this and strengthen diversity at WordCamp US, and we were very proud to be sponsors! Eight speakers and six organizers from underrepresented groups have received travel funding from this program. It's great to support these types of initiatives!

Contest to win a Macbook Air!
With our special offer of three months free of Elementor Hosting, attendees who wanted to participate in our contest could sign up, quickly build an Elementor site, and share it on X. It was like a mini website building hackathon, and we loved seeing what people built! Our team picked the "best" website to win a Macbook Air, and the second and third runners up won Airpods and a bag full of the best Elementor swag. Thank you to everyone who participated! You can see the winning submission here: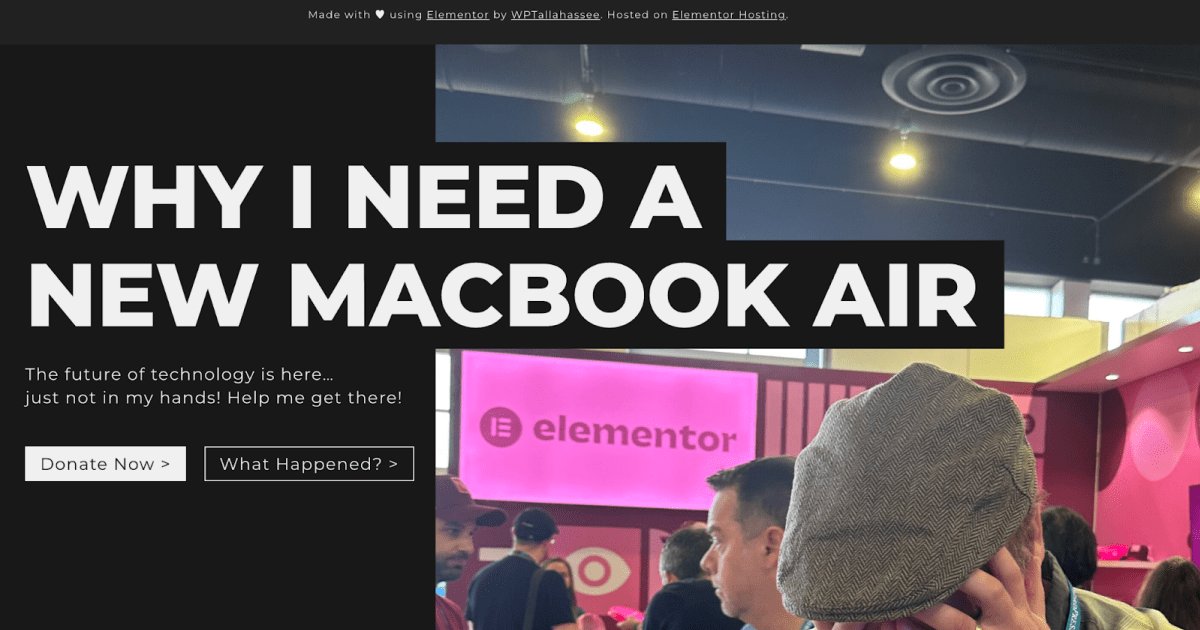 Web performance consulting
Shilo Eish Yemini is our resident performance expert, and he teamed up with Adam Silverstein from Google, and Joe McGill from 10up, to offer free consulting sessions to people who want to speed up their websites. The sessions were booked up fast, and people also dropped by to get advice. We were so glad to be able to share our knowledge and experience with the community, and we were told these sessions were among the most insightful parts of the conference for them! That's what community is about.
Doc Pop interviews
Torque Magazine's Doc Pop interviewed many participants at WordCamp US to hear about the latest developments at their companies, and thoughts on the conference. He also interviewed two of us from our team: Gabriella Laster, Product Marketing Team Lead, who spoke about exciting things that have happened in Elementor's products, and a bit of a peak at what's up next; and myself, about Elementor's contributions to the Community Summit Travel Grants, MasterWP's travel grant for underrepresented groups, our conference sponsorship, and our contribution to the WordPress performance team in partnership with 10up.
And that's a wrap! An amazing time was had by all. Huge thank you to the organizers for making this event so spectacular.
See you at WordCamp Asia!
Looking for fresh content?
Get articles and insights from our weekly newsletter.