I am delighted to announce that Elementor has officially acquired Strattic, the world's predominant WordPress static hosting solution.
Adding Strattic to our portfolio means we are better equipped to solve the challenges faced by millions of WordPress Web Creators. This acquisition will allow us to leverage Strattic's technology to build static websites, helping to solve stability, speed, and security issues in the dynamic sites space. It's another step in providing you with the very best all-in-one platform, with the leading editor plugin at its core and exciting new offerings such as our Cloud Website launched earlier this year.
Continuing Our Pursuit of Providing Fast, Reliable, and Secure Website Hosting for Web Creators
Since its founding in 2018, Strattic has spearheaded static architecture to run stable and reliable websites, making downtime a relic of the past and allowing for seamless scale. Websites running on Strattic are renowned for their lightning-fast website speeds no matter where visitors are in the world, as it uses pre-rendered static pages that are fully served by a CDN.
With static hosting, users can deploy their dynamic WordPress websites as static HTML/CSS replicas to global CDN networks, which drastically improves the performance of their sites and eliminates potential security vulnerabilities and site breakdowns during updates. With a dramatically reduced attack surface, WordPress vulnerabilities become irrelevant as security is no longer a defensive endeavor.
I firmly believe that Strattic's technology, know-how, talent, and established market position as the leader of this technology in the WordPress space will allow us to offer the benefits of static hosting to the entire Elementor community and provide a platform for hosting ultra-performant large-scale websites — all in one place.
Finding a Shared Purpose With Longtime Friends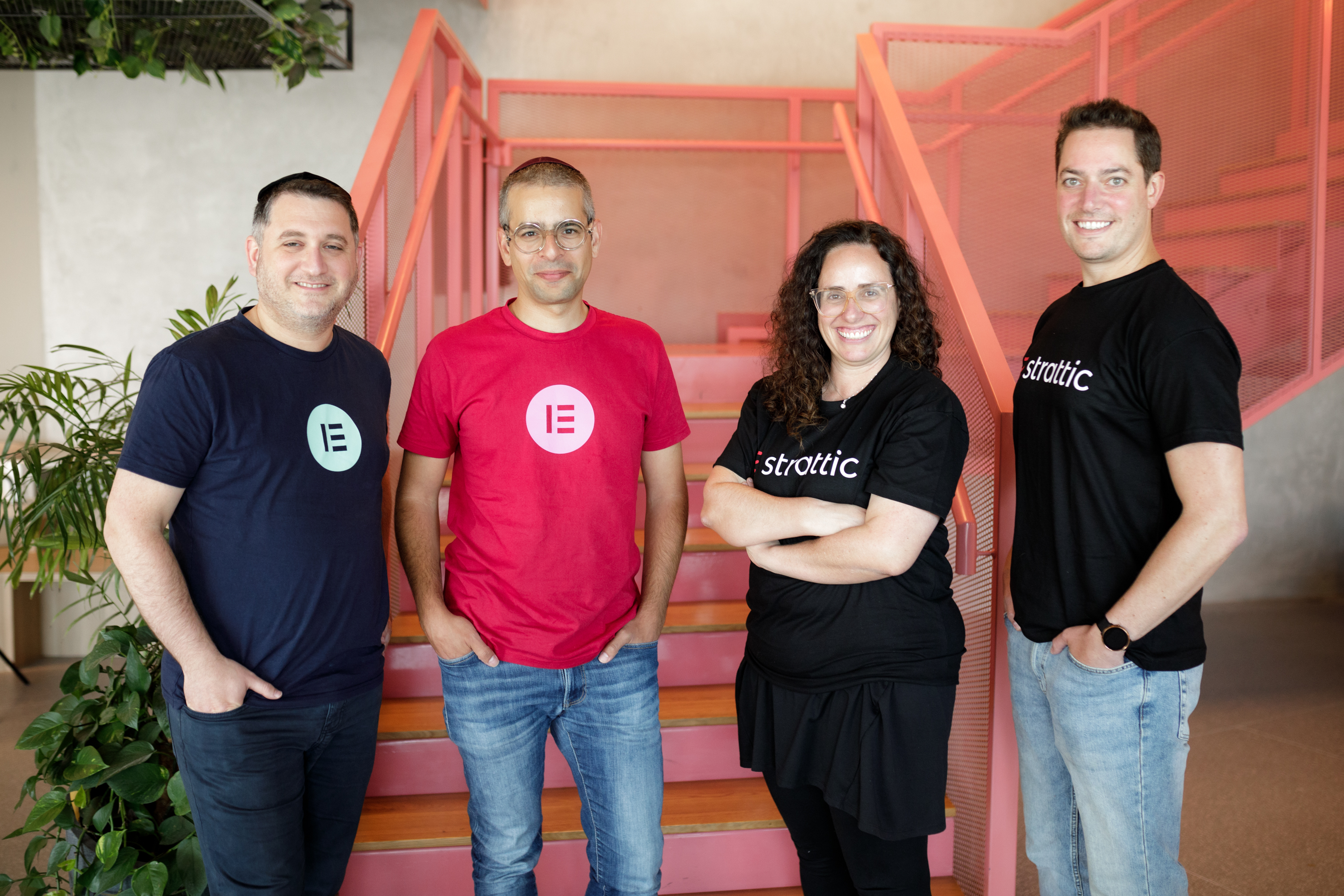 The decision to acquire Strattic was influenced by several encounters, personal connections, and a shared commitment to advancing WordPress web creation.
Back in 2011, Ariel asked me to accompany him to WordCamp Jerusalem, where Miriam's team organized and took care of all the logistics and content of the event. That was my first interaction with Miriam Schwab. Here we connected as web creators, each with successful web agencies.
Three years later, Ariel and I officially sponsored WordCamp Tel Aviv under our recently launched company, Pojo.me, the predecessor of Elementor. We were delighted to find Miriam firmly throwing her support behind us as a WordPress company driving the development of the local community.
By our next meeting in 2017 at WordCamp Europe, Ariel and I were fresh from celebrating Elementor's first anniversary while reaching 100,000 active installations. This was when I first met Josh Lawrence. Miriam and Josh mentioned the challenge of security and stability of WordPress sites and their plan to embark on creating a solution for it.
It was two years later, on the flight to WordCamp St. Louis, that Miriam and Josh gave us an overview of how they were successfully able to create a static WordPress experience with the launch of Strattic. The four of us passionately discussed the future of hosting WordPress sites.
Our paths crossed again at the Israel Press4Word WordPress Conference in 2021, following talks by Elementor and Strattic. Miriam proposed that we needed to cooperate and work together while sharing Strattic's recent integration of Elementor's forms into the static experience.
Finally, earlier this year, Ariel and I came to the realization that just as Elementor was providing solutions to millions of web creators, Strattic, too, was on this same journey. We discovered the goals of the two companies were aligned as we both were working to provide the WordPress community with the best web creation experience possible. So after a decade of personal connections, today, we are excited to announce the addition of Strattic to the Elementor family.
The Future of WordPress Is High-Performing, Ultra-Secure, and Hyper-Stable Websites
Elementor has pioneered website design and building standards as WordPress' fastest-growing web creation platform for the past six years, keeping in line with our founding vision of empowering web creators.
After years of powering millions of websites with our famous editor plugin, we remain committed to solidifying Elementor as the world's best editor, while breaking new ground in delivering innovative experiences in designing, developing, and building the web.
With Elementor now behind them, the Strattic team, led by Miriam and Josh, will work with us to bring the static experience to millions of WordPress and Elementor users. This milestone is another step towards our shared vision of building the perfect platform for web creators.
Please join us as we welcome the Strattic team into our global Elementor community and continue building the future of WordPress and web creation together.
Looking for fresh content?
Get articles and insights from our weekly newsletter.