To introduce you to new opportunities, inspire you with unique creative ideas, and ignite your already sparkling imagination, we present our pick of the top cannabis-inspired websites built with Elementor. Explore this new breed of web designs for one of the most lucrative and fastest-growing industries today.
Cannabis, Marijuana, Hemp, Hashish, Ganja, and Dagga are just a few of over a thousand different names to describe one legendary — some might say mythical — plant. In recent years this forbidden tree of good and evil has shed its polarizing reputation and developed into its very own legitimate industry.
Today, over 40 countries across virtually every continent have legalized the medical use of cannabis, including Argentina, Australia, Brazil, Germany, Italy, the Netherlands, Poland, Portugal, Switzerland, Thailand, the United Kingdom, and 37 U.S. states. Countries that have legalized the recreational use of cannabis include Canada, Georgia, Malta, Mexico, South Africa, and Uruguay, as well as 18 U.S. states and 2 territories, plus the District of Columbia. Along with mainstream social acceptance, these changes have helped pave the way for a lucrative and fast-growing industry.
There is ongoing medical research as to whether medical marijuana can help treat a number of health conditions including Alzheimer's disease, Appetite loss, Cancer, Crohn's disease, HIV/AIDS, Epilepsy, posttraumatic stress disorder (PTSD), Multiple sclerosis, Muscle spasms, Neuropathic Pain, Seizures, and others. This has generated plenty of discussions and led to widespread acceptance of this once-taboo trade, particularly given the development of the non-psychoactive cannabidiol (CBD) cannabinoid as opposed to the famous characteristic high of tetrahydrocannabinol (THC).
Today, all manner of breeders, cultivators, manufacturers and dispensaries, transportation, and delivery companies find themselves in a burgeoning industry. Unsurprisingly, professionals, including lawyers and marketers, as well as packaging and machinery companies have entered the fore to enhance and elevate these plant-touching businesses' processes.
Web Creators are presented with an opportunity to explore an industry that is evolving into its own profitable niche. The opportunity to become a specialist is there for the taking for both novice and weathered professionals. To introduce you to new opportunities, inspire you with unique creative ideas, and ignite your already sparkling imagination, we present our pick of the top cannabis-inspired websites built with Elementor.
06
actiTube
by Studio Nørden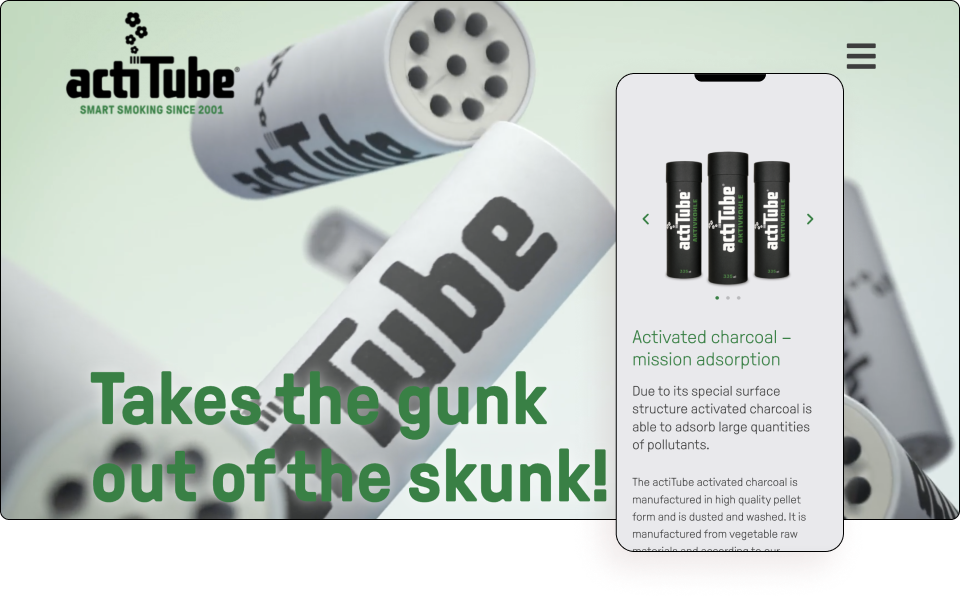 In 1998, actiTube's founder got the tip from a doctor friend to filter the smoke from the water pipe with activated charcoal in order to reduce the burden on the airways. So the idea came about to offer all friends of hemp consumption a filter with activated charcoal filtered that reduces harmful substances and improves taste. Today you can get the actiTube activated carbon filters in practically every European head shop.
The hero just hits differently with the floating joint filters combined with clever copy that lights up your curiosity. These elements both hint at the unique experience of using these special filters. The popup menu also comes out of the sidebar again decorated with the brand's gray and green colors.
A nice shoutout is the locally known "Berlin rolled car" where the metropolitan transport stub is infamously used as a DIY filter. This is nicely juxtaposed with what actiTube offers. The multilingual website also utilizes the slider to showcase how the pipes work.
The colors and logo of the brand are used throughout the website, with the logo, in particular, acting as both a floating background motif and colored icons. There are also subtle scroll zoom effects used on products which add a bit of playfulness.
actiTube blows its competition out of the water with its unique joint filter using a sleek website that is dope in the most favorable sense.
Design & Development: Torge Peters and Steffen Schöler
Theme: Hello
Plugins: Elementor Pro, WPML, Wordfence, Yoast SEO

See Live Website

05
Walter Green CBD
by Rémi Guillemet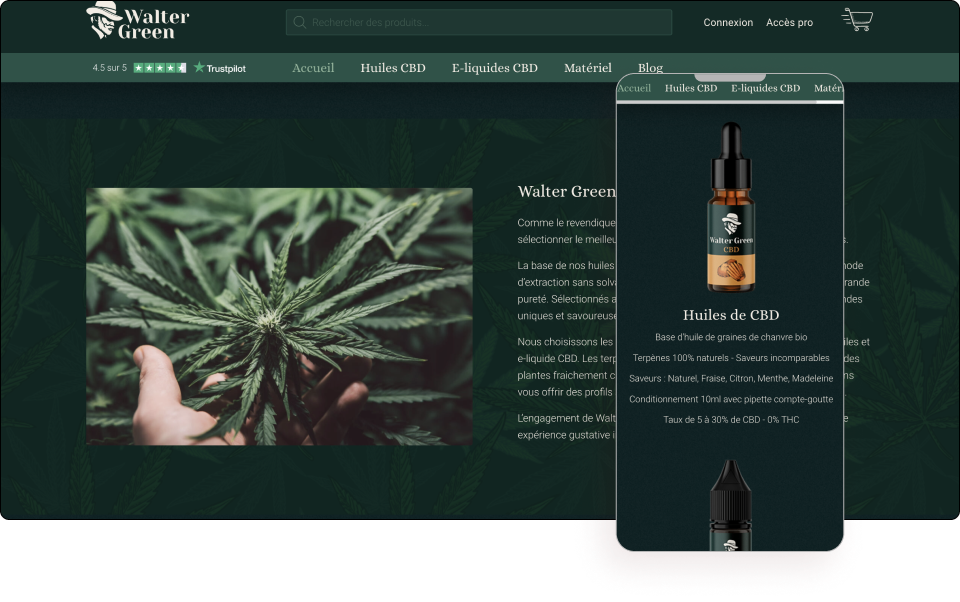 As their motto claims, Walter Green's ambition is to select the best CBD and match it with exceptional flavors. The base of their CBD oils, from organic farming, and their solvent-free extraction method make it possible to obtain cannabinoids of high purity. Thanks to their unique method, they are able to offer particularly faithful and incomparable aromatic profiles.
They say green means envy, but all you'll feel with this website is a high-end luxury vibe as its shades of green offer glimpses of its exquisite selection of CBD oils. There is also a clear image of the marijuana plant which means visitors can make no mistake about its products' key ingredients.
The glass dropper bottles move smoothly across the screen yet never distract or appear to put pressure on the viewer's experience. It feels a bit like sushi on a conveyor belt, never too slow nor too fast. Hovering or clicking on the oil bottles creates a halo effect with a greenish hue that gives somewhat of a mystical sense to the products.
Both the mini icons and the icons near the menu are simple and effective which gives it a professional look, as does the "Made in France" text as well as the logo of an upper-class gentleman. In fact, even the name "Walter Green" exudes a sophisticated brand name.
There's much more than the firefly green background of Walter Green to make its visitors sparkle with excitement.
Design: Julien Charrieras
Development: Rémi Guillemet
Theme: Hello
Plugins: Elementor Pro, Fibo Search, Nextend Social Login Pro, Woocommerce, WP Rocket, XT Floating Cart Pro, XT Variation Swatches
04
Cannabox
by Cannabox INC.
Founded in 2013, Cannabox was the first weed subscription box available on the market, introducing an innovative alternative to the traditional smoke shop. Founder Michael Berk's vision of Cannabox began when he was frustrated that there were no solutions for new users who needed the essentials, and for experienced users who needed monthly products.
Visitors are introduced to a calming tea-green colored hero background that instills a soothing feeling. Combined with a light green bianca canvas, the website gives a subtle nod to the marijuana plant by playing with the color green.
The website uses a nice set of cute unique icons, once again colored in shades of green. The logo too is quite easy on the eyes, similar to the more widely known Canva brand.
There is a clever use of including products on the main which is for ecommerce brands is best practice. Adding to the overall seamless experience, the website is incredibly easy to navigate, along with sans serif fonts that are light, legible, and inviting.
Offering a rolling monthly subscription, Cannabox offers a fun and exciting way for cannabis connoisseurs' to keep on rolling.
Design: Faisal Islam
Development: Micahel Berk
Theme: GeneratePress
Plugins: Elementor Pro, Woocommerce, Woocommerce Subscriptions

See Live Website

03
The Good Level
by Karim Salama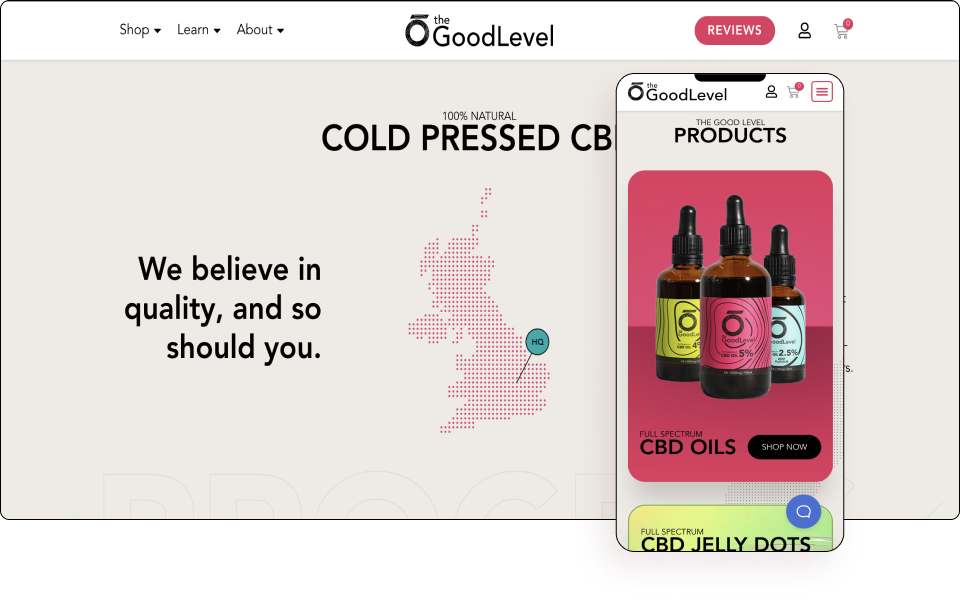 The Good Level sources the best local produce in order to extract the highest quality CBD oil. They are a family-run business that is friendly, accessible, and most importantly, honest. They cut through the jargon with clarity, giving you everything you need to benefit from CBD. They are proud to grow and formulate their products in the UK. Designed to help you to reach your optimal performance, the company provides wellness products to support you mentally and physically.
If you know your CBDs, it becomes obvious this website aims to offer more flower (options) to the people. There is an uplifting, happy look and feel in the air, with patterns of circles resembling the "o" from oxygen's periodic element sign.
Using vibrant colors across its products, The Good Level also incorporates this into all its marketing and branding efforts which all tie into its health-centered approach to CBDs. The same colors are also used on its icons as well as sections, pages, and general color scheme.
Hovering over each product creates an interesting pattern around each image indicating the CBD percentage strength of the product. Likewise, each case study has its own color bed on the color scheme, as does the main mega menu. The eye-catching red color "reviews" button similarly draws viewers' attention to the company's credibility.
Cultivating, preparing, and extracting the best cannabinoids takes time and expertise, and so too did the joint effort it took to create The Good Level.
Design & Development: Saif Rehman and Pete Nelis – e-innovate
Theme: Hello
Plugins: Elementor, Elementor Pro, ACF Pro, Ele Custom Skin Pro, Fluent Forms, Woocommerce
02
Freehold Properties
by Lion Tree Group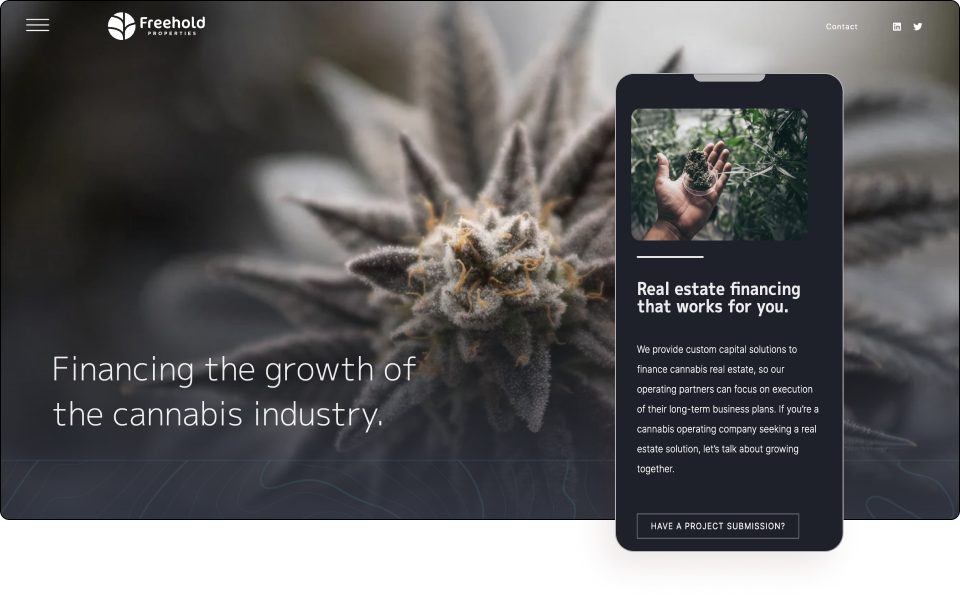 Freehold Properties provides real estate financing solutions to the cannabis industry. They establish capital partnerships with premier cannabis companies that enable the long-term success and growth of their operations. The Freehold team is assembling a best-in-class portfolio of cannabis properties.
An ultra-modern website that ingeniously incorporates its unique selling point into its design, the cannabis real estate financing provider airs its vision right in its hero title: "Financing the growth of the cannabis industry."
Using high-end video, gorgeous topographic map lines, and vibrant images, the website does a smart job of giving visitors the experience of cultivating this cherished crop. Even the logo resembles a tree and is also used as a reverse mask shape on the video of moving plants.
The background images can be seen changing as you scroll up and down, which along with the website's modern sans serif font, and full-screen popup menu, give the company a modern look and feel with a sense of acknowledging credibility for this rapidly growing industry.
Freehold Properties freely shows off its finest specimens using a clean, sleek, tasteful modern design that only serves to raise cannabis' real estate grass ceiling.
Design & Development: Lion Tree Group
Theme: GeneratePress
Plugins: Elementor, Elementor Pro, Gravity Forms, Facet WP
01
Urbn Leaf
by Digital Industry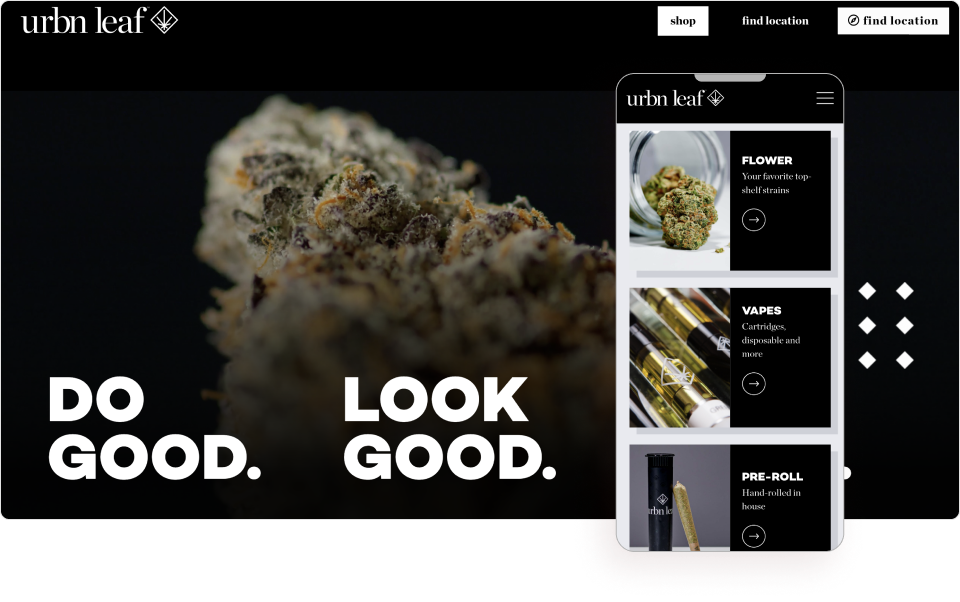 Urbn Leaf is California's premier cannabis company, featuring comfortable retail spaces and knowledgeable staff that invite inquiry, discovery, and conversation. Since 2017, they have been on a mission to set new standards in the cannabis industry. They only source the highest quality products available, and then serve them up in safe, accessible environments. Whether you're a cannabis beginner or connoisseur, they promise to provide you with the best shopping experience.
If you're after a website that gorgeously highlights how far the cannabis industry has blossomed, then look no further than Urbn Leaf. The website is incredibly polished with high-end videography, modern sans serif titles paired with serif text, and large typography utilizing transparent outlined hashtags.
Images of smiling people, closeups of the store and product, all paired with its "do good", "look good", and "feel good" text, combine to create a positive modern, some might even say mainstream, atmosphere. There is a real push for viewers to get a puff of the experience from purchase to consumption throughout its imagery.
The chief colors of the website come from its imagery, as the monochromatic black color schema serves to complement its visual storytelling. There is a very Californian vibe to the website which clearly showcases its local target audience. Along with its active blog and online shop, the website's deal page also serves to push visitors to purchase with an attractive offer no matter the time of the week.
Urbn Leaf will take your breath away with its pot-inspired design that gives visitors a whiff of its modern store atmosphere, best bud services, and high-demand deals.
Design: Jen Armstrong
Development: Alec Tremaine – Digital Industry
Theme: Hello
Plugins: Advanced Custom Fields, Elementor, Elementor Pro, Happy Elementor Addons, Rank Math, NitroPack
Disclaimer: Elementor expressly intends and directs that the educational materials and information provided to you via this article will be used only for educational and informational purposes and not in any manner that is in violation of any State or US Federal law. Elementor expressly intends and directs that any information related to the use, distribution, and/or cultivation of cannabis be strictly used or acted upon only within jurisdictions that legally recognize such use, distribution and/or cultivation, and in strict accordance with any regulations or rules imposed by said jurisdiction. Possessing, using, distributing, and/or selling cannabis or cannabis-based products is illegal under US federal law and in some other countries around the world, regardless of any state law that may legalize or decriminalize such activity under certain circumstances. This article does not promote the sale or use of Cannabis or any other illegal or recreational drug. The sole purpose of this article is to demonstrate the use of Elementor to build websites of different types – online stores, blogs, portfolios, and the like.