Introduction
This tutorial will help you get acquainted with the editor and vocabulary that Elementor uses in the editor. It will help you create your first page with an Elementor Cloud Website.
---
Getting Started
We want you to get the best start on your journey with an Elementor Cloud Website. We will begin by teaching you the basic building blocks and structure you can use to create your website.
You ask: I learn better by watching, rather than reading. Isn't there just a video I can watch?
Of course. If you learn better by watching videos, we recommend this amazing course created by the Elementor Education team specifically designed for Elementor Cloud Website users to teach you the basics.
You may ask: I am ready to just try out the editor. What is the fastest way to do that?
To begin right in the Elementor Editor, click the Edit with Elementor button on your Elementor Cloud Website Dashboard. This will open your Elementor website's home page in the editor in a new browser tab.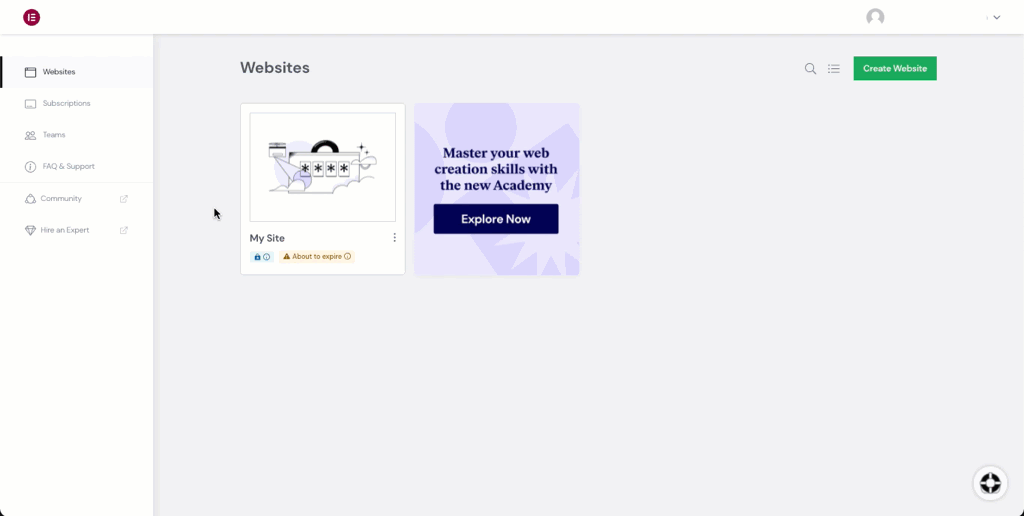 You may say: I have already used WordPress and Elementor, I would like to just open my WordPress Dashboard. Can I do that?
Yes. If you have already used WordPress before, and would rather open the WP Dashboard (WordPress Dashboard) of your Elementor Cloud Website, then click the Open WP Dashboard button link. It will then open your website's dashboard as shown below.
The editor and vocabulary Elementor uses
The building blocks
Elementor uses three main building blocks: Sections, Columns, and Widgets. These help you to create websites in real time. View your website as you build it. Drag and drop any widget onto your canvas. Zero coding required.
You may ask: What are these and how do they fit together?
This basic structure is as follows.
Sections are the largest of the building blocks. These are used to divide the page content structure for your visitors. You may learn more about creating and styling Sections in the overview article.
Columns are created inside of Sections and may be divided into up to ten vertices You can learn more about how to create, edit, and styling columns with Elementor by reading the article.
Widgets are the smallest of the blocks. These are placed in the columns. A few basic widgets are the Heading, Text Editor, Image, Video, and Button.
Elementor has over 100 widgets to help you create your page design and content. You may find a list of all the widgets you need and their features.
---
Summary
You should now be more familiar with the basic building blocks of Elementor.
What's Next
Want to know more about the Editor? Get a tour of the Elementor Editor UI.
Need additional information about the basic widgets? 
Ready to start designing with the editor?