If you have any Elementor Pro subscriptions, they will be listed here. If you don't yet have a subscription, click the Purchase button to proceed with the purchase of a new subscription.
Important: If you are a Hosted Elementor Website subscriber, please click here as it contains more relevant information about your dashboard.

Saved Payment Methods
The saved payment methods are displayed here. Click the pencil icon next to the payment method if you need to update an existing method of payment. For example, you may need to update the expiration date.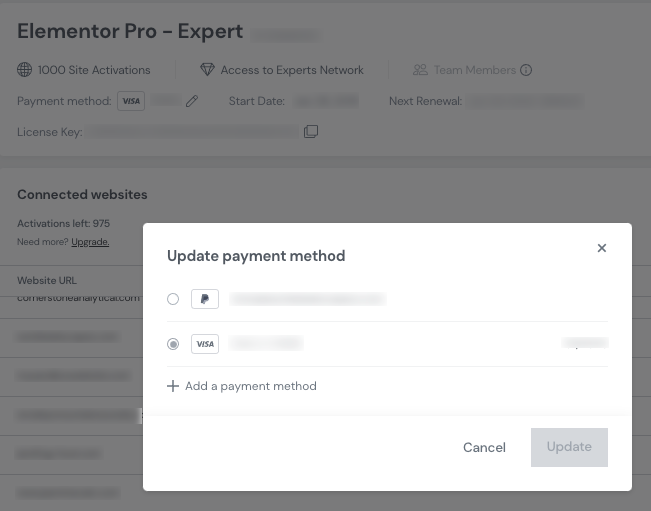 Add New Payment Method –
Click Update Payment Method and then select Add Payment Method. You can also add a new payment method from the Payment method edit screen.
Click Update button to continue.
Default Billing Address
The email address that is designated as the default billing address for the account is displayed. The default billing address will be used as the billing address in any new subscription that is purchased. The billing address cannot be changed during checkout, but can be changed at the subscription level per subscription.
The billing email does NOT replace the account email in any way. All emails regarding payment are sent to the account email, not the billing email.
Edit Billing Info
Click the Edit Billing link to change the information stored here. Click the Save button when done.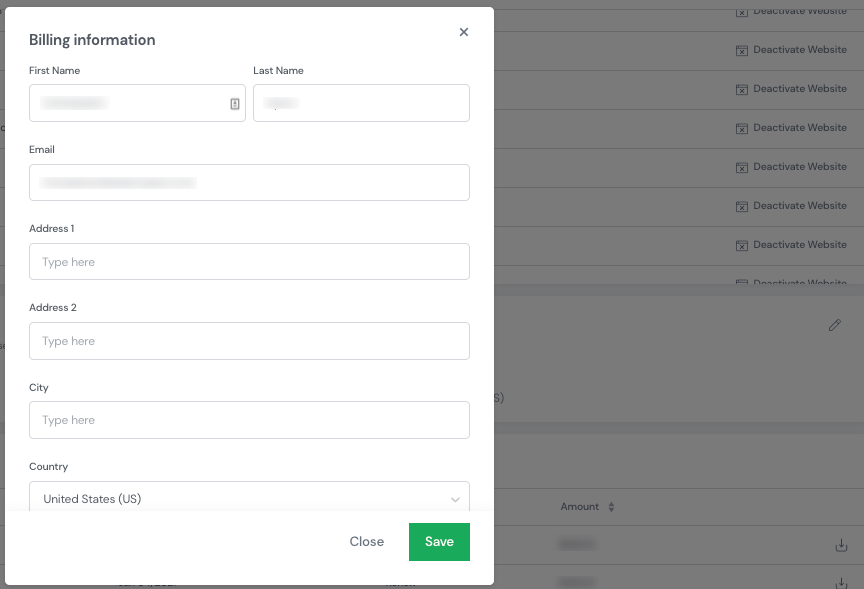 Billing History
Here you can see the entire billing history for this subscription. Click the download icon to generate a receipt for any purchase.

Auto Renew
In the "Billing information" section, click Edit billing (the pencil icon) and toggle the Auto renewal on or off. 
Cancellation will take effect at the end of the current billing cycle. You can "undo" the cancel before it takes effect.