The new Elementor 2.1 includes solutions to many requests that our users have sent to us over time.
Right Click
Starting from Elementor Version 2.1, we transferred all of our editing controls to a new context menu, that appears when you Right Click a Page/Section/Column/Widget handle.
Note: To access the browser's original right-click functionality click CTRL/CMD + Right Click.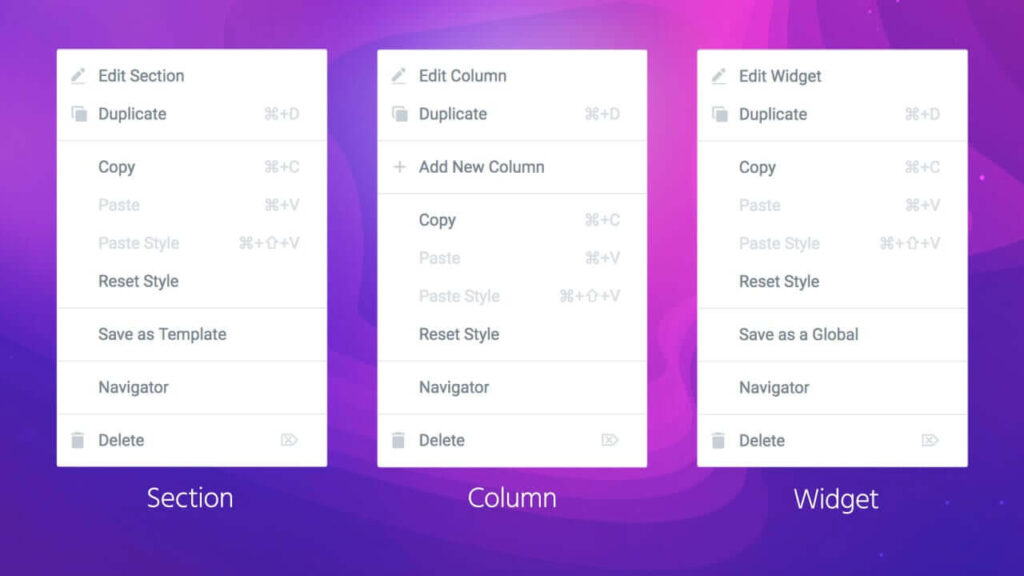 ---
Copy/Paste
When you Right Click you'll find the Copy and Paste functions. There are three different types of Copy/Paste:
Copy/Paste Elements – Now you can simply Copy an element (Widget, Column or Section) and Paste it anywhere on the page. When pasting on top of a widget, the pasted element will be placed below it.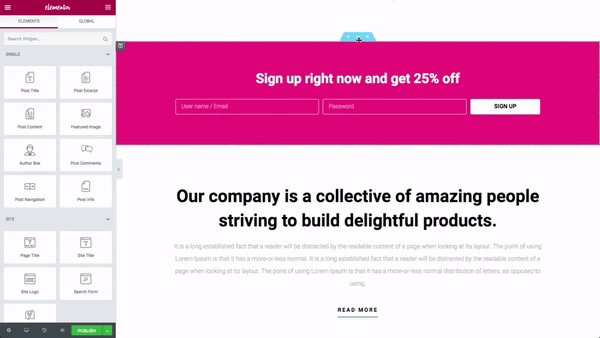 Tip: Use the shortcut CTRL/CMD + C, and then CTRL/CMD + V, to copy and paste elements.
Copy/Paste Element Style – With Paste Style, you can paste the style of any element you copy (Widget, Column or Section), then apply it on any other Widget, Column or Section.
Copy/Paste Between Pages – Copy Paste and Copy Style actually work between pages! You can Copy any Widget, Column or Section, and Paste it on a different page on your site.
Reset Style – You can easily return to the default style settings of every element by right clicking and choosing Reset Style.
To learn more about copy-paste click here
---
Right Click – Page Level
Right Click anywhere on the drop area, will get you these Page level options:
Copy All Content – You can copy the entire page content and paste it to a different page.
Delete All Content – The 'Delete All Content' option moved into the Page Level Right Click.

Elementor drop area
---
UI Improvements
New collapsible categories in the Widgets panel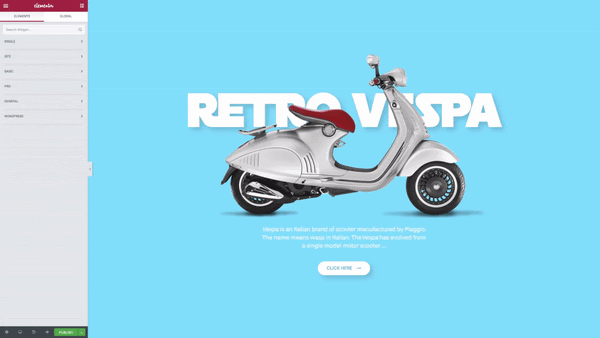 You can search the Widgets by Keywords
'Add New Section / Template' buttons

---
Change Mobile & Tablet Breakpoints
You can set the mobile and tablet breakpoint values.
Go to Elementor > Settings > Style Tab, and set the breakpoint value for mobile and tablet
Save your changes
Go to Elementor > Tools > General Tab > Regenerate CSS, click Regenerate Files
---
New Video Features
The New Video Features includes:
Self-hosted videos with HTML5
Start and End times for the Video Widget (for supported platforms)
Show/Hide YouTube logo
Added Dailymotion videos
Set Start and End times for Background Video
To learn more about Elementor's video features
---
Image CSS Filters
You can add CSS Filters to Image / Image Box Widgets
Added Blend Modes for background overlay in Column & Section
To learn more about CSS Filters and blend modes
---
Gutenberg 3.0+ Compatibility
Switch between Gutenberg and Elementor, using the 'Edit with Elementor' button within Gutenberg.