From shopping to swiping and web surfing, the demand for faster information is growing by the minute. This can put a lot of strain on businesses to keep up with customer communication, especially as their customer base grows. 
How are you supposed to provide a great customer experience without completely burning out? Simple: live chat. 
With live chat, you can connect with your customers and answer questions in real-time. Live chat makes it easy to solve their problems and address their pain points, without making them wait for long periods of time. It also gives your prospects and customers a personalized user experience, which helps them feel appreciated and valued. (Actually valued, not just "your call is very important to us" valued.)
But with so many options available, it can be difficult to know which live chat plugin is best for your site. So, to save you time on trial and error, we've compiled a list of 10 WordPress live chat plugins you can use to uplevel your customer experience in 2020. 
Tidio is built on simplicity. You can set it up in just a few clicks. And once it's live on your site, you can manage and respond to all communication in a single dashboard. If you need to be more hands-off, Tidio live chat is built to work automatically. Simply create automated messages and set up chatbots to answer questions, capture contact information, and reengage leads before they leave your site. 
You can also tweak and modify the widget to provide your customers with a seamless brand experience. And Tidio live chat is built to support 183 languages so that you can use it without any additional plugins or translation tools. 
LiveChat is designed to help you provide great customer experience, no matter how big or small your business is. Using its intuitive dashboard, you can chat with multiple customers at the same time to quickly answer questions and clear up concerns. You can also create chat tags and send automated responses to streamline communication, or set up bots to manage the bulk of customer inquiries, so your agents are free to tackle time-sensitive issues and nurture leads. 
You don't lose personalization when you use LiveChat's bots, though. Its tracking features allow the bots to see the activity of individual customers on your site so that they can provide tailored welcome messages and responses.
LiveChat is even equipped with ticketing features to support customers when you leave for lunch or head home for the day. You can manually create tickets to help customers with problems that can't be resolved in a single conversation, as well. 
Zendesk Chat is one of the few plugins on this list with mobile interface compatibility. This means that your users can chat with you on any device they have handy. And you can customize this chat box to match the style of your website. 
On your end, you can use Zendesk to see who is currently visiting your site and what pages they're on—-so you can decide when and how to start chatting with them. You can even trigger Zendesk to reach out to your customers for you when predefined criteria are met. 
During and after your chat, Zendesk will collect data and monitor your customers' activity on your site. This information can be viewed in your main dashboard and used to make decisions about future communication. You can also survey your customers to get feedback on their experience, so you can continue to improve their interactions with your agents and bots.
Live Chat by Formilla is a beautifully interfaced live chat plugin. You can customize colors and messages to match your website and add team photos for more personalized interactions. 
Use Formilla Live Chat to view site visitors in real-time. Track their activity, find out what browser they're using, and even see where they're located. You can use this information to guide welcome messages and make conversations more meaningful. 
As with other tools, both you and your customers can initiate chats. This eliminates the need for either person to wait around when they know help is needed. Formilla Live Chat also keeps the conversation transparent by showing agents and customers when the person on the other end of the chat is typing. 
With features like canned responses, smart responses, and bots, chatting with customers is also really simple. And with multilingual functionality, you can talk to customers without needing additional tools or plugins. 
HubSpot is a robust and versatile tool. With its free WordPress live chat plugin, you can create chatbots to engage with customers personally, answer frequently asked questions, or book meetings. 
Designed to blend with your branding, HubSpot's chatbots are totally customizable. Change the color and style preferences of your chatbot to match your brand, and create targeted messages for each page of your site and segment of your audience.
The biggest benefit of using HubSpot's live chat product is that your interactions with your website visitors will automatically be integrated with HubSpot CRM, too. This way, you'll be able to see your previous conversations with contacts in a simplified contact record view and even design automated marketing sequences to engage those contacts.
Tawk.to is a completely customizable live chat plugin for WordPress businesses of all shapes and sizes. But being free doesn't make it any less functional. In fact, Tawk.to has many of the same features that paid platforms do, including support ticketing, file uploads, and automated responses to frequently asked questions. 
Tawk.to also offers both web and mobile apps, which means you can stay connected to your customer base no matter what device you're using. And while Tawk.to doesn't have full automation capability, you can hire their agents to handle inquiries for you, if you get too busy.
iFlyChat is a unique plugin on this list because of its versatility. Beyond responding one-on-one to customer inquiries and concerns, iFlyChat also has the capacity to host group chats, one-on-one conversations between customers, and large chat rooms on specific pages of your website. This functionality is excellent for community-based and social networking websites. 
Hosting a large number of customers and site visitors doesn't slow iFlyChat down, though. In fact, because all conversations are managed by its cloud servers, there is virtually no lag between comments being posted and being viewed. 
iFlyChat also puts the control of these communities in your hands by giving you chat moderation and analytics capabilities. This includes filters, subscription access, and troll blocking.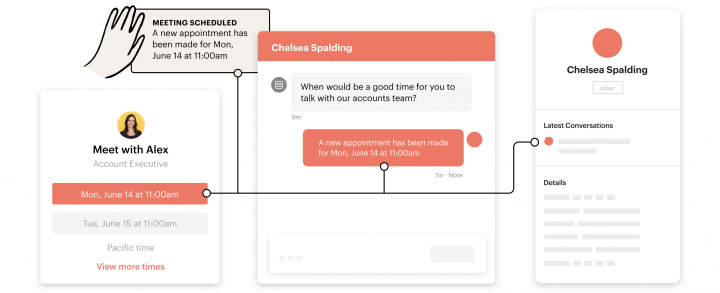 Intercom prides itself on being a modern live chat tool. Its widget is designed to be intuitive and familiar—incorporating trendy communication elements like emojis and GIFs into its interface. The tool is also completely customizable and mobile-friendly, making it a lot easier to keep communication on-brand. 
Being a modern live chat plugin, Intercom also includes a few unique elements, including video and audio capabilities. Share your screen, book meetings, or host voice and video calls directly from the chat widget. 
You can even route customers to your sales and support teams, and build customer profiles from chat information and site activity. This data is also added to a separate analytics page, where you can view traffic, revenue, and team performance metrics. 
Like nearly all the other live chat plugins on this list, Intercom also comes with bots to keep your customers engaged, even when you need to disconnect from your devices. 
Unlike other live chat plugins that focus on customer support, Drift is specifically designed to help you close more sales. With Drift, you can engage with customers in real-time by sending targeted messages and sharing saved responses to common questions. 
You can also qualify leads right from the chat box, by using chat tags. And Drift's bots can get them routed directly to your sales team, so they don't fall through the cracks. If you do have to go offline, your customers can either engage with your bots or send you an email through the chat widget, directly. 
Once leads have chatted with someone on your team, their information will be stored in your ABM or CRM. That way, if (and hopefully when) they return to your site for more information or to make a purchase, you'll be notified to start chatting with them. 
Userlike streamlines communication by making small tweaks to the traditional live chat format. 
Like other plugins, Userlike uses canned messages and bots to answer customer questions quickly. It also incorporates a "forwarding" feature to simplify the routing process. With "forwarding," complete chat transcripts are sent to your sales or support teams when a visitor is transferred, to minimize the number of times they have to repeat themselves.
Userlike can also connect repeat visitors with the agent they spoke with previously, and build profiles based on the user's public information. Simply direct new visitors to enter their email address into a brief registration form in the chat widget, and Userlike will take care of the rest. 
With both chat window customization and mobile optimization, the plugin can also be blended perfectly into your current website design. And it fully integrates with loads of your favorite tools and apps, which means you can keep everything organized and connected. 
Which Live Chat Plugin Is Best for Your Business?
You should choose a live chat plugin based on the needs (and budget) of your company, so you can provide your customers with an exceptional experience. Live chat plugins will not only help you do that, but they'll help to increase your conversion rates, too.
Looking for fresh content?
Get articles and insights from our weekly newsletter.