Today, we explain in detail about a new and important FREE feature: Elementor Maintenance Mode for WordPress. This is the simplest & most visual way to create under construction and coming soon pages on WordPress.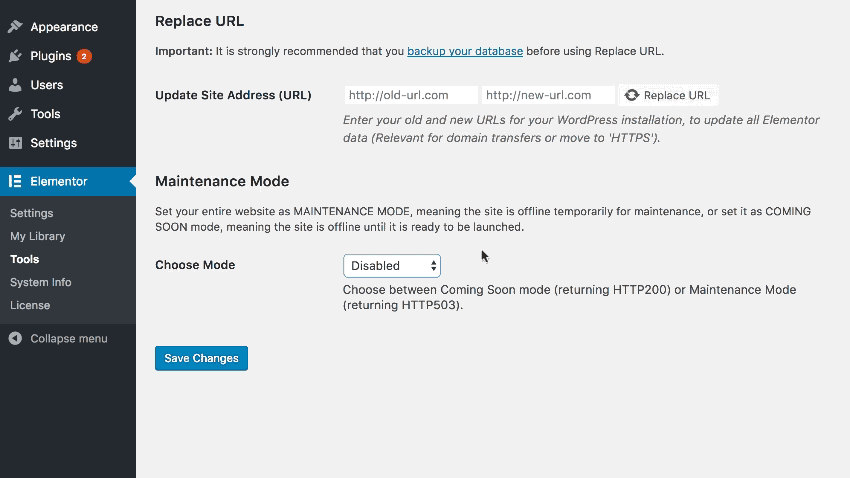 What is maintenance mode?
When your site is set to Maintenance Mode, it means users other than administrators cannot use or view your site while maintenance is taking place, or before the site has launched. Instead, those users see a maintenance mode page or a coming soon page, informing them of the fact that the site is temporarily unavailable.
The site administrators, on the other hand, still have access to the site, so they can test it and make sure the site is fixed or is ready for launch.
There are many situation when your site would need to be set as maintenance mode. Changing a site's design, fixing a bug, launching a new site... These are just some examples of situations when you would want to be able to see the website yourself, but present an under construction or coming soon page to visitors.
To set WordPress Maintenance Mode or Coming Soon, first save your maintenance mode or coming soon template.
Next, Go to Elementor > Tools and choose between coming soon and maintenance.  
Now, choose the template you saved earlier. You can also use one of our pre-designed templates.
When you set Maintenance Mode, you will see a red button on your top WordPress bar with the text: "Maintenance Mode ON". 
Elementor Maintenance Mode & Search Engines
Basically, every time you visit a website, before the website itself even loads, your browser requests that the page returns a response regarding its status.
That response tells users, as well as search engines, what the current status of the page. Is it live? Is it down for maintenance? Perhaps you reached a broken link...
Maintenance Mode - When you set Elementor's Maintenance Mode on, it will make your site tell search engines that your site is temporarily down for maintenance. It does so by sending the temporary maintenance response (HTTP 503). This way, search engines know to come back a short time later to check again if the site is already online.
Coming Soon - Setting Elementor to Coming Soon, on the other hand, makes your site tell search engines everything is working as normal, and they can index the website as usual. This is done by returninng a response of HTTP200.
Until now, you had to use third party plugins to go into maintenance mode in WordPress. The problem with these plugins is that they usually feature a limited variety of pre-made designs. Moreover, with Elementor you can set WordPress maintenance mode without a plugin, just using Elementor.
WordPress Maintenance Mode: Setting access roles
You can set the specific roles that will have access to the site in development.
This way you can control who, apart from Admins, has access to the site while it's under construction or coming soon. These roles include Administrators, Editors, Authors, Contributors and 
Subscribers.
In the future, pro users will also be able to include a login form, to make sure just the right people get into the site while on maintenance mode.
9 New Free & Pro Maintenance Mode Templates
To help you get a jumpstart on using the new feature, we are releasing 9 new and stunning maintenance mode & coming soon templates. Check them out:
Even though under construction and coming soon pages have recurring patterns, like a big headline announcing the maintenance mode, a timer and an update subscription form, there still are a lot of design possibilities to explore when you set your own maintenance mode and coming soon page. 
This is why we have created 9 different under construction and coming soon templates for you to use as the basis for your customization. These are available in our template library.
Been wanting to add a new feature for your site for a while now? Then use our new feature, go on maintenance mode, use one of our beautiful maintenance mode templates, and work on your site to make it better for your visitors. With Maintenance Mode, you don't ever have to dread your visitors seeing a white screen of doom.
Besides saving you from installing a separate plugin for WordPress maintenance mode, the new feature allows you to fully customize the design of your maintenance mode and coming soon pages. 
When you set maintenance mode, I recommend also using our Canvas template, and setting up a page that doesn't have the header or footer of the site.
If you've designed a unique under construction or coming soon page, send it over and we might feature it in this blog.