There are two main ways in which the speed of a page builder is measured: how fast it is to design with, and how fast the pages it creates load.
Elementor has been the right choice of page builder in terms of speed and performance since its launch, and now we are helping it even further lead the way as the fastest page builder for WordPress.
Back in July, we improved on the first type of speed. We added code improvement that affected the speed of the editor itself, and increased its speed by 30%.
Now, we have managed to improve upon how the pages that have been created by Elementor, load, by changing the way Elementor styles are saved.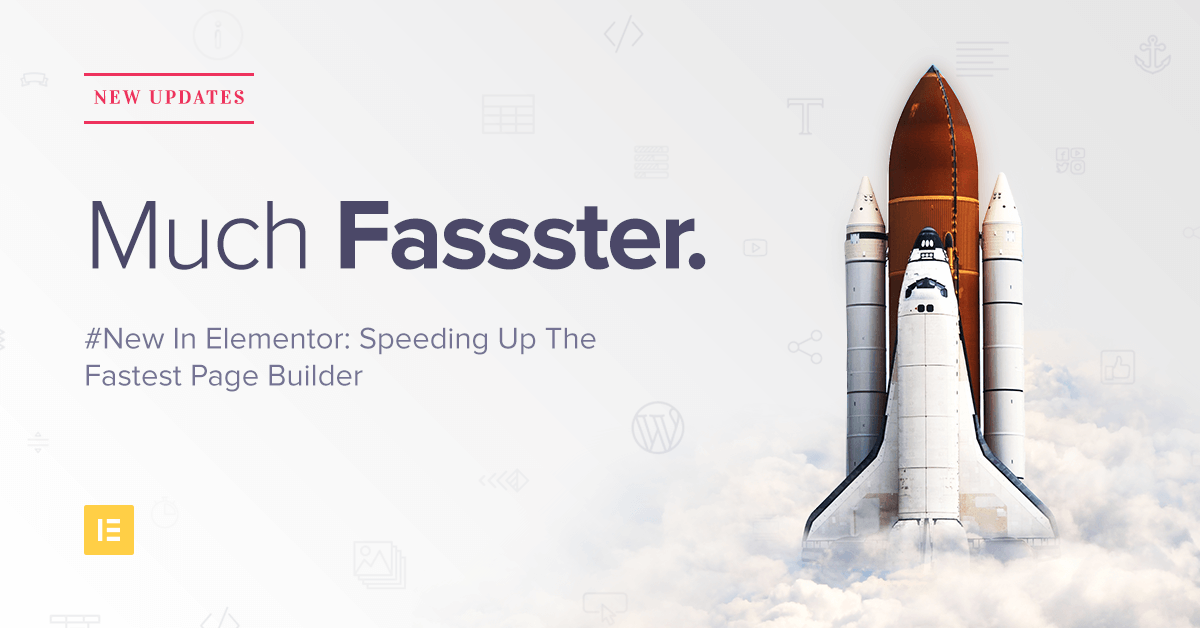 How The Heck Can You Make It Even Faster?
Our latest update insures that all CSS generated by Elementor is saved to external minified CSS files, and not on the HTML of the page. This drastically shortens the final source code of the page, because all styling is saved externally.
A lot of factors go into determining how fast your pages load, like which hosting provider you are using (great post on that subject recently appeared on WPKube). If you're an SEO oriented person like myself, you are probably familiar with the line "Leverage browser caching", that appears on the various page speed testing tools. This commonly appears as one of the points that could use optimization.
By saving Elementor styles on external CSS files, we are able to properly leverage browser caching, and consequently improve page load speed.
Instead of stuffing the page with code, the only thing that is added to the source code is a reference to an external and condensed file:
This way the code stays nice and clean, and the page loads faster than before. This has an impact on the SEO of the page, so you can expect a higher Page Speed score.
The First 16 WordPress Themes We've Built & Perfected For Elementor
We get asked a lot about the best premium theme for Elementor. Now, we can confidently point to 16 Pojo themes for Elementor, that we ourselves have developed. These are themes that have been rebuilt from the ground up to work best with Elementor. They really take full advantage of Elementor:
Exclusive PreDesign Pages - Unique template sets to choose from for homepage, contact, services, and more.
Exclusive Elementor Widgets - Embed the theme's handy widgets right in Elementor. These include a forms widget, galleries widget, slider widget and post carousel widget.
Built entirely with Elementor - Because all themes were built completely with Elementor, it gives you much more flexibility when changing any aspect of the site.
There are more advantages to using our themes. They add up and complete Elementor, by giving you that extra control you need over your website design. Here are just two advantages built into the themes:
Control over the page, beyond the content - This enables you to fully customize the appearance of the title, breadcrumbs, background, menu, sidebars and more...
100+ Customizer Settings - We've supercharged the customizer to its maximum capability, letting you control every aspect of the site, right from the customizer.
Check out the full list of themes & features in the Pojo website.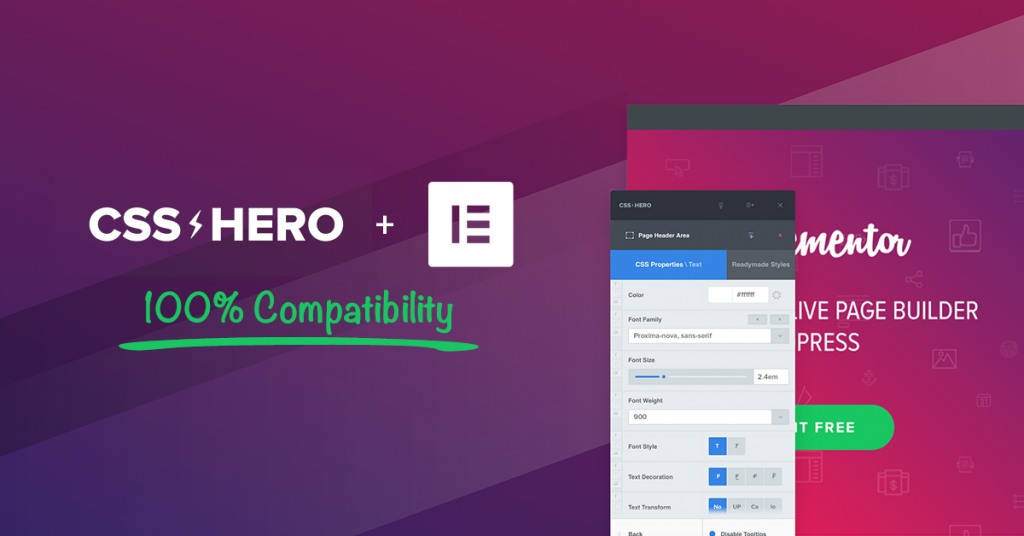 CSS Hero 100% Compatibility
Back on the same subject of CSS manipulation. Recently, CSS Hero tested its compatibility with Elementor. I am glad to say we got a whopping 100% score of compatibility. This is definitely going up on my parents fridge!
But seriously, This is a great plugin that lets you delve deep in the CSS of any element and make live changes. You can choose any widget, column or section within Elementor, and start working on its classes and IDs. Check out their test drive area for Elementor.
A New Visual Editor For the Tabs, Accordion and Toggle widgets
We consider you guys, the Elementor users, as part of our team of development. This is because you hold the vital role of telling us what needs tweaking, what you most need us to add, and how we can go and improve our page builder.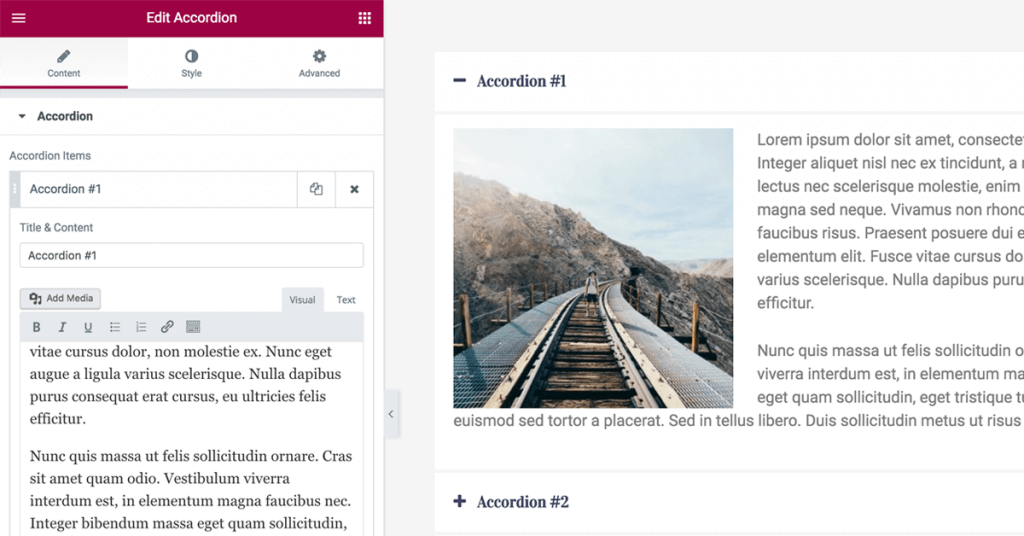 In this week's release, we are adding a feature that has been requested time and time again - the ability to add any type of content to Tabs, Accordion and Toggle widgets. We've actually added the TinyMCE editor to these widgets, so you can fill them with images, text, shortcodes and any content you wish.
This update is a great help for bloggers. Adding the TinyMCE editor is not the only change we have made. The Elementor panel can now be expanded to a wider range than before. In addition, we have removed some unnecessary TinyMCE buttons, and have made the default width of the panel wider for larger screens.
All these changes were done to make it easier for you to use Elementor when writing your content for your site's pages and posts.  
Oh, and one more thing... ELEMENTOR PRO HAS A LAUNCH DATE!
Guys! This is what we have been waiting for all these months. We've worked really hard to create a Pro package that has enough benefits, that it will convince you to take the extra step and upgrade.
We'll be finally releasing our Pro version of Elementor on the 12th of December. Elementor will always remain free, that's our vision, and we'll be adding more features to the free version as well, so don't worry, you're covered either way.
Prior to the launch date, on the 25th of November (AKA Black Friday), We are going to launch a BlackFriday pre-order, giving you a chance to enjoy 50% off the marked price of Elementor Pro. That's a huge discount, and it's only for 72 hours, so be sure to set your calender.
It's going to give you a lot more control over your website. Stay tuned for more updates on this subject.
You'll be amazed with Elementor Pro. It's the best possible design solution for designers, developers and anyone using WordPress.