Elementor now offers never-before-seen flexibility to visually design the header & footer areas, including a one-click Sticky Header feature, 25+ brand-new stunning header-footer blocks and full compatibility to virtually any WordPress theme.
The header and footer areas are the backbones of every website. Today, we take a deeper look into how Elementor Theme Builder gives you a powerful new way to edit your site's header and footer, visually designing it however you like. Build powerful headers and footers on any WordPress theme in minutes.
We are also introducing 25+ new header & footer Blocks that will help you get started easily, as well as a one-click Sticky Header feature.
Design Your Own Header & Footer
From now on, you are no longer limited by your theme's restrictions. You don't have to settle on any pre-made header or footer. By bringing the power of the Elementor editor to these areas, you can design any header or footer you can think of, and complete projects faster than ever. You can also save header and footer templates, and reuse them on any other project.
If you are beating yourself up right now for all the hours you lost in the past over your header design, we share your feelings. From now on, using Elementor Theme Builder, things are going to be much faster.
Choose a header from a huge array of designer-made blocks, readily available in the Template Library. Customize it any way you like, and give it your own touch.









WordPress sticky header plugins are quite common. Now, you get the advantage of uncluttering yet another plugin, using Elementor's built-in sticky header feature. Setting sticky headers using Elementor is easy, and believe it or not – it takes just one-click.
Why make it sticky? Sticky headers are great for bringing more focus to navigational links in menus, and helping visitors more easily navigate through the main pages of your website, regardless how far they scrolled through the page. It's not only for navigational purposes though – They can also considerably increase conversion rates, simply by adding the right call-to-action to either the fixed top of the page.
Want to designate different headers and footers to different pages of your site?
You can accomplish this goal in no time. All it takes is creating different header and footer templates, and assigning the proper conditions for each template, attributing the headers and footers to the relevant pages of your site.
Have a special sale? Create a header for that occasion.
Have different blog categories? Attribute a header design custom made for each one.
Landing page? Give it its own header and footer.
Once you are no longer restricted by code, you can easily create as many headers and footers as you like, and spread them across the relevant categories, pages and taxonomies with a single click.
Eye-Catching Footer Layouts
Check out the wide range of footer blocks: some are simple and minimalistic, others are extensive and full of detail. Pick your favorite and start customizing!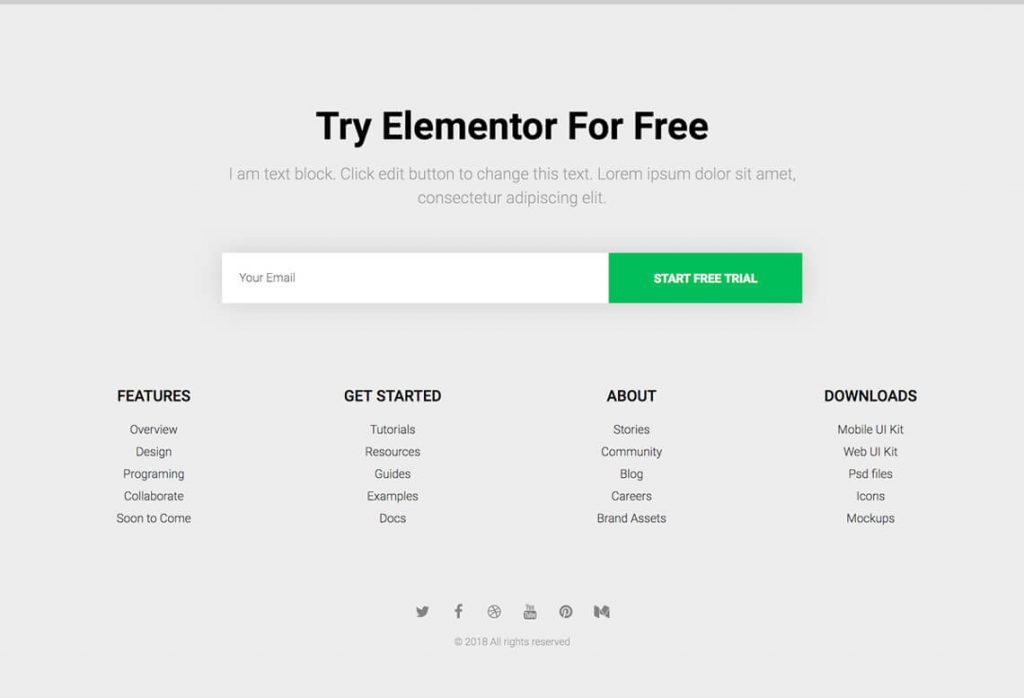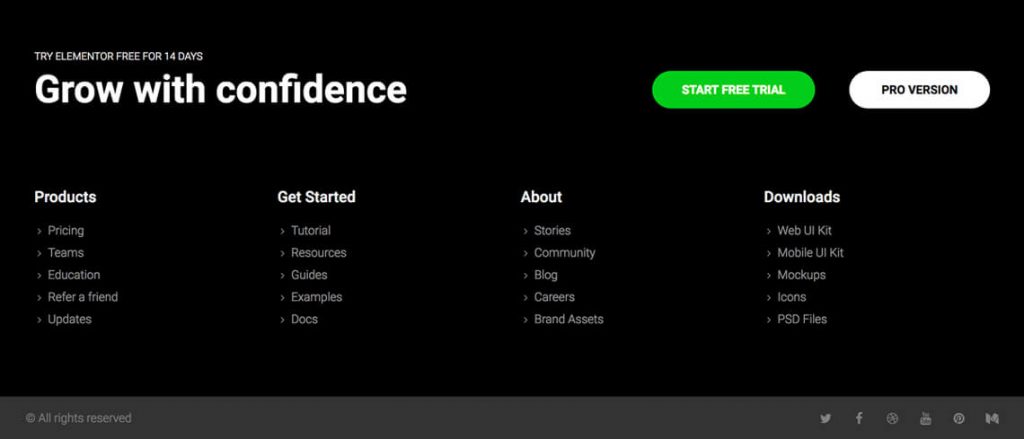 100% Responsive Headers & Footers
Header and Footer control makes Elementor's mobile menu builder more relevant than ever. The menu automatically turns into a mobile hamburger menu, so you don't have to do any customizations on your own.
While you can customize any header and footer for mobile devices, sometimes designers prefer to design two separate sections, showing one on desktops and the other on mobile. This can be easily done with a simple hide/show click, available under the advanced tab of the section.
Header & Footer Builder - Unleashed!
With Elementor Theme Builder, we solved a huge problem known by every WordPress user.
Never again will you have to wait for the developer to change your header.php file, switch to another theme just to move a header logo, or work hard to customize the header and footer elements of your site. Elementor Pro 2.0 makes header and footer design quick and super-simple.
Finally, your website vision can truly come to life. Join Pro today, and gain complete control over your entire website design.