Jingle bells, jingle bells, jingle all the way,
Oh, what fun it is to build a Christmas page today!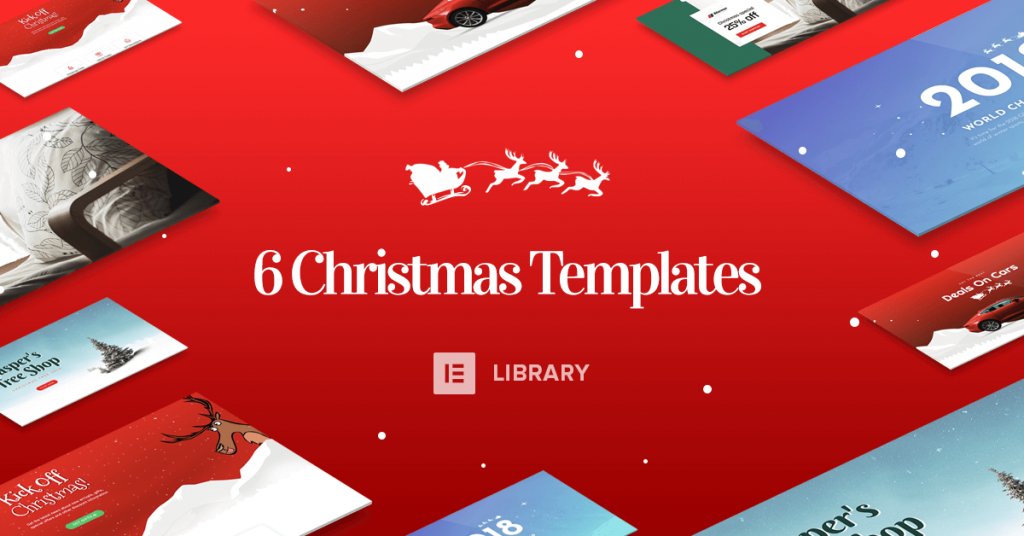 Today we are releasing 6 new Elementor Pro templates for Christmas. You can use these templates to create stunning landing pages and websites for the holiday season.
A few days ago, we released a tutorial showing how to add a CSS snow effect to Elementor. Today, we decided to keep up the festivities, by launching 6 new Pro Xmas templates that are sure to bring you yuletide cheer.
The Snowboard Championship template will make you want to grab your skis or snowboard and head off to the Alps yourself. (It sure made me crave those adrenaline-inducing winter slopes.) This template is perfect for promoting any kind of ski and snowboard related landing page. Ski Products, schools, classes, trainers, resorts, and of course competitions can all be showcased using this template.
You might recognize this Christmas landing page from last week's snowfall tutorial. This Gift Shop template can actually be used for a variety of Christmas related pages, like as an event invitation or as a product landing page. You can't get more Christmassy than this template, with its Santa, snowman and other original illustrations.
Elementor makes it easy to take a totally unrelated page design, and add subtle Christmas touches to it. This Interior Design template is a great example that shows you can take a clean app template, and add small touches that give it the Christmas feel. The template includes Christmas tree and mistletoe icons, as well as a few other festive touches. 
Christmas is a great time for car dealerships, as many customers take advantage of the holiday sales to acquire a new or used automobile. This template showcases several cars with an appropriate Christmastide feel. It is decorated with a reindeer sleigh, a jovial Santa presenter, a snowy winter wonderland, and a bold red & white color scheme.
This Christmas tree shop template looks so good, I bet it would sell a bunch of Christmas trees in the middle of August. From the jolly card display of trees to the charming Santa photo, you are sure to spread holiday joy with this template.
This template has been specifically created so as to only subtly hint of Christmastime. The tree image and backgrounds all present Xmas related themes, but are barely noticeable and blend nicely into the Design Conference landing page.
Have Ourselves A Merry Little Christmas
We couldn't have wished for a better Christmas gift than to reach 400K active installs on Christmas Eve. Just 12 months ago, Elementor was used by only 30K active installs, and since then we increased it tenfold and then some. I'd like to send huge thanks to all you Elementors, who helped us grow an immense user community. 
You are invited to send us your Christmas cheer by leaving a positive review on WordPress.org