Elementor, as the leading website builder for WordPress, is the first to add a native AI integration. The first phase of Elementor AI will empower you to generate and improve text and custom code (HTML, Custom Code, and Custom CSS). We are also already working on the following phases, which will include an AI-based image solution.
Elementor AI will transform the way you build websites, from the content you display to the layout and design of your website. Whether you're building your first website, and need assistance in writing its content, or you're building your 20th website for a client and want to elevate its design and accelerate your workflow by using AI to create or enhance custom code, incorporating AI will revolutionize the way web creators build websites.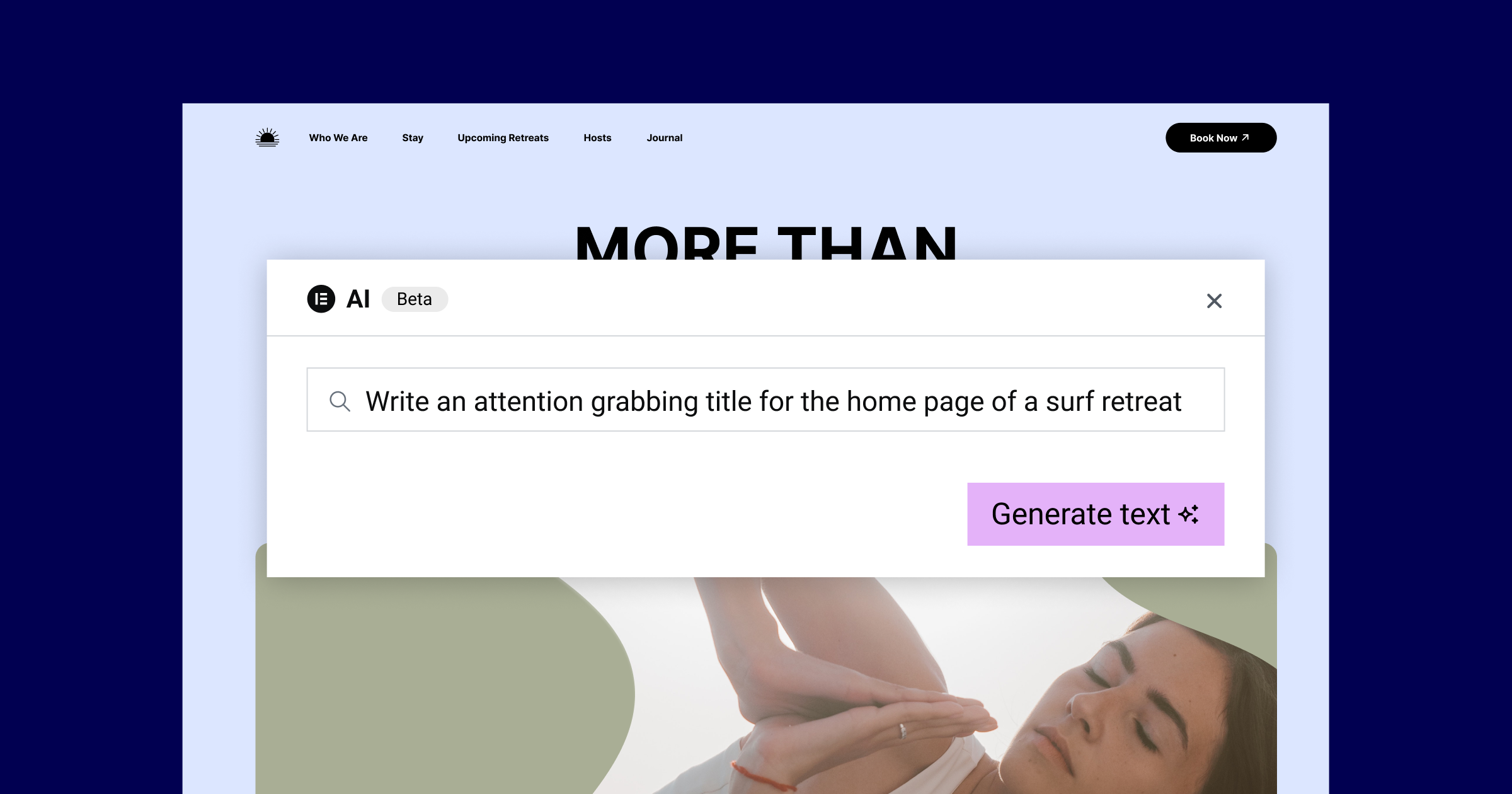 Elementor has added an AI writing assistant to the text area of every element, which empowers you to create original text for your website, wherever you need it, within seconds. You can use it to create the copy for your own website, propose text for a client, or populate a website you're building for a client with placeholder text that makes it easier for them to visualize the finalized project. The AI writing assistant can be used to create both short and long copy based on the instructions you provide. Additionally, when using the AI writing assistant within Elementor, you will be provided with suggested requests, to accelerate your workflow and give you inspiration as to the type of text you can create with it.
For example, when using the heading widget, the AI writer will give you a few suggestions to start your request, such as: Craft a catchy slogan for…, Write a strong header for…, etc. On the other hand, when you use the Text Editor widget, typically used for writing longer content – it will provide you with suggestions to start your request, that is more suitable for longer content, such as: Write a product description for…, Create a blog post for…, and more.
Enhance Your Website's Content
To maintain a consistent brand style throughout your website, adjust your website's content accordingly. Elementor AI can be used to highlight any text on your website and adjust it as desired. You can make the text shorter or longer to fit each section of your website. Or, you can simplify the writing style, or make it more professional based on your website's audience. Additionally, you can use it to correct spelling and grammar mistakes to ensure your website delivers accurate messaging with high quality.
For example, you can use Elementor AI to shorten your blog posts and instantly create post excerpts or to create a blog title using the "Make it Longer/Shorter" option. This tool is also particularly useful when correcting spelling and grammar errors in reviews and testimonials, which may be collected with errors.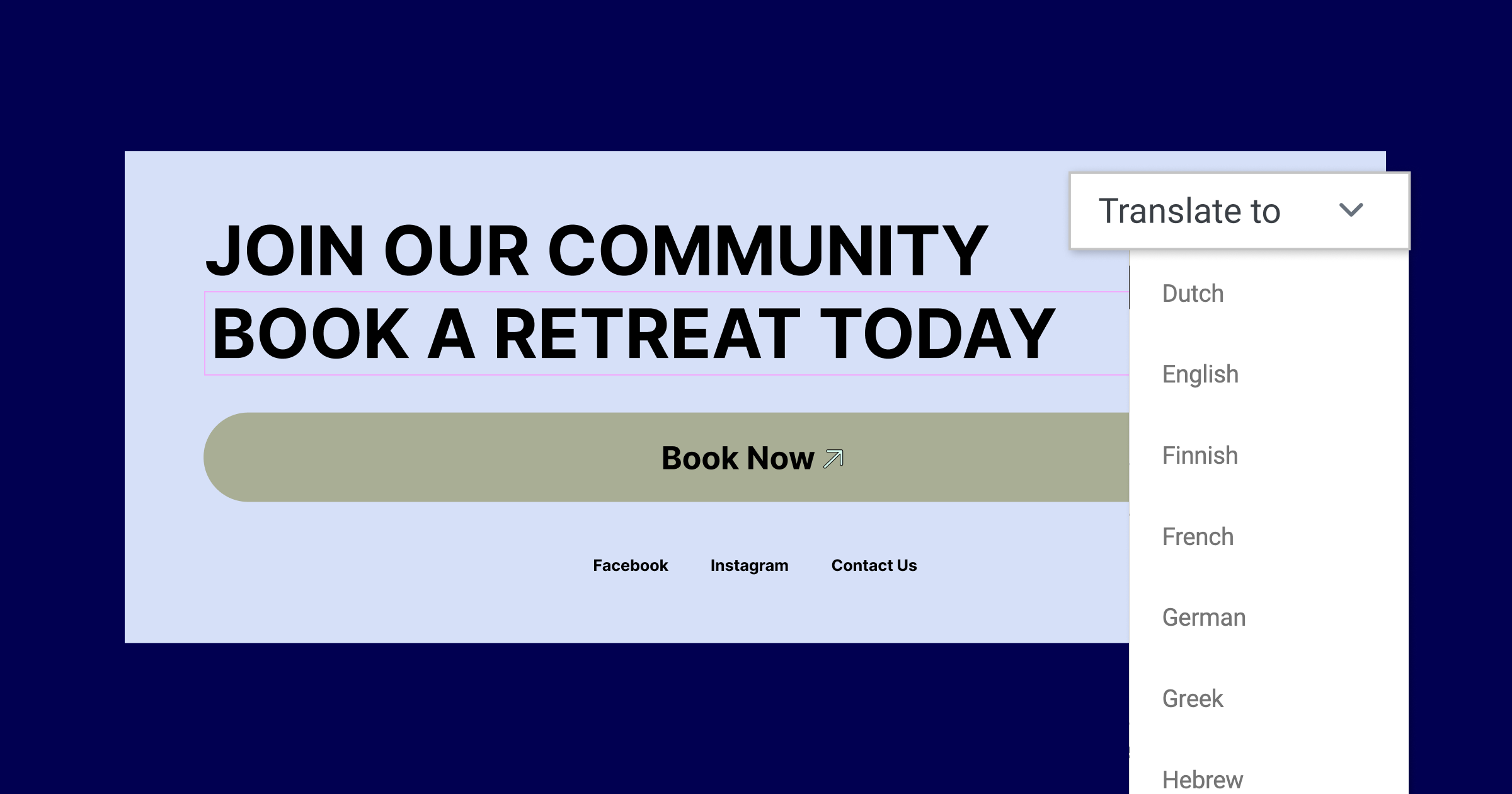 Make Your Website Multilingual
Translating your website into various languages is an excellent way to enhance the visitor experience for different languages. With Elementor AI, you can save time and money by avoiding the need to pay for an external tool, freelancer, or spending hours translating your website's content yourself. This tool can translate your content into any language by placing the copy you want to translate in the modal and asking it to translate it to any language. To improve your workflow, you can also choose one of the 25 most popular languages in the Editor from the handy dropdown.
For example, suppose you have a website that sells products or services to customers worldwide, or a travel website that caters to visitors from various countries. In that case, you can use Elementor AI to translate your website's content into multiple languages, making it more accessible and engaging to a broader audience.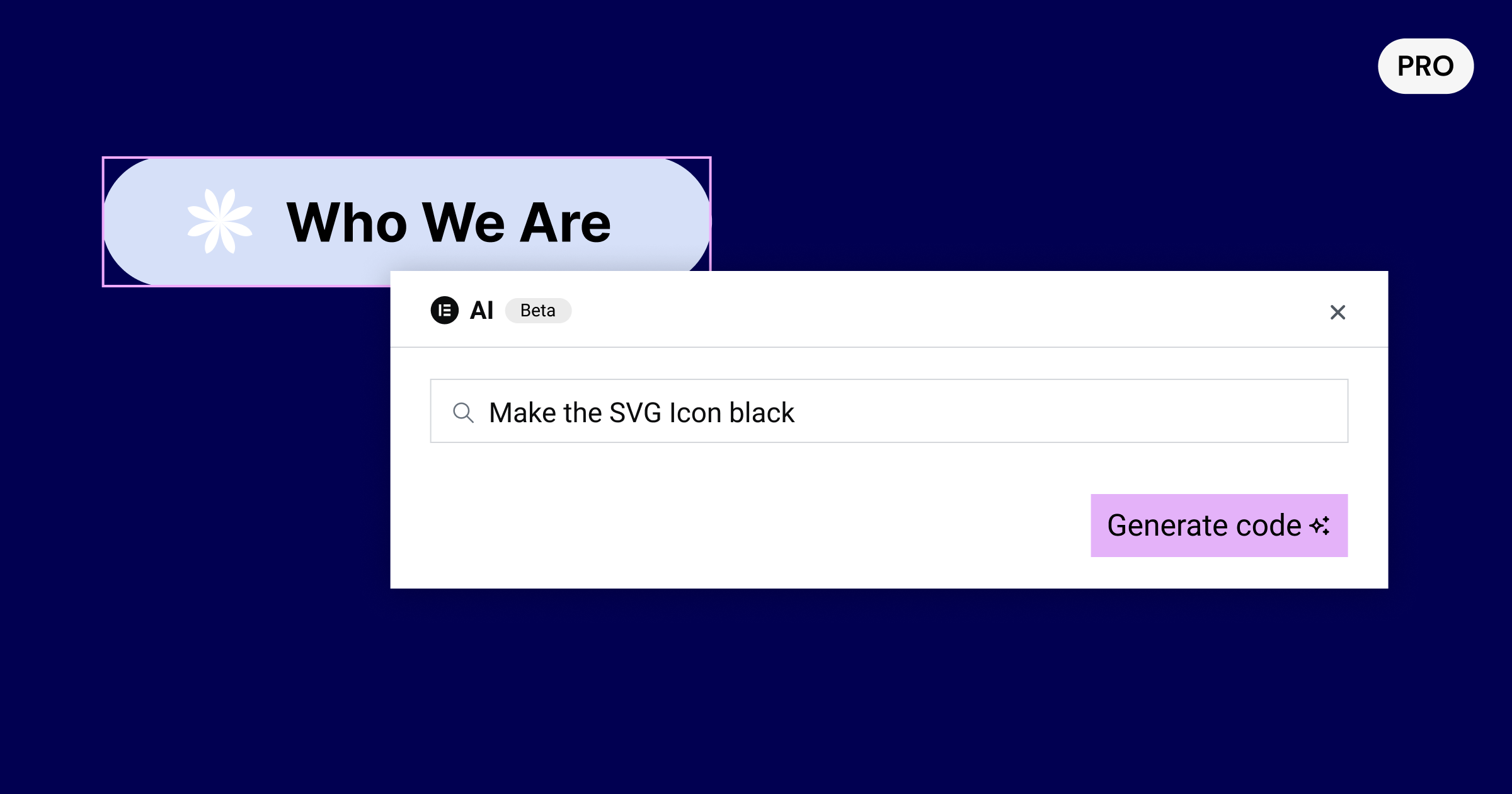 Design Unique Website Experiences
Use Elementor AI's Code Assistant to elevate your website's design by creating Custom CSS without writing any code yourself. Since Elementor AI is natively integrated with Elementor and specifically built for it, you can use it to create Custom CSS that is tailored to your intended selector and element, without necessarily having advanced technical expertise.
For example, when using the Icon Box widget, you can quickly generate Custom CSS that modifies the color of the icon to a specific color, without writing a single line of code. Moreover, you can use the Code Assistant to create more intricate designs, such as making a button's icon move or replacing an image in view when a visitor hovers over it.
*Requires Elementor Pro or Hosting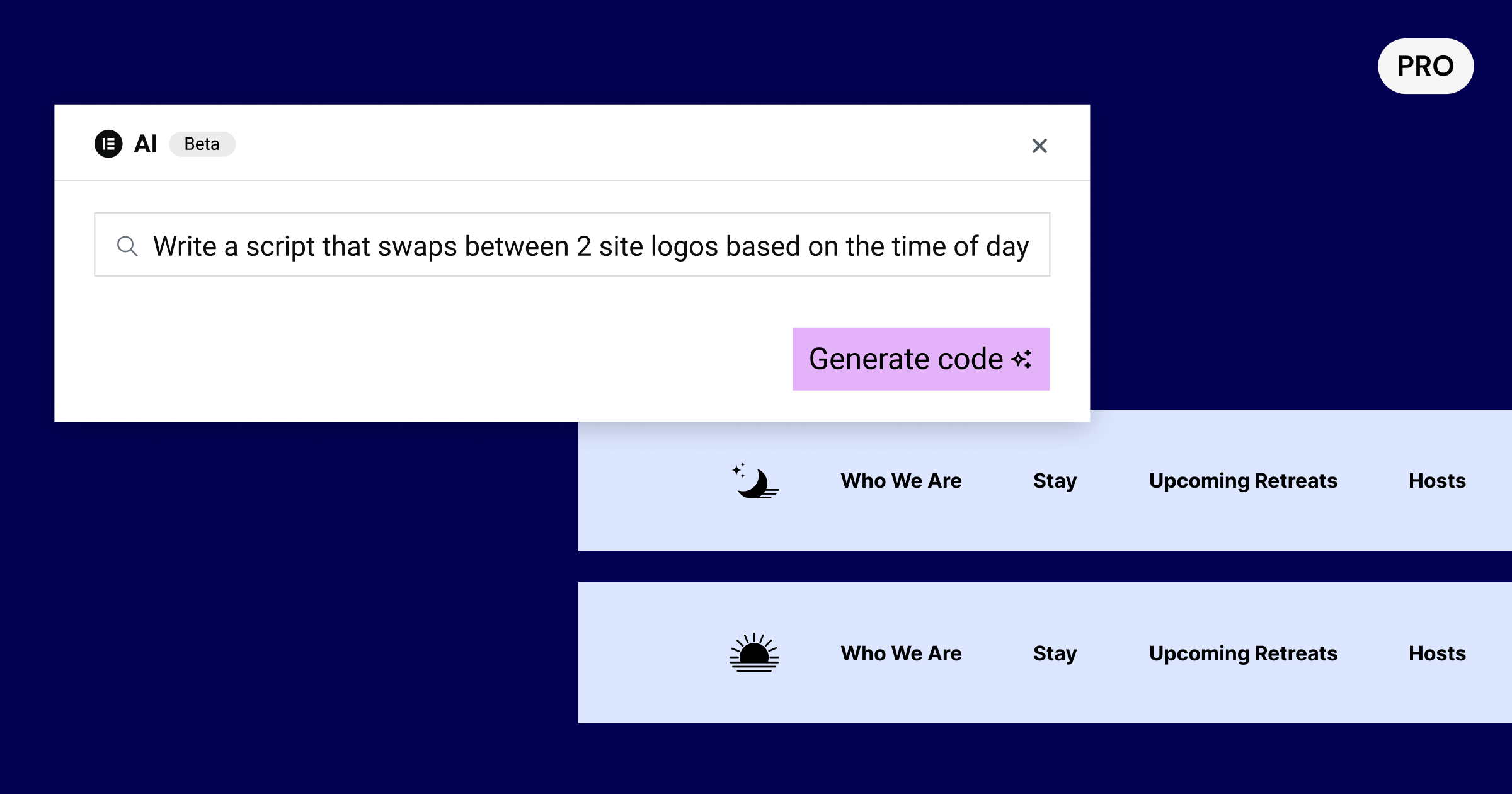 Apply Code Throughout Your Website For a Multitude of Purposes with Custom Code
Elementor AI's Code Assistant enables you to create Custom Code snippets, which can be applied throughout your website by using Elementor's Custom Code feature. To ensure accurate implementation of the output code, Elementor AI also provides instructions on how to properly implement the code.
For example, you can generate code for Google Analytics or Facebook pixel to track and measure your website's performance, and make necessary adjustments. Alternatively, you can utilize Custom Code to apply code to your website that alters the visual elements, such as changing the icon that visitors see based on the time of day in their timezone.
*Requires Elementor Pro or Hosting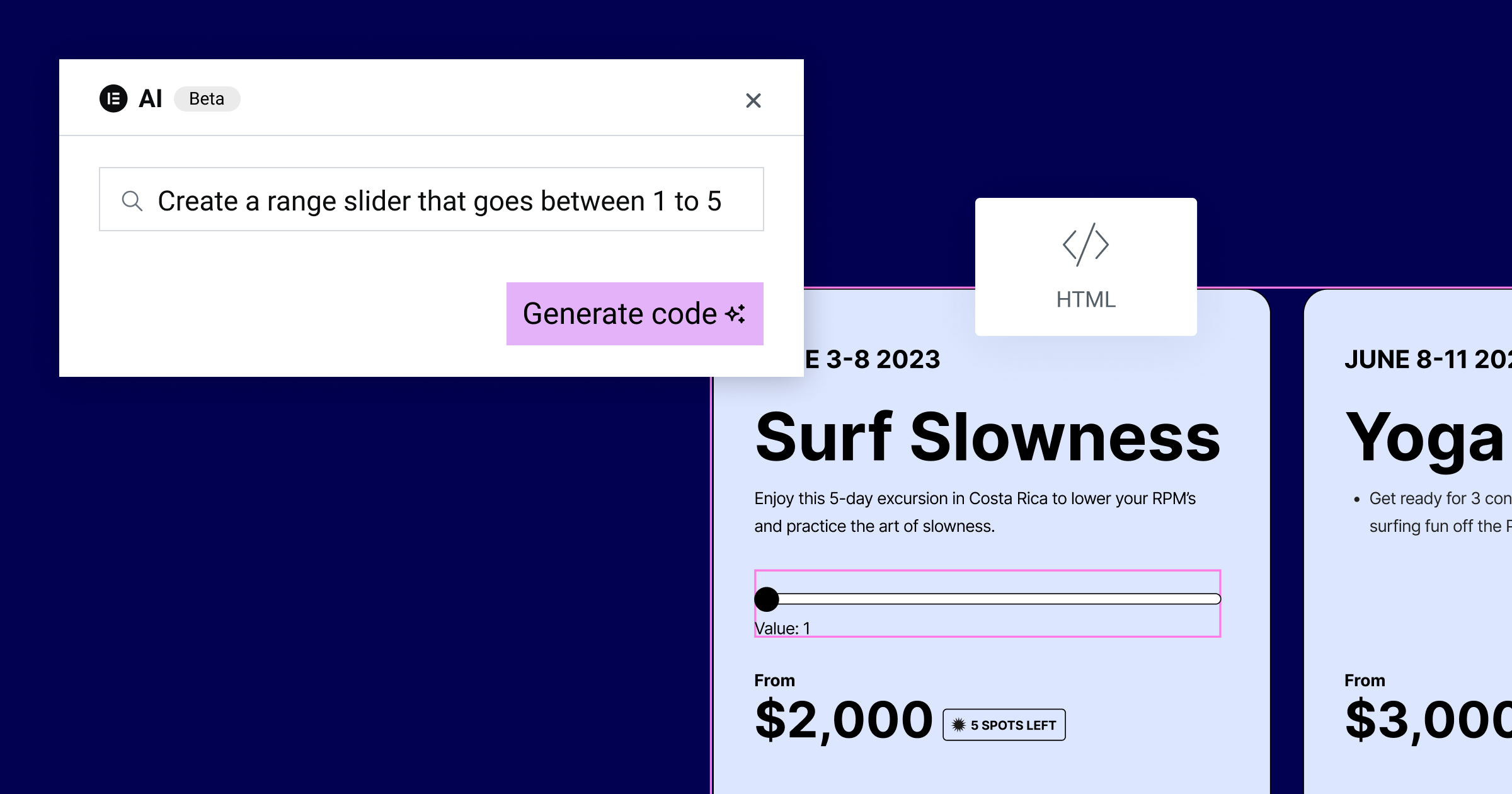 Add Elements to Your Website Without Using Additional Plugins
Elementor provides a collection of over 100 widgets that you can use anywhere on your website for various purposes. However, there might be situations when you want to add an element to your website that is not available natively while using Elementor. In such cases, you can use the AI code assistant to create HTML snippets that let you add elements seamlessly to your website.
For example, you can create an HTML snippet that adds a slider to your website, allowing visitors to pick a number from a predetermined range, or embeds a Spotify playlist in your website, while matching it with your website's design.
Transform the Way You Build Websites with Elementor AI
Elementor AI provides numerous benefits that enhance your website's content, design, and engagement. With the AI writing assistant, you can create original and high-quality text within seconds and adjust your website's content to maintain a consistent style that matches your brand. Elementor AI also enables you to make your website multilingual by translating it into any language, allowing you to reach a wider audience. 
Additionally, you can use the Elementor AI Code Assistant to create Custom CSS, Custom Code or HTML snippets for a multitude of purposes, such as elevating your website's design, implementing Google Analytics or adding new elements to your website, that aren't natively available in Elementor. Elementor AI is available as a free trial on any Elementor plugin or Elementor Hosted website when using Elementor version 3.13 and above. Try it out and let us know what you think, and what unique requests you've come up with in the comments below.
Looking for fresh content?
Get articles and insights from our weekly newsletter.